Hoxton's growing taller: yet another residential tower set to sprout near Colville Estate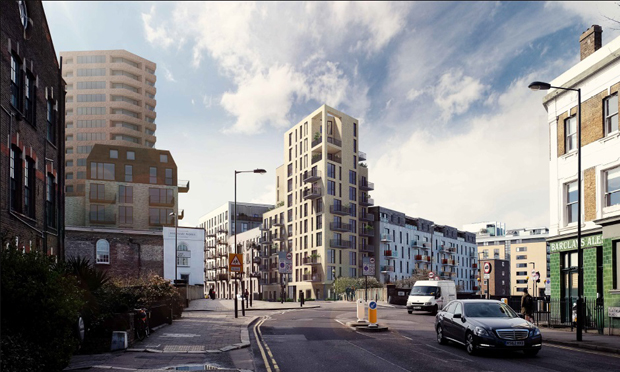 A towerblock reaching up to 11 storeys in height is the latest tall building set to sprout up in a rapidly densifying corner of the borough close to the Colville Estate.
The Town Hall's planning committee, chaired by Cllr Vincent Stops, last night voted unanimously to approve the plan by Metropolitan, which describes itself as one of the UK's leading affordable housing providers.
Half of the 32 homes in the block have been earmarked as "affordable".
But Sarah Edlington, who lives in a building neighbouring the 0.4 hectare plot of land next to the Regent's Canal where the tower will now be constructed, said it was too tall by far for what she described as a "postage stamp-sized" plot of land.
She told members of the planning committee: "No one within my building objects to that land being used – it makes sense – but it does seem that this development is just far too big."
Her roof terrace and those of her neighbours will be "completely overlooked" by the development, she added. And she said the building would rob their outdoor space of access to light.
Town Hall planning documents show other residents in Hoxton Wharf and Bridport House also filed official objections, warning the new building would be "out of scale" with adjacent developments.
They also said they feared "noise, dust and disturbance from construction work and associated traffic".
The land on which the block is to be constructed has been vacant for more than six decades, ever since bomb-damaged buildings there were knocked down shortly after the Second World War.
Several residential towers are already rising up on the Colville Estate, and residents of surrounding streets complain of constant construction work leading to disruption and congestion.
They look set to have little respite, however. Nearby land currently occupied by the Britannia Leisure Centre is also earmarked as a location for similarly tall buildings, which the council wants to see constructed in order to fund a new leisure facility and school.
Council officers noted that "prevailing building heights" in the area are currently between five and eight storeys, but their report added: "However these heights are anticipated to increase with the implementation of the later stages of the Colville Estate regeneration."
The Greater London Authority also signalled its support for Metropolitan's scheme, saying the height "is considered to be appropriate for this prominent corner".