Hackney Job Show and Enterprise Fair: Hackney is hiring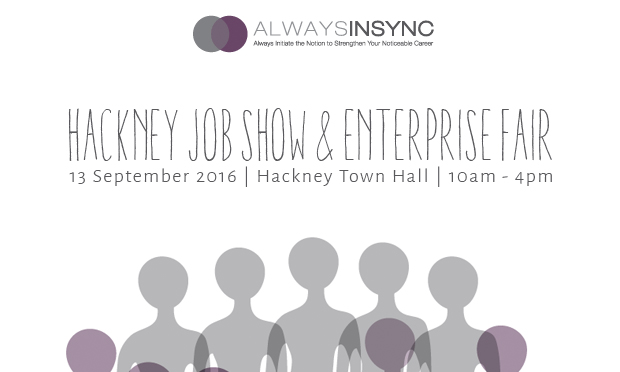 On 13th September 2016 at Hackney Town hall, employers from actively hiring companies will meet over a thousand of the borough's best candidates in Hackney's largest annual career fair.
The event, which has been hailed the place 'where opportunity meets talent' is the brainchild and passion of Marsha Mollineau: a local Hackney resident, Hackney Connect Award winner, mum of 3 and founder of the social enterprise Always INSYNC.
As a huge advocate for encouraging diversity in talent pipelines, Marsha believes the key to success is asking 'why not me?' why should you not get the interview? score the job, be your own boss, or get on that graduate internship scheme? It is this belief that is the driving force at the heart of the Hackney Job Show and Enterprise Fair.
Get hired
The free-to-enter event showcases some of the best employment and training opportunities from employers across London, including live vacancies from national and local companies. Seminars and workshops will also be run to help attendees develop CV writing skills, practice their interview technique, and increase their knowledge about the job market and the different employment opportunities available.
Start a business
For the budding entrepreneurs there will be a business start up workshop: NatWest Bank will be furnishing delegates with unique industry tips and practical advice on how to turn an idea into a fully fledged business, as well as all the things the young start-up should definitely avoid! Meanwhile, gurus from O2 will be on hand to offer tech advice on how to kick-start or grow a business.
Professional development
Apprenticeship Ambassadors from City and Guilds will explain the unique benefits of an apprenticeship, while speakers from the Department for Work and Pensions, National Career Service and Always INSYNC will deliver unique insights on how to bounce back from redundancy, manage flexible working hours, ace an interview and propel oneself up that career ladder.
FREE raffle and prize draw
Candidates can take part in a FREE raffle and prize draw for their chance to win an exciting new tablet with the latest apps, courtesy of 02 Hackney Mare Street, as well as a range of business planning consultancy sessions, donated by the City Business Library.
What to bring?
Delegates are encouraged to dress as they would for an interview, bring a brushed up CV and a 'hire me' attitude!
Register
Register now for fast-track access to the biggest Job Show in Hackney or just turn up on the day: https://www.eventbrite.co.uk/e/hackney-job-show-and-enterprise-fair-tickets-22620325001