Artists' studios to be demolished as Hackney Wick development gets go-ahead
A development in Hackney Wick that will see 100 artists up sticks and 'heritage asset' buildings pulled down has been given the green light.
The London Legacy Development Corporation (LLDC) has approved joint developers Groveworld and Pollard Thomas Edwards Architects' (PTEa) application to demolish all existing buildings at 80-84 Wallis Road – with the exception of number 88.
The low-lying warehouses will make way for a mixed-use development of between five and six storeys comprising 120 homes, along with workspace and retail outlets.
The buildings have been occupied by family architectural metalwork business Stone Brothers, trading as DARO Factors, which leases space to around 100 artists in Wallis Road Studios, through Cell, an organisation that provides affordable studios.
In March 2015 the application was deferred due to objections from campaigners East End Waterway Group over "the extent of demolition within a conservation area", concerns over viability of the scheme and the height of some of the proposed buildings.
Groveworld agreed to reduce the height of one of the planned buildings from seven to six storeys and reaffirmed it would offer 10 affordable homes in its package of "community benefits" which includes 60 per cent affordable workspace.
The LLDC planning committee decided that the net harm to the conservation area was "acceptable".
Now the application has been approved, the artists will be asked to leave by January 2016 at the earliest.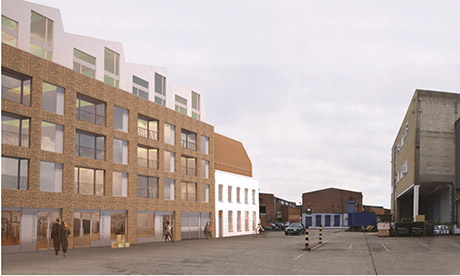 Visual artist Natalie Ryde, who has a studio on Wallis Road said: "We are in the process of signing leases up to June 2016 so hopefully we can stay on until then.
"It's regrettable that so many artists will have to leave the area when they have contributed to the vibrancy of the community. I am looking forward to opening the studio doors to the public one final time for the Hackney Wick open studios event."
New public route
Commenting on the decision, Richard Rothwell, Development Manager for Groveworld, said: "The local authority's unanimous decision to support the scheme is great news.
"It will pave the way for new permanent, high quality studio space for cultural and creative uses, replacing the current tired and temporary studio space.
"It will also allow new homes for sale and affordable rent to come forward as well as delivering a new public route connecting Hackney Wick Station, Wallis Road and Queen Elizabeth Olympic Park."
The workspace will be managed by Cell Studios, a self-funding, non-profit making organisation that presents an on-going programme of exhibitions, projects, talks, screenings, and events.
Groveworld said it expected to work with Cell to relocate artists to other studios while work is carried out, and said they will have the opportunity to return to the new space once the development is completed "on comparable rents."