I don't have an uncle who works in media… so is a creative career out of the question?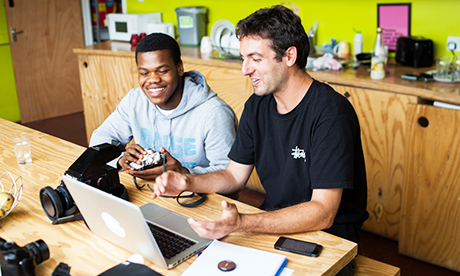 In collaboration with Eat Work Art, Pitch It! has established itself as Hackney's leading social enterprise working to support equal access to careers in the creative and cultural sector.
Founded in 2011 by Teach First Ambassador, Isabel Farchy, Pitch It! has to date supported over 80 students from 8 schools across London in creative, cultural and tech careers.
We work with filmmakers, writers, fashion designers, photographers, jewellery designers, animators, prop designers, architects, journalists, app designers and musicians – to name but a few, to offer students from non-privileged backgrounds a programme of one-to-one mentoring, work placements and networking opportunities.
Alongside this, we host a range of events to raise the profile of equal access to the creative and tech sector, so that together, we can create a more connected community.
We provide our students with the opportunity to: learn about the different careers available in the creative, tech and cultural sector; gain real understanding of the world of work through practical experience; build networks of professionals usually inaccessible to them and develop the 'soft skills' such as confidence, resilience, curiosity and passion they will need to succeed so that together, we can create a more connected community.
Eat Work Art's artistic community plays host to a diverse hot-list of creative leaders and independent start-ups. Pitch It! presents a unique opportunity to meet and mingle with those who call it home, whilst simultaneously engaging with the local community.
17 Amhurst Terrace | E8 2BT