Less schmaltz, more syphilis: how Valentine's Day is upping the anti
Valentine's Day is a minefield of expectation, even for those who participate willingly.
For the faint-hearted singleton loneliness is compounded, and all the restaurants are booked.  It seems now the only way to properly mark the occasion is to do so in the spirit of disdain.
It hasn't always been this way of course, though it has for a very long time.
Geoffrey Chaucer and the courtly love traditions of the High Middle Ages are to blame for ushering in our current conception of V-Day as a celebration of romantic love. Before that it was just another Christian feast day.
"For this was on St. Valentine's Day, when every bird cometh there to choose his mate" he wrote in his 1382 poem Parlement of Foules (referring to the engagement of Richard II of England and Anne of Bohemia), ushering in a bona fide day of flirtation.
And later, in the eighteenth century, came the gifts, the hearts, the doves, the lace, and various likenesses of Cupid and most crucially, that core risk of 14 February, now crushed under the weight of a thousand token gestures: the anonymous Valentine.
The 1797 publication of the Young Man's Valentine Writer egged things on, offering up generic messages of adoration to help young men who struggled to express themselves, yet were nonetheless prepared to lay themselves bare, ripe for rejection. Of the many dark sides of love, this is surely the darkest.
So dark in fact, that this timeless condition of lovesickness gave way to a slew of orgasm-based medical treatments in the Victorian era.
These, along with a history of STDs, how to gain the Necessary Attributes of a True Gentleman and Jack the Ripper's final amorous murder, will be discussed as part of an alternative Valentine's series at Barts Pathology Museum throughout February.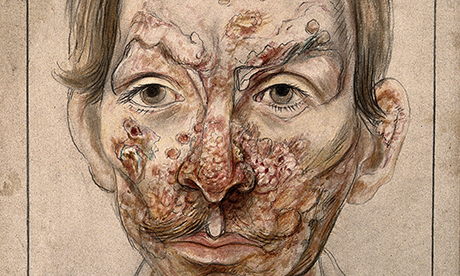 The sting of unrequited desire isn't just between lovers. Councils can feel it too.
Hackney Town Hall was left high and dry when they put a call out for gay marriage applications, keen to officiate the country's first. Affidavits in hand, they are still awaiting a reply.
Yet somehow the spectacular risk of falling flat on your face has been stripped from the occasion, and in its place a sickening display of long-stemmed roses, dinner offers, mediocre chocolate and somehow diamonds – preferably sold together at a bundle price.
So, in the absence of any real drama, the cultural zeitgeist has united to bring about a celebration of love's miseries and mysteries.
Sexy tiles
A set of eighteenth century erotic tiles, recovered in the early 1960s from Ye Olde Cheshire Cheese pub on Fleet Street, have until now been stored away,  hidden from view in the Museum of London. They are to be uncovered on Valentine's Day as part of Late London: City of Seduction.
14 February. 7pm-10pm, Museum of London, 150 London Wall, EC2Y 5HN
LGBT rooms at Sutton House
Shakespeare's Master-Mistress exhibition asks questions about desire, gender and sexuality and celebrates the universality of desire and the ambiguities of language.

Until 7 March. 2-4 Homerton High Street, E9 6JQ       
Matters of the Heart
Barts Pathology Museum's Matters of the Heart series examines conditions of lovesickness, whether Chopin's heart is really bricked into a pillar in Warsaw preserved in Cognac, and other romantic themes.
Events throughout February. Robin Brook Centre, St Barts Hospital, EC1A 7BE
Anti-Slam: Anti-valentine's Special
The worst poet wins in this 'anti-slam' Anti-Valentine's Day special. An evening of love poetry "so terrible and cringe-worthy, it transcends quality".
14 February. 7.30pm. Hackney Attic, 270 Mare Street, E8 1HE