East End Backpassages – review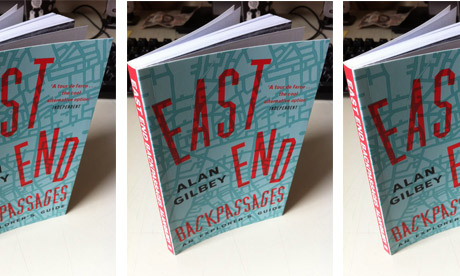 Looking for a chilling tour of Jack the Ripper's East London, filled with tales of murdered prostitutes and fog curling eerily round lamp posts?
Well you've come to the wrong place. As the title suggests, East End Backpassages guides us on a tongue-in-cheek stroll up the murkier
side streets of the area's history, digging deeper than well-worn East End characters like the Kray brothers and the Pearly Queens to discover facts its author, Alan Gilbey, describes as "bollocks but true".
"I don't tend to go for individuals, I go for stories," he says. "The other books on walks around East London are dull – they're about dates, buildings and a few famous people but I don't like any of that," he says. "I like it to be lively and a bit stupid. There are a few
lies in the book too – I think you can spot them, but if it makes you laugh it will go in."
A lifelong Eastender, Gilbey is an award-winning screen writer, stand-up comic and one-time punk poet, now turned writer.
Billed as 'Horrible Histories for adults', the book covers four routes around Shoreditch, Spitalfields and Wapping; as well as a high-speed commentary from the Docklands Light Railway – if you can read fast enough. Based on theatrical tours Gilbey used to lead, it's full of strange stories and a few red herrings, fleshed out with his own personal anecdotes, cartoons and dodgy jokes.
Gilbey points out, for instance, that meteorological records began 40 years before Jack the Ripper shot to notoriety, and not a single one records fog in London on any of the nights of the murders.
"We used to take the piss out of Jack the Ripper tours and get everyone to join in – if we saw one go past we'd get them to roll up the trouser leg and hop in silence," he says. "We'd shout MASONIC RITUAL and everyone would hop around on one leg."
But more than just debunking myths, Gilbey tells the story of another East End – with tales and characters that are often written out of official history.
"The East has always had the function as a point of arrival – this was the uncontrolled bit outside the city walls. This was the place you'd trade or work if you were a new arrival or an immigrant or the wrong religion – you'd come and set up near the docks, which was the bit nobody wanted – it tended to be freer."
The book highlights the fact that East London's history is a far richer tapestry than the two-dimensional portrayals of migrant hipsters and traditional eel pie shops we come across so often.
Gilbey leads a Christmas special tour in December.
East End Backpassages
Quartet Books
ISBN: 978 0 7043 72610
RRP: £10.00