The Fades: Ragnarok – review
This is a pretty solid record. And The Fades are a pretty solid band. If they headlined your friend's band's show, you would stay to watch them. This record isn't going to change the way anybody thinks about rock music, but it does nicely condense ten-plus years of guitar bands, from the early-2000s stop-start jangle-and-shout of The Rakes to some heavy, sludgy riffing in the style of the modern Arctic Monkeys.
The Fades are obviously four guys who love guitar music, and are well versed in its techniques, flourishes, and spirit. There's plenty of dual-guitar riffing, tight fills from the rhythm section, and lyrics dealing fairly equally with heartache, nonchalance and nonsense.
There are some real standouts; lead single Joy gallops along on a propulsive bassline and rolling toms which give way to a soaring chorus, the album's best, and the song manages to bring an adult perspective on the hardships of co-dependence and commitment, with its refrain of "I want to see it through / I want to be with you," echoing sadly and hopefully through the storm of pained noise the band kicks up. It's the most finely focused two-and-a-half minutes on the album, and must be ecstatic live.
Most songs are also augmented by nice production touches. Handclaps, tambourines, backing vocals, shouts and falsettos, guitar effects and vocal distortion are all deployed tastefully, bringing these recordings to life. The Fades seem to acknowledge that these additions are often necessary for this style of music, which can easily lose a lot of its immediacy and energy between the gig venue and the recording studio.
Speaking of live, many of the songs sound like they would work well – even, perhaps, better – in a dark, sweaty pub with a can of cheap lager. A few songs, Meccano, Foot In Your Mouth and the fun Ronseal-lyricism of I Love Punk Rock, are all based around catchy vocal lines which build up through repetition to a crescendo involving the always-obligatory "woah-oh"ing from the backing singers.
It's a tried-and-tested formula, but The Fades are good at it, although they do more interesting things elsewhere in the album, such as the gorgeous Beatles-y harmonies in Eight Times A Day, which features guitar playing enough like George Harrison to make me wonder if the title is an Eight Days A Week homage.
Closer and title track Ragnarok climaxes in a suitably apocalyptic way, with a great chord change, growls, screams, wailing guitars, and even a fake fade-out. It's a good end to a decent album, but the songs I will keep coming back to, like Joy, Eight Times A Day and I Love Punk Rock, are the ones where The Fades set aside their professionalism and instead write something direct and heartfelt.
Once bands attain a certain level of ability, it sometimes becomes harder for them to get past technicality to something more essential in a song. Punk rock, especially, has always been at its best when it is driven by a purity of intention, rather than a high level of skill, and The Fades' best tracks manage to marry competency and conviction to create something that taps into the raw essence of this music.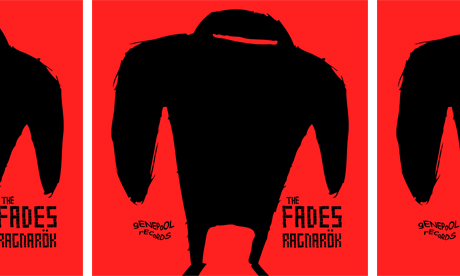 For more go to The Fades.