Unmasked, Perishable Rush, BSMT Space, exhibition review: 'Smiles and scars in evocative solo show'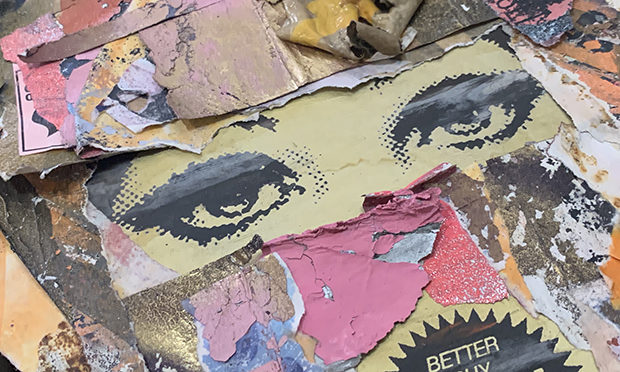 Walk along any major thoroughfare in Hackney, and you'll spy the top layer of printed matter stuck on walls, lampposts and other available surfaces. But pause to peel away the veneer, and a mini-history of the area's recent commercial and artistic life will emerge.
In his first UK solo exhibition, Dutch street and collage artist Perishable Rush shows a selection of recent work that reassembles this urban palimpsest into finely-wrought surfaces.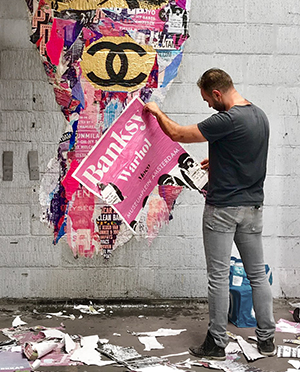 Street art at one remove, the works that make up this show as BSMT Space in Dalston have been literally peeled from walls of London, Berlin and Amsterdam and mixed with a range of material from acrylic to found objects including paint chips, masonry, discarded bits of plastic and sundry detritus.
Commercial logos jostle with classic painterly imagery on these textured planes, each built up layer by layer from material collected at specific locations. Wall-hung pieces predominate, including a number of Perishable Rush's trademark masks, though the artist has recently ventured toward sculpture with a series of moulded paper skulls.
There is an emotional ambivalence to much of the collection – humorous smiles lasered delicately onto treated paper and ironic pokes at the culture of modern capitalism, but also scars from the strains of recent months.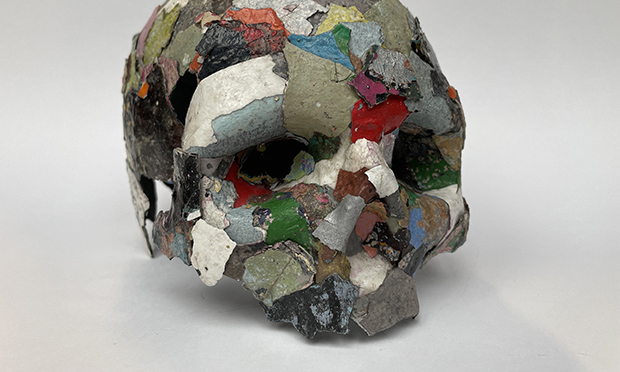 Indeed, Perishable Rush sees the pandemic as having been both blessing and curse: "A time to reset and rethink. But also, a time where the world stopped, and you were forced to question everything that used to be normal."
Archaeologists of future centuries may one day uncover the 'pandemic layer' in their urban digs, but for those not patient enough to wait, Perishable Rush has fashioned the 2020s European street into evocative works of art that are well worth a visit.
Unmasked runs until 20 February at BSMT Space, 529 Kingsland Road, E8 4AR.