Community kitchen appeals for cyclists to deliver free meals to Hackney's most vulnerable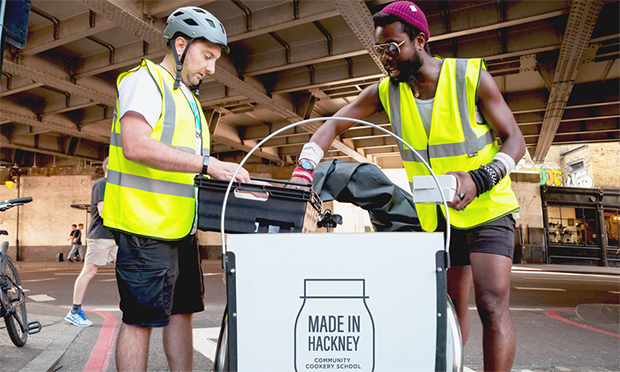 Made In Hackney, a plant-based community kitchen, is asking cyclists to offer their time to deliver free meals across the borough.
The charity, which also serves meals at its hub at the Queen of Hoxton, currently finds itself short of volunteer couriers to support its delivery service.
"We really need a new boost of cycling volunteers," said Sarah Bentley, Made In Hackney founder and project director. "Last year when we started the service we were inundated with cyclists because obviously everyone was in lockdown.
"Now it's really difficult to get volunteer cyclists to commit."
Made In Hackney's fleet of cyclists has been reduced recently due to illness, self-isolation and travel abroad.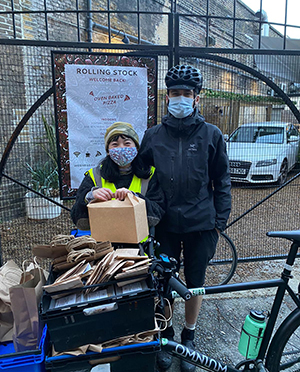 Volunteers are needed between 4pm and 7pm on Tuesdays and Thursdays to collect meals from the Queen of Hoxton and take them to the 200 vulnerable people supported by the charity.
"It's a really meaningful and beautiful thing to do to be the cycle delivery people," Bentley said. "You're not just providing food, you're providing care and connection."
At the height of the pandemic, the charity was delivering 500 meals a day by bike, supplying those in need with healthy, plant-based nutrition.
Khin Tye, volunteer manager, said: "If people are working from home and if companies are willing to have that flexibility – that last hour from 4pm to 5pm so that they can cycle from 4pm to 7pm – that would be great."
Tye added that Made In Hackney is now looking for "as many [volunteers] as it can" to support the service through the festive period and beyond.
Last month, a crowdfunder campaign was set up to help fund the charity's community meal service in 2022. The site has so far raised just over £70,000 of its £150,000 target, leaving it less than halfway to meeting the project's running costs.
"It could do with a boost, for sure," said Bentley. "If people donate now, it's a really good time."
Donations to the project are currently matched up to the value of £250 by the National Emergencies Trust Local Action Fund.
You can support the crowdfunder here.