Community cookery school launches £150k crowdfunder to help it continue its free meal service for the next year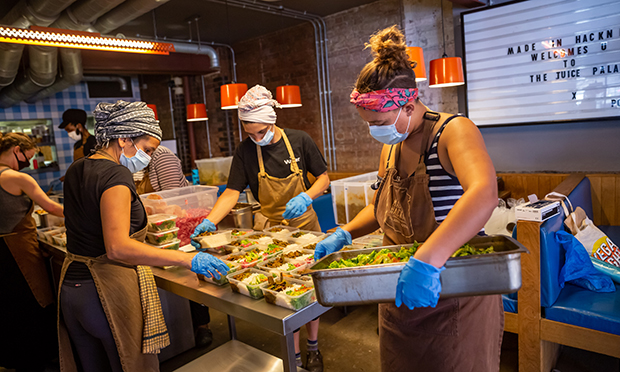 A social enterprise that has been dishing out free meals across the borough during the pandemic has today launched a major crowdfunding campaign to help it continue the work for the next year.
Made In Hackney provides nutrition to 200 vulnerable members of the community every week, both through its delivery service and by serving meals twice a week at its borrowed base at the Queen of Hoxton in Shoreditch.
Now the group is looking to raise £150,000 in six weeks – enough to fund 70,000 meals in 2022.
Made in Hackney founder Sarah Bentley said: "It's important that we raise that money before [the year starts] so we can commit to providing [the meals].
"If you're operating month on month it's very difficult to plan. We try to make [the service] feel very empowering and very collaborative."
Made In Hackney started as a community cookery school. Throughout the first lockdown, it teamed up with fine dining restaurant Angelina to provide an emergency food response, with a team of volunteers delivering plant-based meals across the borough by bike.
It later expanded its offering after being lent the space at the Queen of Hoxton.
The group has set the ambitious fundraising target to pay for the meals as well as to employ the staff needed to keep the operation running.
To raise awareness, Made in Hackney is launching an online campaign featuring a video, and the group hopes that a number of famous faces will back the crowdfunding mission.
The group operates in conjunction with the NHS, local schools and support workers who refer those in need, but people can also refer themselves to the service without being means-tested.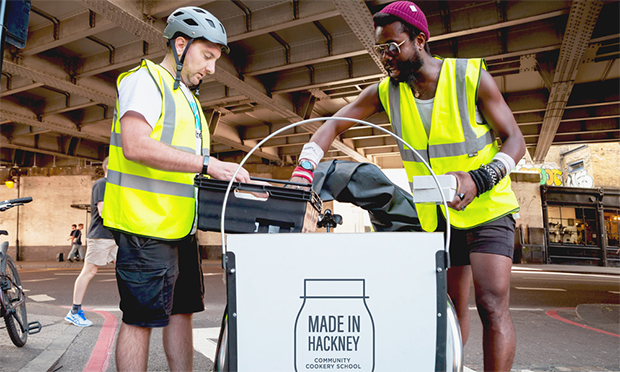 In the longer term, the group wants to establish its own base, where classes can be taught and meals can be provided under one roof, before creating an international network of like-minded projects.
Bentley said: "We currently are very graciously given a free venue by the Queen of Hoxton in Shoreditch.
"The dream would be to have [our own] large premises where we can teach employability skills and chef's training, and embed that into the meal service alongside our educational classes and workshops.
"[In the] bigger picture, we'd like to do a piece of work where we're supporting groups globally to set up similar organisations."
The crowdfunder went live today and you can support it here.