Call goes out for vaccine centre volunteers as easing of restrictions sees numbers drop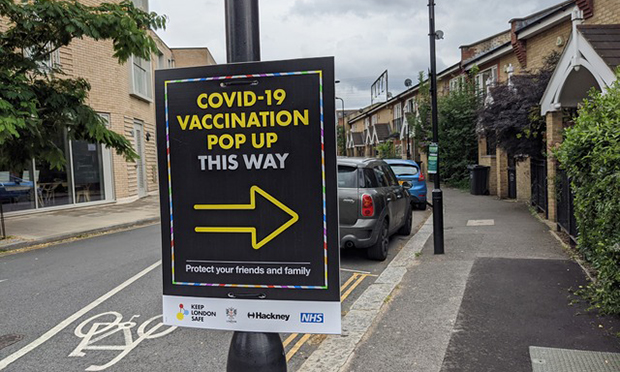 It feels like one of the greatest things I have ever done," said Hackney vaccine centre volunteer Paul Haigh.
"Sometimes you are tired when you go home if it's been busy, but it's a really nice feeling. When the pandemic came along it really struck me that I wanted to help in Hackney."
He is urging more people to spare a few hours to help out at Hackney's vaccine centres in the battle against the virus.
The former boss of Hackney's clinical commissioning group had worked in the area for 16 years before he retired.
He contacted Hackney Volunteer Centre and now supports a range of tasks at the Bocking Street vaccine centre – one of the two permanent centres in the borough.
"In the early days of the vaccine roll-out we were getting 600 or 700 people a day," he recalled.
There are a team of eight people delivering the vaccine, with six or seven volunteers helping out.
They get involved in welcoming people, taking their details and checking appointment times as well as finding out if people are scared of needles or need reassurance.
Other tasks involve answering questions on what will happen, guiding them around the centre or just giving a friendly smile and allowing them to share a story.
Haigh said for a lot of people the trip to the vaccine centre was the first time they had been out if they had been shielding.
Others were anxious about needles or had questions about the impact of the jab.
Haigh said: "We make time to chat and reassure them."
He also tells would-be volunteers that there are always medical experts on hand to answer people's questions and about their own safety.
"It feels like a very safe place to be in. I have never felt worried at all."
He explained: "We all wear face masks at all times, and we are very dutiful in wiping down chairs. Hygiene is very important."
He said there is a real mix of volunteers, from people who were furloughed or retired to students.
"That's what's great about it. You get to meet some really fantastic people."
At the peak of the pandemic, more than 900 people were registered as vaccination volunteers with Volunteer Centre Hackney.
However, as furlough has ended and people are able to get out and about more, the number has dropped. But the need is still there.
Jane Tyler, the Covid vaccines volunteer manager, said: "We still have several hundred, but many have considerably less time to spare now that work and social lives are returning to what they were pre-Covid, and as the festive season approaches there will be even more demands on people's time."
They are looking for people over 16 who can volunteer for at least three hours a week between now and February.
People get training and no specific skills are needed.
Volunteer shifts are typically three to four hours, and mainly involve standing and can be outdoors or indoors.
People can register their interest with Volunteer Centre Hackney online here, or call the office on 0207 241 4443.