Family and friends gather to celebrate community stalwart Kit Crowley at the garden that now bears her name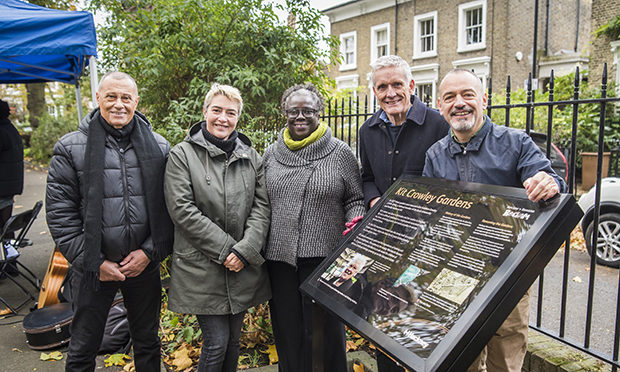 "My mum would have been stunned that this garden is renamed Kit Crowley Gardens after her," said her son John Di Carlo.
He joined Crowley's friends and neighbours and children from Wentworth Nursery for a special ceremony celebrating the new name for the gardens on Cassland Crescent.
Kit Crowley worked for the nursery for 32 years and Di Carlo said: "She must have known 15 generations of children over the time that she was there. She had a real impact."
He said he was delighted that Hackney Council also put up a plaque with a picture of Crowley telling visitors about his mother. Too often people know very little about the person who is commemorated with a place name, he said.
The gardens were renamed as part of the move to celebrate local people and reclaim places named after people connected with slavery.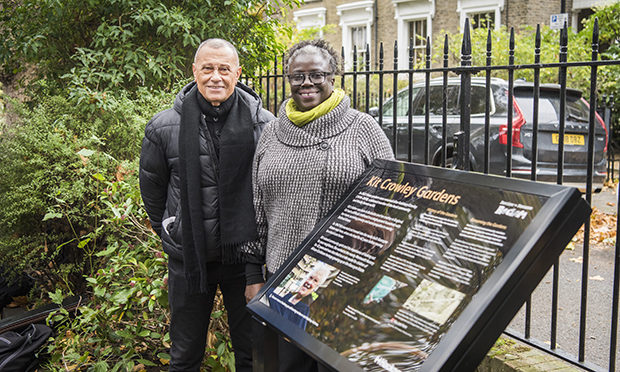 It was previously named after Sir John Cass, who benefitted from slavery through the Royal African Company. The company transported 212,000 enslaved people between 1662 and 1731, and 44,000 died en route.
The gardens and surrounding areas were first developed by The Sir John Cass Foundation during the 1800s, a charity founded in his will.
Residents were consulted and asked to vote for the person they wanted to remember at the gardens.
Kathleen Crowley died in 2018 in her hundredth year.
She was a popular local figure, known as Kit.
Her father was born in Barbados and her mother in England and she grew up in a single parent family, surviving poverty and racial prejudice.
She moved into the Gascoyne estate in 1947 and lived there for 62 years before moving into a care home.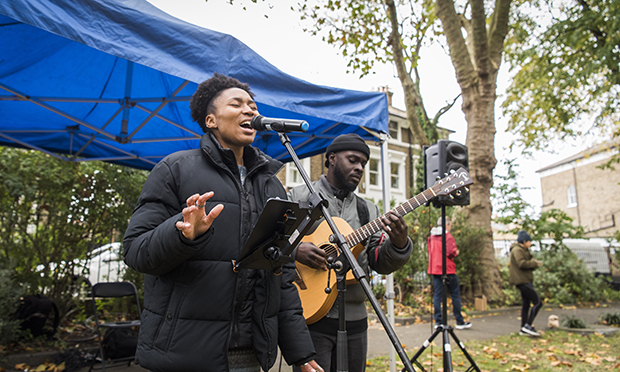 The renaming ceremony included some of Kit's favourite songs, made famous by Frank Sinatra, Nat King Cole, Marvin Gaye and Tammi Terrell.
They were performed by singer Vivienne Isebor and guitarist Joel Antwi-Boasiako.
Di Carlo also read one of her favourite poems, My Garden by Manx poet Thomas Edward Brown.
"This poem had a special place in her heart," he said.
Her next-door neighbour Pauline Barnett said: "She would have loved this, she would have got up and danced. When we had Christmas parties Kit was down at the front, singing and dancing.
"She was a lovely lady. She would do anything for anybody."
Cllr Carole Williams, Hackney's Cabinet member for the response to the Windrush scandal, said the council decided to rename places after the pandemic's disproportionate impact on Black people and in the wake of George Floyd's murder, which saw communities highlight historic links to slavery.
"We had to act decisively and deal with cases of gross injustice and racism in places that are named after those who profited from the slave trade," Cllr Williams said.
The move is part of the council's Review, Rename and Reclaim scheme which sees community leaders, cultural experts, historians, teachers and young people work with the council  to make public spaces more representative of Hackney's communities.