Hackney Mayor visits Ridley Road as work on new-look market gets underway
Mayor of Hackney Philip Glanville spent the morning on Ridley Road yesterday as work began on major improvements to the historic street market.
Glanville spoke to traders and residents about the £1 million renovation, which will include free public wifi, cashless payment machines and new trees.
The changes are a result of feedback from the council's Dalston Conversation, a three-year consultation that gathered local views on the area's development.
Wonderful morning in Dalston talking to traders, residents and the @hackneycouncil teams supporting this work to ensure the market remains affordable, diverse & the beating heart of Dalston. This investment supports everything people cherish about Ridley Road & a #AFairRecovery. https://t.co/iUJJODNGbX

— Mayor of Hackney (@mayorofhackney) October 12, 2021
Ridley Road Market has been a crucial element in Dalston's make-up since it first opened in the late 19th century.
Glanville said of the planned changes: "We started the Dalston Conversation three years ago with a commitment to listening to the priorities of the community so that we can protect what is most important about Dalston and ensure local people and businesses are the first to benefit.
"This landmark investment shows that we're not just listening, but acting on what we've heard – starting by securing the long-term future of Ridley Road Market to keep it at the heart of Dalston and a focal point in a fair recovery from the pandemic."
The investment in Ridley Road and nearby Ashwin Street are among the first projects being delivered as part of the Dalston Plan, a redevelopment scheme developed in response to the Dalston Conversation. Consultation on the plan closed at the start of October.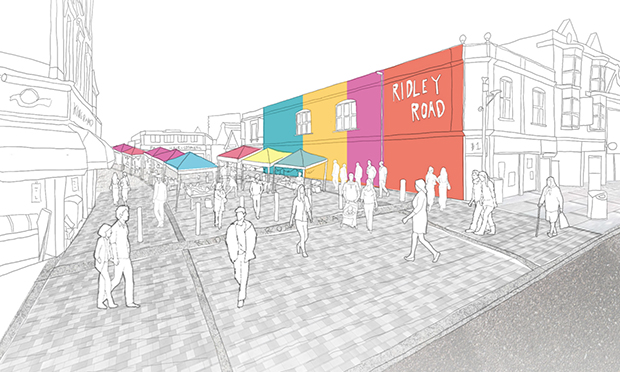 But the scheme, which encompasses a number of projects across Dalston, including over 600 new homes in ten opportunity sites across the area, has come in for criticism from local campaigners.
Morning Lane People's Space (MOPS) and #SaveRidleyRoad say it threatens to price out existing communities, traders and families who have lived and worked in the area for generations.
Guy Nicholson, Hackney's deputy mayor for housing supply, planning and inclusive economy, joined Glanville on the visit to Ridley Road.
He said: "We know what a special, inclusive place Dalston is and what the area means to local residents and businesses.
"That's why we set up the Dalston Conversation, a three-year discussion between the local community and the council which saw local stakeholders, businesses and more than 5,000 residents of all ages shape the Dalston Plan."