Hackney residents get a LIFT with new £7m technology training scheme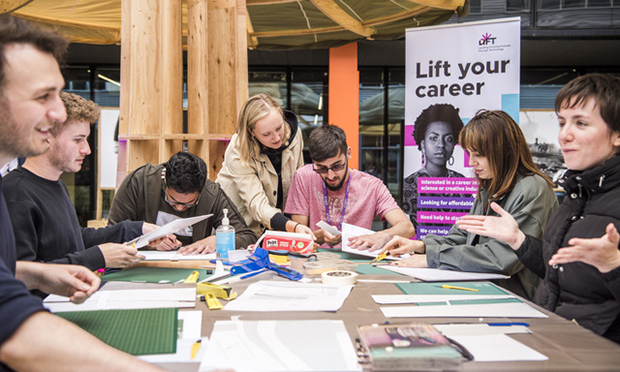 Residents are getting a LIFT to pick up digital skills and help them improve their job prospects and promote their businesses.
The Leading Inclusive Futures through Technology (LIFT) scheme, which launched earlier this year, has brought together Hackney, Camden, Islington and Tower Hamlets councils to offer technology training for residents.
The three-year £7.4m programme aims to get residents into good local jobs in the knowledge economy, including tech, digital, sciences, and creative production, and to support businesses and start-ups.
It is also hoping to help get more people from under-represented backgrounds into tech.
Programme manager Hamish Mackay explained it's the first time the four boroughs have joined together in a partnership like this. They share similar challenges in deprivation and inequalities but residents can benefit from the jobs market on their doorsteps.
There's Shoreditch's Old Street tech area – said to be the third largest tech cluster in the world – and the Knowledge Quarter in Camden, with employers such as the British Library, universities and Google kickstarting the demand for people working in tech.
"We are working with some of the best, most exciting businesses in the world and we really want to take advantage of those opportunities on our doorstep," said Mackay.
Despite the pandemic, the tech sector has thrived although Covid and has created a "pressing need" for employment support for many residents.
Would-be LIFT participants are urged to get in touch if they don't have devices or internet to follow online training.
"We are absolutely committed to ensuring that no-one is excluded," said Mackay.
LIFT is offering business support through its Survive and Pivot training, and Mackay said it has worked with market traders and those in fashion and jewellery to help them bring their business online and reach a new market.
So far 10 residents have also started paid internships with tech start-ups, which is giving them access to opportunities to learn at work, even if it means working from home because of the pandemic.
Others have joined the OneTech programme online to find out more about the world of tech and develop their digital skills.
Mackay said: "A huge part of it is demystifying what the tech sector."
He added: "There is tremendous support out there and people do not know how to find it."
People may be worried that they do not have formal tech qualifications, but Mackay said "employers want enthusiasm and attitude".
The scheme also includes outreach on estates to spread the word.
The organisers also held an event at the tech and innovation Here East Hackney campus in Queen Elizabeth Olympic Park.
Mally Adolph took the Employability Incubator course.
"I learnt so much from it," he said. "They covered so many different things like LinkedIn, marketing, showing you web tools that you can use, different marketing tricks like posting social media at different times of the day."
He is hoping to use his newfound skills in his new job working as an employment adviser.
The 35-year-old from Upper Clapton said: "I feel that hopefully I can help people get their confidence back up and help them with skills."
He took the course whilst working nights at Waitrose in Stratford but said the hours were easy to fit around his job.
His previous job was as a digital imaging technician, checking footage and ensuring it was backed up. He's worked on a range of programmes, including Channel 4's First Dates.
"The LIFT OneTech employability course helped me broaden my horizons about where I could take my tech," he added, and explained that it helped him explore the kind of jobs and skills people need.
"Once you start to learn and dive in and find out what's out there in the tech world, it's not as big and scary as it seems on the outside. Tech is just our everyday living."
LIFT also offers opportunities for the self-employed as well, said Adolph: "If you are changing your career, don't be scared to think really big and plan backwards. Everything is manageable."
Fashion photographer Samin Ghiasi took the Survive and Pivot training.
Work was tough during the pandemic when fashion shoots ceased but she equipped herself with new skills and built on others she knew.
"It helped me do my social media marketing," she said.
She's just embarked on a hairdressing apprenticeship in Farringdon and said the digital course helped extend her experience of tech too.
Cllr Carole Williams, Hackney's cabinet member for employment, skills and human resources, said: "As we recover from the pandemic, we're committed to rebuilding a fairer economy in which everyone can make the most of their talents and benefit from Hackney's economic growth."
She added: "Hackney is renowned for its start-ups and flourishing technology and digital sectors, and the huge opportunities these provide should be available to everyone regardless of their age, gender or ethnic background.
"LIFT is about ensuring this, working in collaboration with our partners in Islington, Camden and Tower Hamlets so that all of our residents and businesses can get the skills, training and guidance to thrive in a changing economy and take advantage of what's right on their doorstep."
For more information, visit Home | LIFT (liftfutures.london).