Tiña, Moth Club, live music review: 'The spirit of indie rock squeezed into hot pink spandex'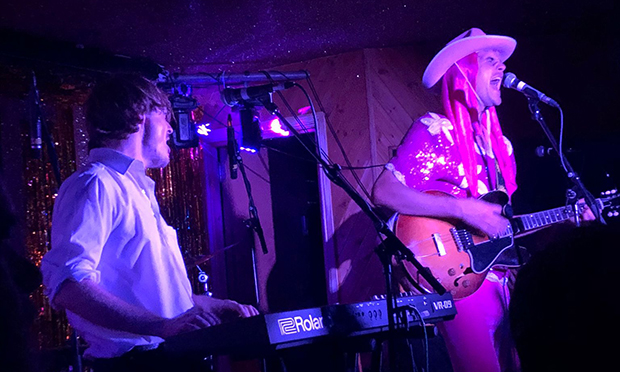 Legendary Hackney Central locale Moth Club has hosted many a gig in its time.
The venue boasts ceilings lined with golden glitter and an ambience that perfectly marries that of a school disco with the debauchery of a classic East End boozer; this was the perfect setting for Tiña's recent gig on 22 September.
Tiña is an indie rock fever dream clad in hot pink lycra and cowboy hats. The fabulous fivesome hail from south London and have established themselves as the next big psychedelic-pop group gracing the UK scene.
In this, the final UK show in their first tour since the pandemic began, the band was supported by fellow psychedelic rock groups, London-based, all-female Platypus Complex, and quartet Butch Kassidy.
Line-up complete, the evening promised to deliver indie-rock at its finest; moody, filled with attitude, with just a bit of eccentricity.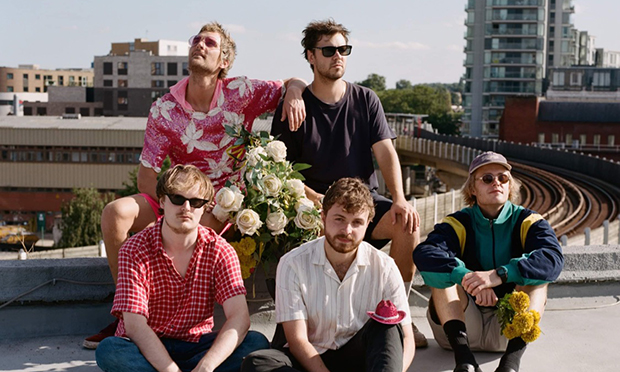 Tiña frontman Josh Loftin is immediately likeable, not least for his ease of engagement with the crowd and non-serious approach to performance. Dressed from head to toe in pink, with a cowboy hat, tiny shorts and what can only be described as an additional latex headpiece, he may not look like your typical rockstar – and maybe that's the point.
In an interview with NME, the singer and guitarist said: "It's silly and fun, not aggressive. There's an element of pastiche, playing with the idea of what a band should look like."
The band like to accentuate their inclusivity, not wanting the status of band membership to set them apart from their audience more than necessary.
"Yeah, [music is] quite exclusive, like 'we're the band', and we wanna be inclusive with the audience; even though all the lyrics are angsty and dark, talking about death, there's a positivity to them," Loftin went on to explain.
Tiña's music is characterised by drawling guitars, melancholic lyrics, and an aesthetic that doesn't wholly match, bringing an unconventional lightheartedness to an otherwise characteristically gloomy genre.
Go and see Tiña if you like feeling involved and hearing music you maybe haven't heard before; their set was peppered with new tracks that even die-hard fans would not have heard before.
Don't go and see Tiña if you don't like the colour pink, guitar music, or fun.
Tiña performed at Moth Club on 22 September.