Artist Lubna Chowdhary branches out for new exhibition in Hoxton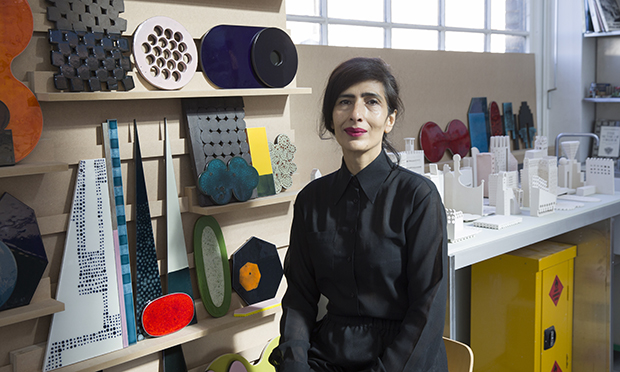 A new exhibition opened at Hoxton Street's PEER gallery spotlights work by acclaimed artist Lubna Chowdhary.
Erratics is comprised of a number of three-dimensional pieces – many of them seeing her branch out from her trademark ceramics into wood and modular materials found at hardware stores.
Chowdhary is known for her subversion of the artistic materials that she uses, re-contextualising them to discuss themes of urbanisation and material culture.
The work, produced specifically for the show, features floor and wall sculptures as well as several mounted onto a plinth.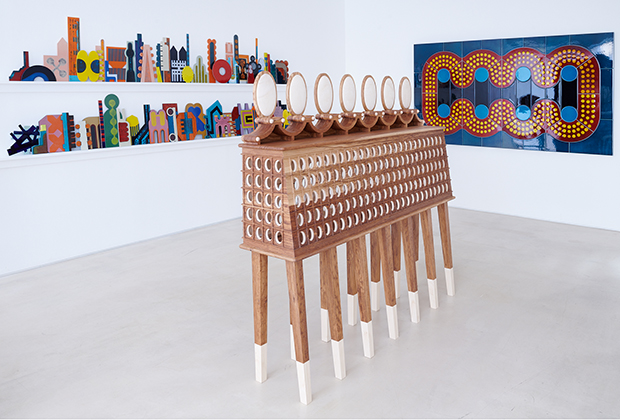 A number of multi-part panels and arranged tableaux, made in ceramics, combine industrial manufacturing techniques such as water-jet cutting with more traditional hand-applied glaze techniques.
The exhibition also features three wooden sculptures. These sit on the gallery floor and are designed to resemble functional objects, in stark contrast to the vibrancy of some of the ceramic pieces.
The wooden sculptures are inspired by Chowdhary's ceramic residency at the Victoria and Albert Museum in 2017.
During that time, she explored colonial period furniture, focusing on the hybridity and code-switching of British Victorian and Edwardian domestic items; the inspiration she draws from these hypocrisies echoes throughout her work.
Chowdhary was born in Tanzania in 1964, and settled in the north of England in 1970. Aside from her residency at the V&A, she has also spent time at Camden Arts Centre and IASPIS Stockholm. She has also been shortlisted for the Jerwood Prize in Ceramics. She now lives and works in London.
Erratics is showing at PEER until 20 November 2021.