The Citizen Gardener: 'Life is so much harder when you don't have the right tools'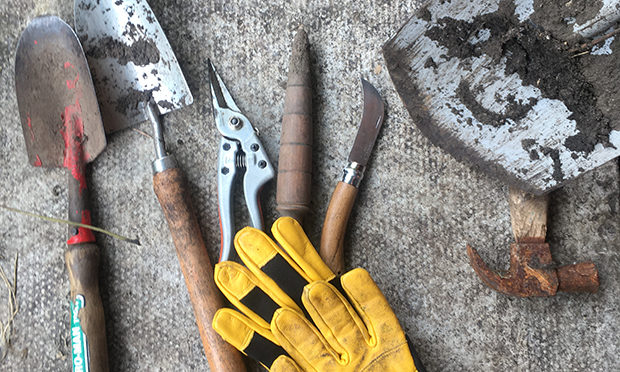 If you've ever gone to screw in, say, a hook with a flat-headed, worn rusty screwdriver when it needs a Phillips, you'll know that having the right tool (in good working order) reduces the amount of harm, time and swearing considerably.
This is the same for gardening.
I often see people attempting to dig with a shovel, rather than a spade, or try to transplant a tomato with a bent or (worse) plastic fork. It makes life so much harder when you don't have the right tools. I have too many tools, squirrelled away over the years.
I recently needed 15 pairs of secateurs for a workshop. I put the call out to the Hackney Union of Gardens Whatsapp group and got a decent haul but also discovered I already had seven pairs. Having more than I actually needed meant that I'd neglected many of them; I'd left them out in the rain and half-buried in soil and so most were blunt and rusty. You might as well not have a blunt or rusty secateur.
I often go to gardens to help out and find this bluntness and rustiness is replicated all over the place which is no good for plants – or the gardener. If, for example, you use blunt secateurs to prune, you can crush and damage the plant rather than cut it. You are more likely to injure yourself if your blades aren't sharp, too.
A great achievement in my life is that I have recently learned how to sharpen blades (after a scything course, which is another story) and am now a zealot. I sit in front of the telly, taking scissors to bits, cleaning and oiling them, sharpening them with a stone and then revelling in their new power to slice and cut.
For my own use, I only need one pair of secateurs plus snippers, which are useful for harvesting veg and cutting flowers and herbs. Other desert island tools are a small knife, a long-handled trowel (great for dislodging deep-rooted weeds like alkanet and dandelion), an ordinary trowel (well worth spending more on a decent one), a sharp and light spade (mine's pointed to give more cutting power) and fork, and a hoe. Oh, and a dibber for making holes to put bulbs or large seeds in.
There are various things like shears, loppers and rakes which I only use occasionally but a hoe is indispensable – and generally a tool that is underrated or ignored.
Hoe, hoe, hoeing
There are many types of hoe, each useful for a different function. Some makes provide one handle with different attachments to satisfy all your needs.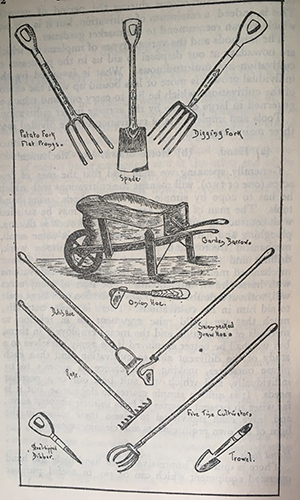 The Dutch hoe is for loosening soil for sowing and for removing weeds on the surface. It's good for felling shallow-rooted weeds when they are young.
A draw hoe can be used for heavier soils and you pull it and the soil towards you. It's useful for earthing up potatoes.
The Ibis hoe is a short-handled tool with a curved blade tapering to a point – useful for making drills, weeding, planting and thinning – especially in small spaces like raised beds.
You can also get onion, triangular, serrated, oscillating and double-edged hoes, but my favourite is the Dutch and a small hand-hoe which is great for more stubborn weeds.
I urge you to get good quality tools – look after them and keep them for ever or borrow. I have a trowel which was old when I inherited it with my allotment 21 years ago and it's showing no signs of giving up.
There are a few companies and individuals hand-making tools, such as implementations.co.uk, which makes copper tools – said to deter slugs but are also long-lasting and won't rust. And there are the standard tool-makers like Burgon and Ball, which have been gobbled up by multinationals but make decent implements.
When the Niwaki catalogue arrives (it has 13 different models of secateur), I have to talk myself out of buying a hatchet or some bonsai knuckle cutters, but they have all the bits and pieces for keeping your tools sharp and useful videos explaining how to do it.
It's taken me a long time to realise that you really do need the right tool for the job, but you might only use some tools a handful of times a year.
Local tool libraries, community gardens or Whatsapp groups are good ways to reduce waste and expense. There's a new tool library in Hackney Wick – the Library of Things (libraryofthings.co.uk/hackneywick) – and another in Walthamstow. I intend to donate some of my surplus (but sharp) tools to them.
Food-growing and nature
A new project, started this summer by London's food-growing network Capital Growth, aims to help community food growers tackle the climate and nature emergency.
The network wants to protect existing gardens and increase opportunities for nature-friendly food-growing across the capital.
The funding provided by the project will help demonstrate and enhance the role that food-growing can play in addressing climate change and nature loss in London. It will also help train and support over 3,000 Londoners to grow food, building much-needed resilience in communities across the capital, while also showing city planners and landowners the many benefits of protecting London's food gardens.
As well as the physical and mental health benefits associated with community food growing, further benefits have been highlighted during the pandemic.
Over the last 15 months, London's food-growing communities have demonstrated how agile they are by scaling up production and connecting with their local communities, tackling issues such as access to healthy food and nature. This was seen during the Community Harvest, which grew 5.5 tonnes of fresh fruit and veg in 2020 across 54 London gardens, reaching over 6,500 families in need.
Capital Growth's new three-year initiative will champion gardens as hubs of community action.
Coordinator Fiona McAllister says now is the "perfect time to protect our network of gardens".
Alongside training and opportunities to get more people involved in growing food, there will be development of practical tools, such as indicators that show how gardens improve biodiversity, reduce pollution, provide access to green space, cool the local climate, alleviate flooding and produce food with a lower carbon footprint.
To kick-start the project, Capital Growth is inviting London's community gardens to take part in its Urban Harvest from 23-29 September and open their gates to their local community, introducing more residents to growing your own and celebrating the harvest!
Find out how you can get involved at capitalgrowth.org/opengardens.
Kate Poland is an award-winning community gardener and the UK's first ever postcode gardener in E5. For more, head to cordwainersgrow.org.uk and friendsoftheearth.uk