Hackney pupils praised for their 'extraordinary spirit' on GCSE results day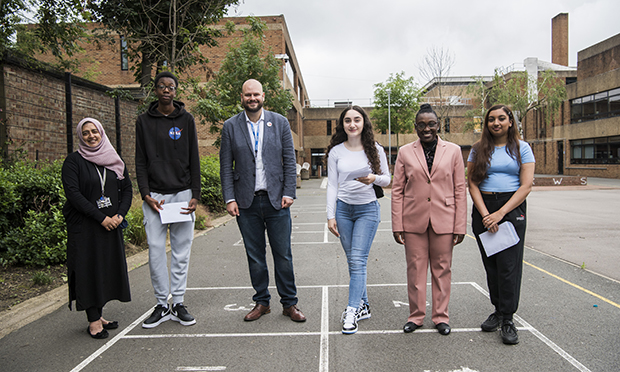 Borough leaders spoke of their pride in Hackney's schools yesterday as pupils collected their GCSE results – in a record year for passes and top grades.
Despite the challenges faced by staff and students during the pandemic, the number of grades at 7 or above in England, Wales and Northern Ireland hit 28.9 per cent – a 2.7 per cent increase on last year.
Passes of 4 and above were also up on 2020, rising from 76.3 per cent to 77.1 per cent.
Because of the disruption caused by Covid, teachers were required to submit grades for their students that were backed up by coursework and mock exams.
Our Lady's Catholic High School pupil Bobola Agboola, 16, achieved five 9s, three 8s, one 7 and a 6. She is going on to study medicine at Woodhouse College.
Agboola said yesterday: "I'm so pleased with my results. We were hardly able to come to school for several months, but fortunately the online learning available to us was excellent.
"My teachers helped a lot, especially in subjects like maths and history. I'm going to Nando's with my friends now to celebrate!"
Nathaniel Dowding, 16, was a star performer at Skinners' Academy after achieving seven 9s and three 8s.
He said: "I'm quite shocked and amazed. It's been a difficult year as we've had to work more independently. But we had a lot of help from our teachers. I'll be going on to study maths, chemistry and physics."
Hackney's deputy mayor and cabinet member for education Cllr Anntoinette Bramble visited schools across the borough yesterday, alongside Mayor Philip Glanville and education director Annie Gammon.
She said: "It was so special to witness students across the borough being reunited with their friends and teachers at school to collect their GCSE results. 
"There is an extraordinary spirit here in Hackney, which has been exemplified by our students flourishing in their studies despite unprecedented circumstances due to the coronavirus pandemic. 
"Our GCSE students are a credit to Hackney. I also want to thank the incredible teachers, support staff and families who have supported our young people to be the best that they can be. I want to wish all of the students collecting their results today the very best in their next steps in education or training."
Gammon added: "I'm incredibly proud of each and every one of our GCSE students today. Staff and students have worked so hard during challenging circumstances to produce an excellent set of results across the borough, which are once again above the national average.
"Schools are continuing to provide support and advice about careers, training and further education, and students should contact their school if they have questions about their results or their future plans."
Young Hackney is hosting a Summer Careers Festival for over-16s today at Hackney Town Hall (E8 1EA) from 12pm to 3pm.
Face-to-face support will be on offer, with students able to speak to professional careers advisers from Prospects and access free expert advice about next steps and options available to you. If you have any questions or would like more information please contact kane.sewell@hackney.gov.uk.