'It has helped me move on': Artworks by brain injury survivors on display at Autograph gallery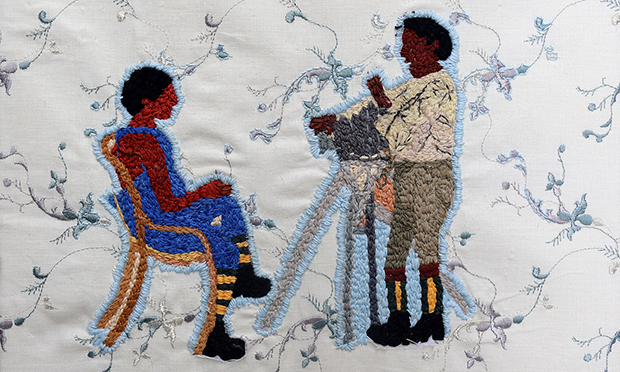 A new exhibition held at Shoreditch's Autograph gallery showcases work created by 23 artists from Submit to Love Studios.
Common Threads features textile creations that draw inspiration from the photographs displayed at Autograph.
Submit to Love Studio offers a workspace for artist members of the charity Headway, which operates across 13 London boroughs to help survivors of brain injury, their families and carers.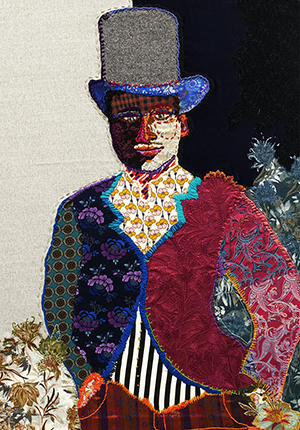 Member artist and former mechanic Trevor, who survived a serious illness in 2000, said: "I never [did] art at school. Headway is where I started my art program and I find it really successful. 
"When I came here I just met myself. It makes me feel great.
"The sewing keeps me going and I find it skilful. It has helped me get past being an auto mechanic and move onto something else. 
"A person with a brain injury can leave the past and move on."
The artists used the collection as inspiration for self-expression and self-portraiture as well as a cathartic exercise.
This is the first exhibition of its kind that Submit to Love Studios has organised.
Curator Michelle Carlile expressed excitement that the work of people with brain injuries was gaining long-overdue recognition.
She said: "We're always looking to use art to learn more about ourselves and to help people really explore who they are. 
"So many people have lost identity through their brain injury: many, many people cannot go back to work; they've lost families.
"This gives people an opportunity to re-find who they are, the things they make give people a real opportunity to contribute and have a real sense of identity. Now they're an artist."
Autograph aims to explore representation, human rights and social justice through artwork. Typically this is done through exhibiting photography and film.
The textile works are presented alongside portraits of the artists by photographer Leon Foggitt and a short film by Posy Dixon.
Common Threads will be on display at Autograph ABP, Rivington Place, EC2A 3BA until 14 August.
The exhibition is free, but visits must be booked in advance. You can book your tickets here.