National turbulence, local tranquility: Decoding Hackney's by-election results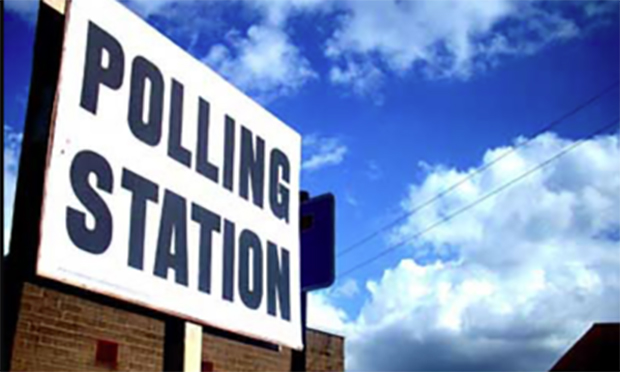 The four by-elections held on 6 May saw no seats change hands, but they did shed light on subtle shifts in party support across Hackney.
Labour held Hoxton East & Shoreditch, King's Park and Woodberry Down, while the Conservatives retained Stamford Hill West. In each case the party that held the seat suffered a minor loss in vote share, but not enough to threaten its strong majority.
In examining the 2021 result, it is worth bearing in mind that these by-elections differed from the 2018 local polls in that each elector could only vote for a single ward candidate, unlike in the multi-seat elections held three years previously, so people did not have the option of splitting their by-election vote. They were handed rainbow-coloured sheafs of ballots at the polling station, however, and the opportunity to select London-wide candidates undoubtedly accounts for the fact that average turnout in these four wards increased from 37 per cent in 2018 to nearly 40 per cent this year. With these caveats in mind, it still makes sense to compare vote totals in 2018 and 2021.
The aspect of the results that stands out most is the lack of any major shift, despite the massive upheavals in the political scene occasioned by Brexit, Covid, the replacement of national-level leaders of most of the parties contesting elections in Hackney, and the changing focus of borough politics.
The most noteworthy local 'dog that didn't bark' was the failure of candidates linked to Horrendous Hackney Road Closures to make major electoral headway. This group's vocal campaign against the council's policy of opening a number of Hackney roads to increased pedestrian and cycle use by restricting motorised vehicular traffic led some to speculate that candidates such as Niall Crowley in Shoreditch East & Hoxton and Clair Battaglino in King's Park might threaten Labour's hold over those wards. As the results show, this was very far from being the case, as these candidates won only a few hundred votes between them – 222 out of 2,845 for Crowley (7.8 per cent) and 151 of 3,952 (3.8 per cent) for Battaglino.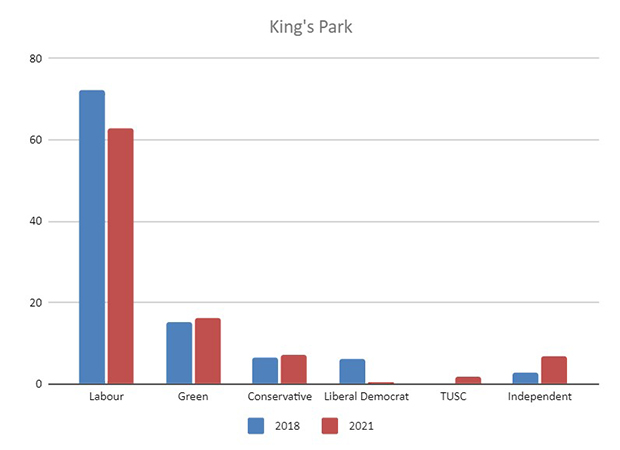 Perhaps the best test of the popularity of this policy was the race in Woodberry Down, as the seat was being vacated by the architect of the road use change scheme, Jon Burke. Horrendous Hackney Road Closures did not stand a candidate in this ward, but had local residents opposed Burke's flagship policy, one would have expected them to flock in droves to the generally far more pro-car Conservatives. The Tory vote share did go up in Woodberry Down from 9.4 per cent to 17.8 per cent, but the Greens gained about the same amount; in 2018, their best-performing candidate polled 10.6 per cent, whereas this year's Green candidate pulled in 18 per cent of the total. This suggests that Labour's proposed 'reset' on this issue might be premature; it is not obvious that a U-turn would be a net vote-winner.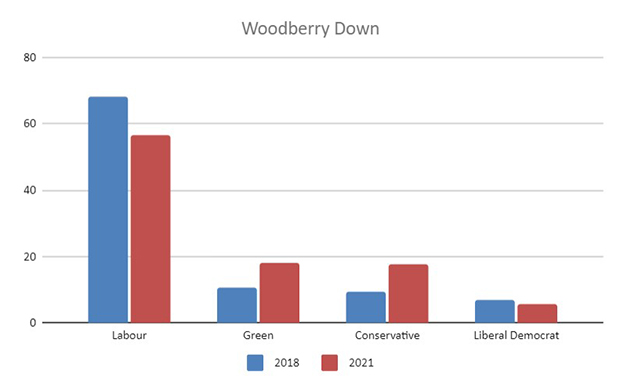 Indeed, the Greens – long the second-polling party in Hackney at ward level – had good by-elections, seeing their vote share rise from an average of 11.7 per cent to 14.1 per cent across the four areas. This is in line with the party's strong nation-wide performance this year, though not as dramatic as in places like Bristol or Sheffield where the party dramatically increased its seat share.
In Hackney, the Greens are still some way off winning back the Clissold ward seat they lost in 2010, but a concerted local push together with a strong national polling could put them in a strong position when borough-wide elections are held next year.
The Liberal Democrats, by contrast, will struggle to find solace in these results. Their six per cent 2018 vote share in King's Park was reduced to a meagre 0.3 per cent by the candidacy of former Lib Dem Ben Mathis, who garnered 4.8 per cent standing as an independent. Across the four wards, the party's average vote share of six per cent in 2018 slumped to 4.2 per cent in 2021, suggesting that they have a lot of work to do to win back any of the seats they have previously held in the borough.
All in all, these by-election results indicate that Hackney is still strongly in the grip of Labour, with a solid Conservative enclave in the north of the borough. But Labour's ability to maintain its hegemony will ultimately depend on its capacity to reinvent itself in response to changing local challenges and values.