Hackney Mayor defends apparent U-turn on controversial Silvertown Tunnel plans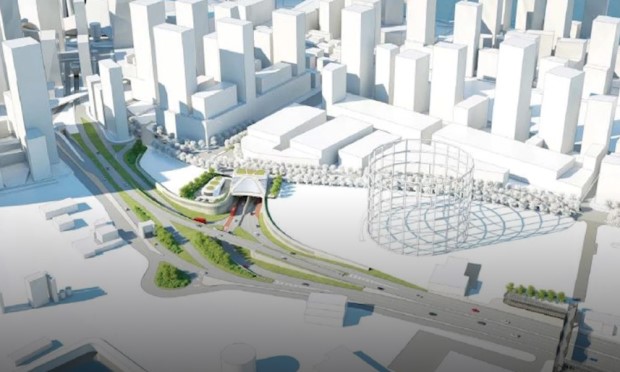 Hackney Mayor Philip Glanville has defended himself after speaking out in support of the contentious Silvertown Tunnel project despite his Labour administration's long-held opposition to the scheme.
Glanville leads a council that in 2015 passed a motion formally opposing the project and warning that it would flood the borough with traffic.
The borough leader wrote to London Mayor Sadiq Khan himself in October 2019 to say that the project's cancellation would demonstrate "vision and moral clarity".
However, appearing on behalf of Khan at the Towards a Mayor4CleanAir debate arranged by the British Lung Foundation and Mums for Lungs, Glanville pushed back against the Greens and Liberal Democrats to express support for the scheme.
Questioned about this apparent U-turn, Hackney Labour said that Glanville was not arguing his own position on the tunnel but rather speaking as a proxy for Mayor Khan.
The local party confirmed that it remains opposed to the project.
In response to a question from a doctor in Tower Hamlets who said they were "acutely aware" of the impact of toxic air on their patients, Glanville said: "I know the A12 very well, and actually introducing charging on both routes, providing those tougher environmental standards and making sure there is a public transport and sustainability focus around that piece of infrastructure in East London is incredibly important.
"That has shown [Khan] has listened to the communities around the Silvertown Tunnel and embedded those environmental standards and made sure there is resilience for East London's transport system, and anyone that has used Blackwall Tunnel or monitors the news around it knows it goes through an incredible amount of closures.
"It is not fit for purpose in terms of high capacity public transport and providing that alternative at Silvertown is incredibly important, but linking them together and making sure that charging regime exists, and the ULEZ expansion, will make sure it does not have those negative impacts I know campaigners care about so much.
"This is not either-or. We are not seeing any rowing back of Sadiq's ambition in terms of active travel, investing in outer London active travel as well, and making sure London has access to high quality green public transport and cycling and walking routes that are so very important in East London and beyond."
Glanville went on to assert that the Mayor had inherited a scheme that was "entirely unfit for purpose", and had made sure that the "very best limits on the environmental impact of Silvertown" were embedded in law, with the project linked to the expansion of the ULEZ and changes around the Blackwall Tunnel.
Since 2015, Hackney Labour has held to the maxim that "you cannot build yourself out of congestion", with former transport chief Cllr Jon Burke going as far as to attempt to band together with other councils impacted by the scheme to write to Mayor Khan in opposition to the project in 2019.
Burke has since resigned from the council, but continues to call for the project to be scrapped, a view openly shared by other Labour politicians including West Ham MP Lyn Brown and shadow climate change minister and Greenwich & Woolwich MP Matt Pennycook.
Pennycook called for a "smarter, more imaginative and more sustainable solution than this ill-conceived scheme" in the immediate wake of Khan's re-election last week.
Responding to Glanville's arguments, Green Mayoral candidate and party leader Cllr Siân Berry said: "It is a disastrous plan. The idea that Sadiq Khan inherited this and had to go ahead with it, he did not. He inherited an idea, he could have cancelled that at any minute.
"[Liberal Democrat London Assembly member] Caroline Pidgeon and I wrote to him in November 2019 before he signed the contract for this scheme and said it was not too late to cancel it. He should have stopped this scheme straight away. 
"It needs to go. It shouldn't be happening. It is going to be disastrous for air pollution. It will generate more traffic. We learned this lesson about 80 years ago, and the impacts will be felt as far away as Hackney.
"Hackney councillors have already said they don't want this. I'm pretty certain there has been a motion passed at Hackney Council against the Silvertown Tunnel because the impacts and the extra traffic it would generate would go that far."
Glanville said at the hustings that he was "not representing Hackney Council or myself in this debate and discussion", before arguing that the lobbying carried out by the borough "had been listened to".
He said environmental sustainability factors and impact on congestion and air pollution had improved, adding: "It is not the same scheme that we were lobbying on before."
Liberal Democrat Mayoral candidate Cllr Luisa Porritt said: "I don't understand what you think has changed since 2015, because you wrote to Transport for London in 2019 still expressing your concerns about the project. What has changed since then and now?
"I don't understand any of the arguments being put forward frankly. It's very simple – if you add a new road, that is induced demand. There will be more cars on the road and more cars overall in London."
Glanville, whose 2019 letter to Khan described the tunnel as "the kind of 20th-century solution that is completely unfit for the environmental challenges London is facing", said that monitoring the Blackwall and Dartford crossings together was "an incredibly important response" to make sure there was no increase in traffic and congestion.
The Hackney Mayor was joined in his apparent support of the scheme by Conservative North Ruislip and Pinner MP David Simmonds, who, while representing London Mayoral candidate Shaun Bailey, argued that projects such as Silvertown aimed at alleviating congestion can bring about "significant benefits" for air quality.
Hackney Council was approached for comment on whether the text of the 2015 motion, currently unavailable online after last October's cyber attack, continues to formally commit the council on a corporate level to oppose the scheme, but had not responded by time of going to press.
In May 2019, then transport chief Jon Burke said that a new tunnel at Silvertown is "not only fundamentally incompatible with attempts to tackle the public health hazard of London's polluted air, it will also exacerbate the UK's growing land transport sector greenhouse gas emissions".
A Hackney Labour spokesperson said: "Mayor Glanville made it clear he was representing Sadiq Khan's policies at the hustings.
"Both Mayor Glanville and Hackney Labour have a clear track record of campaigning against the Silvertown tunnel. The Hackney Labour Group passed a motion against it in 2015, and Mayor Glanville last wrote to Sadiq objecting to the scheme in 2019.
"It is still the collective policy of Hackney Labour to oppose the Silvertown Tunnel, while also appreciating the lengths Mayor Sadiq Khan has gone to to make the scheme more sustainable.
"This includes road user charging on both the proposed new and Blackwall tunnels, as well as the new Ultra Low Emission Zone (ULEZ) which Mayor Glanville campaigned to see extended to cover Hackney.
"Moving forward, Hackney Labour is united behind its mission to rebuild a greener Hackney and work with Mayor Sadiq Khan to tackle London's polluted air during his second term and beyond."