Pick your favourite opening line from a book for public artwork in Dalston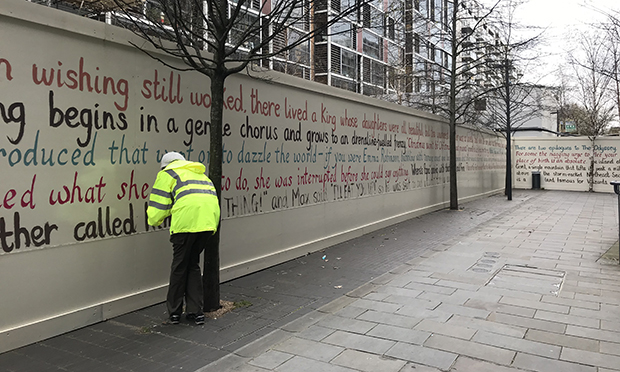 Two local artists want Hackney residents to send them their favourite opening sentence from a book that can be found in Dalston CLR James Library for a public artwork.
The First Words In Dalston installation in Dalston Square so far features 50 lines from books such as A. A. Milne's Now We Are Six, Toni Morrison's Beloved and Murder Most Unladylike by Robin Stevens.
But artists Mike Abrahams and Francesca Giuliano are appealing for further submissions to complete the temporary display, which they hope will help people reconnect with the library after the latest lockdown.
They said: "People feel really isolated during lockdown as so many of our cultural activities have been closed. By bringing the library outside, we've seen how people are intrigued by the work and are stopping to read or listen.
"Those who have participated in contributing the first sentences of books or poems they love are providing opportunity for essential human connection as well as helping everyone enjoy art outside of the traditional gallery context. 
"We also believe that engaging in art can encourage better mental health and we're hoping First Words in Dalston will help people reconnect with art as the world starts opening up again. We hope it will create a sense of pride, help bring people together and brighten up the community." 
The pair are hoping to receive 250 submissions by summer and are looking for funding to extend the sonic soundscape that complements the display.
Head of Hackney Libraries Sue Comitti said: "This eye-catching project brings stories into the open air and after a year of lockdown and isolation, is a great way to bring people together again to share their love of reading.
"First Words In Dalston is also a great way to remind residents that the libraries are reopening and ready to welcome old and new faces back after a difficult year." 
Anyone who lives or works in Hackney can take part by choosing the first sentence from any publication they would expect to find inside Dalston CLR James Library. The submissions can be from fiction, non-fiction, an academic text, a play or a poem.
For more details on how to submit your entry visit firstwordsindalston.co.uk/take-part