#HackneyIsHome: Photographs by members of the public celebrate life in the borough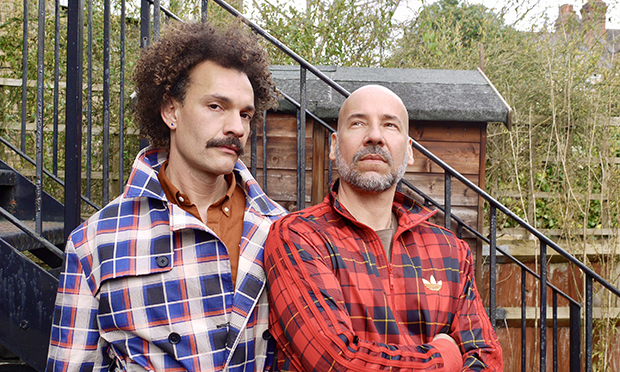 Twenty-nine photographs submitted by members of the public for a project celebrating life in Hackney have been unveiled by Shoreditch gallery Autograph.
The organisation recently staged a month-long exhibition titled #HackneyIsHome, which saw portrait shots by young refugees appear on the electronic billboards overlooking Old Street roundabout.
Part of the project was an appeal for submissions from the public, and these have now been whittled down to a final selection that can be viewed on Autograph's website.
Mark Sealy, director of Autograph, said: "Autograph is based in Hackney, and we are proud to work with our local community and amplify that work globally. I am delighted at the success of the #HackneyIsHome project, and the public's response to our call for photographs on that theme.
"The images Autograph received highlight the different communities, experiences and places that make up our borough, and what makes it such a brilliant place to call home to so many people."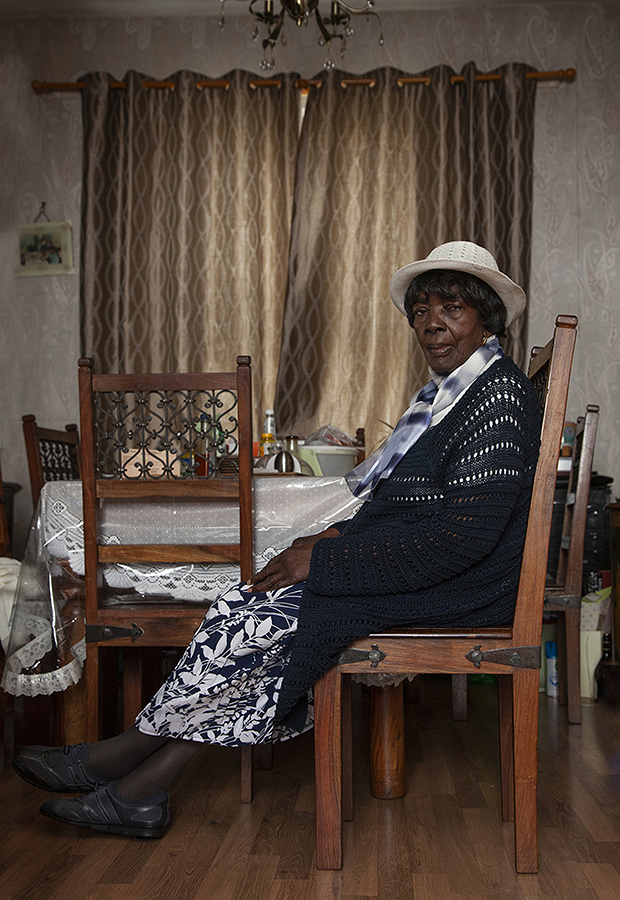 Ann is the subject of Heather McDonough's photograph, Cliff's Mother, which is based on James Abbott McNeill Whistler's iconic Arrangement in Grey and Black No.1 – better known as Whistler's Mother.
McDonough said: "Ann goes to church every Sunday. She has lived in the same house for over 50 years. She cooks traditional Caribbean cuisine, and hardly goes out to dine. She loves to garden and she has amazing green fingers – she has planted camelia, potatoes, runner beans and more. She lives with her grandchildren. Ann is over eighty."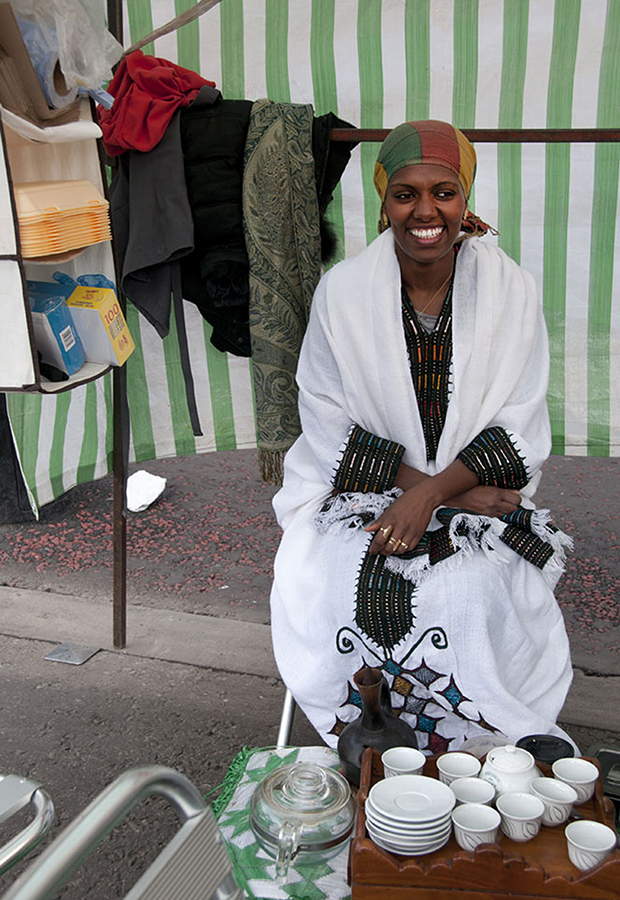 Jenny Matthews' portrait features cook and caterer Negist Araya, who hails from Ethopia, at her former stall on Ridley Road. The shot was part of Matthews' project Hackney All Nations.
Araya told the photographer: "I came to England as an asylum seeker but I have my citizenship now. I feel at home in London because I have my little family here, I'm more comfortable here. I like lots of things about Hackney – the activities for children, the things to do, the market.
"It's a very cheap place to live as well, everything I need I can find near to my place – Hackney style. Hackney is a good area with a big mix of nationalities, especially here in the market – there's Pakistani bread, Afghan carpets, everything."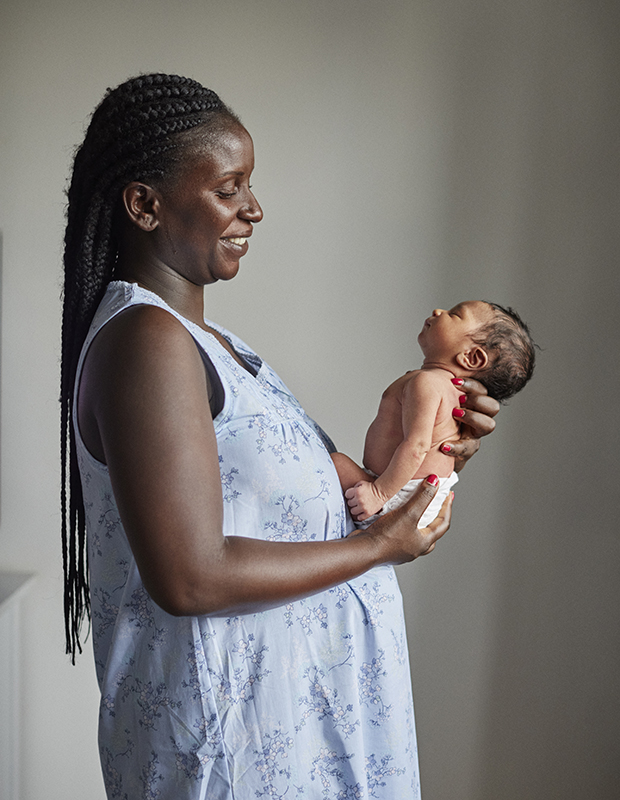 Sonia and Florenca, 32/100 Years is one of a series by photographer Jenny Lewis called One Hundred Years, which links to her previous series One Day Young.
Lewis said: "One Day Young consists of 150 portraits, taken over five years. The women are intimately captured back in their own homes, within 24 hours of the birth, challenging the usual sterile hospital images that inform our collective image of this moment.
"These women exude strength, identity intact rather than the anonymous mother stripped of self. Instead of fear we are presented with triumph. This intimacy and transparency is a defiant statement of activism."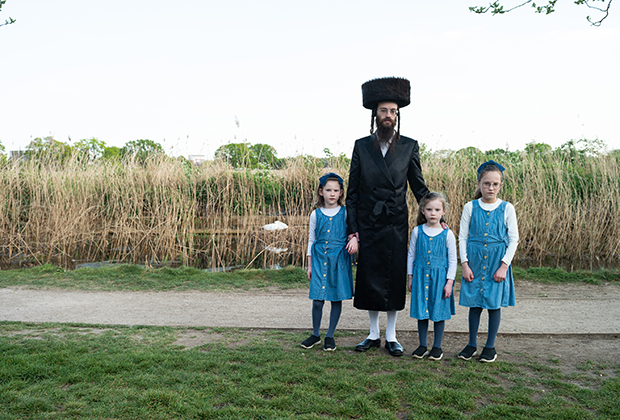 Autograph's final selection also includes Robert Huggins' picture of an Orthodox Jewish family on a Sunday walk at the East reservoir, Tommy Sussex's shot of young men enjoying the sunshine after the first lockdown, and Manal Massalha's photograph of two women called Convivial Hackney.
Massalha said: "One of the beautiful things about Hackney is the open, democratic and inclusive public places it offers where everyone feels welcome."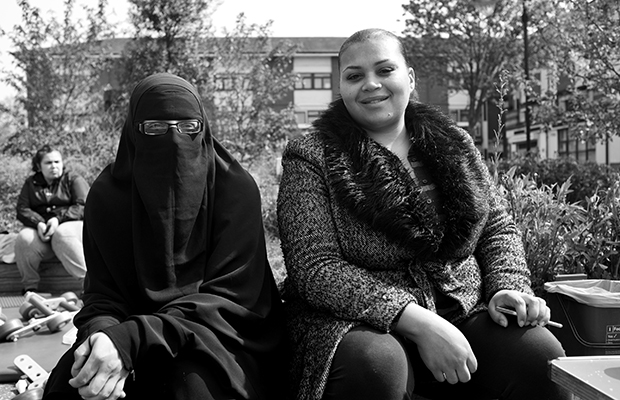 Autograph received over 100 submissions, with the final selection chosen by a panel which included young people involved in the project.
People were invited to send in images responding to the theme 'Hackney is Home'. Submissions from anyone who had a story to tell about Hackney were welcomed – no matter how big or small.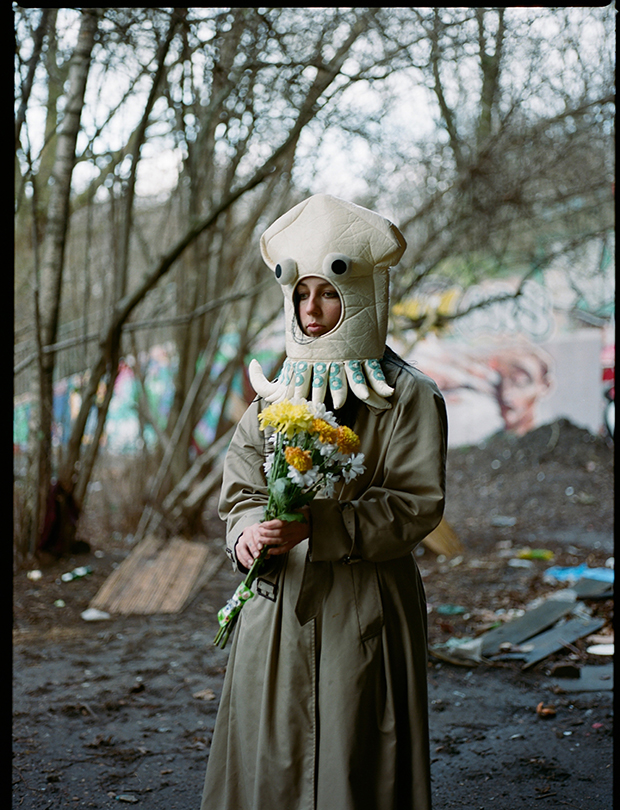 To find out more about the #HackneyIsHome project, and to see all 29 shortlisted images, visit autograph.org.uk/blog/hackney-is-home-your-pictures/