'The future is bleak': Hackney resident blocks local traffic on day of climate action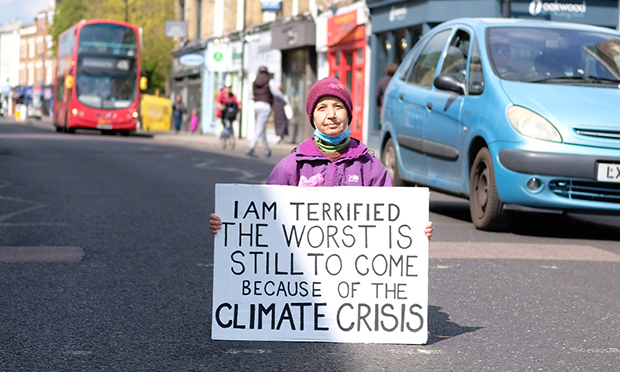 A single Hackney resident held up traffic in Stoke Newington for more than an hour last Saturday as part of a national day of action by Extinction Rebellion (XR).
Precious Martini-Brown sat down in the middle of Church Street at 11am, exactly two years on from the day Parliament declared a climate emergency, to express her fear that not enough has been done since to avert disaster.
The 74-year-old was wearing a sign that read: " I am terrified the worst is still to come because of the climate crisis."
The protest was one of hundreds of individual roadblocks taking place across the UK and the rest of the world for XR's Rebellion of One campaign.
Another campaigner blocked traffic on their own at the opposite end of Church Street.
Martini-Brown, a Quaker and community gardener, said: "From the early days, I have been part of the environmental movement and have seen it grow from 'alternative' to the big central issue of the day.
"The growth economy drives us to consume over our fair share of the earth's resources and we are all suffering as a consequence. The future looks bleak, the science is clear; while the earth's warning signs are becoming more obvious, we still seek practical solutions."
She said the action was testament to her "truth and bewilderment, shock and terror for the irreversible changes happening around us", and invited people to "take it in and accept that this is happening".
The Committee on Climate Change – the body tasked with monitoring government progress on reducing emissions – said in a progress report last June that the UK had failed on 17 out of 21 indicators. It found that just two of 31 key policy milestones were met in the year following Parliament's declaration.
And last December, the National Audit Office predicted that the government will fail to meet its existing climate targets and said a radical reassessment of priorities was needed.
Saturday's protests are part of XR's 'waves' of rebellion for 2021, with actions to be held every month in the run-up to the UN Climate Change Conference in Glasgow this November.
Find out more about the Rebellion of One campaign here