Council accused of 'prioritising private interests' in Morning Lane plans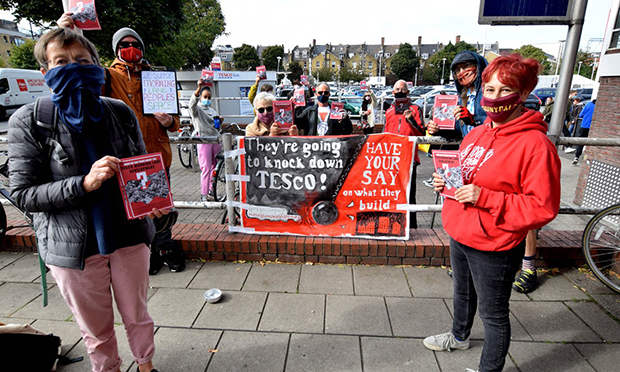 Campaigners have criticised Hackney Council for its refusal to release correspondence on the Morning Lane Tesco redevelopment with developers Hackney Walk.
The Morning Lane People's Space (MOPS) group wants at least 50 per cent affordable housing on the site and a plan "informed by Hackney residents".
MOPS asked to see pre-planning application exchanges going back to January 2017 between the Town Hall and the prospective developers.
The campaign says it waited eight months rather than the mandated 20 working days for a response, before being told that the council would not be releasing the information for commercial reasons.
A spokesperson for MOPS said: "It is disappointing to see Hackney Council once again prioritising the interests of a private developer over those of Hackney citizens.
"Our experience talking with people outside Tesco shows that there are many more people who care about what happens to this site but who are unaware of the plans.
"Hackney Council's response represents secrecy rather than openness as necessary to deliver a development that meets Hackney's planning objectives. We disagree. Public engagement is not an obstacle to good planning.
"As Luke Billingham and Alvin Owusu-Fordwuo point out, it was Hackney residents who predicted the abject failure of the 'Fashion Hub', and Hackney Council and Hackney Walk that got it wrong.
"We hope that our council will partner with Morning Lane People's Space and with other local residents in developing any plans for the site."
Hackney Mayor Philip Glanville said at a MOPS meeting last year that his expectation from any application would be to ensure "35 or 50 per cent targets" for affordable housing.
Hackney Walk put forward a pre-application proposal in October 2019 containing 20 per cent affordable housing, based it says on a previous agreement with Hackney Council, but it says it is working hard to exceed this figure.
The developer has one year left to bring forward a planning application for the scheme before its first refusal on the site runs out.
Hackney Walk and Mayor Glanville were approached separately for comment on where negotiations on these issues currently sit.
Mayor Glanville had not responded by time of going to press, and Hackney Walk could not be reached for comment.
In their response to MOPS, the Town Hall applied a 'public interest test' to the decision on whether or not to release the information, with one point laid out in favour of disclosure, and four in favour of maintaining the exempt nature of the correspondence.
Decisions of public interest disclosure of this type are non-political decisions, with no elected members of the council involved. In this instance it is understood the decision was made by the strategic property service within the council, with advice from information services.
Arguments laid out in favour of keeping discussions opaque were to prevent "potentially jeopardising negotiations" and putting the development at risk and that to do so would only show "part of a picture" and would prejudice the ability for developer and council to freely discuss the project.
The Town Hall also told MOPS that Hackney Walk's internal appraisals being released would "prejudice their commercial position and competitive advantage", and that a release of information about the consultation process "whilst it is in its infancy" would damage the ability to communicate the scheme to locals.
Only one point was presented in favour of transparency: ""To inform interested members of the public of the content of discussion between the council and potential developers of the site."
A MOPS spokesperson added: " This is biased in favour of the developer. The way the council weighs up the benefits of openness and secrecy distorts the situation. Public interest is summed up in one sentence with no argument at all for why Hackney residents need this information. It makes it sound like a few people want to satisfy their curiosity.
"By contrast, the argument for secrecy is broken down into four apparently separate reasons. All four are versions of 'It wouldn't be to the developer's benefit if the public knew'.
"Hackney Council's response does not engage with the huge interest in this development on a key site in the centre of Hackney.
"Nearly 1,400 people responded to a survey that we did last autumn about the site and many more have signed our petition demanding an alternative plan, which includes at least 50 per cent council housing and is informed by and useful for Hackney residents."
MOPS will now be seeking a review of the decision not to disclose, with an appeal to the Information Commissioner's Office if it is allowed to stand.
A council spokesperson said: "This site is critical to Hackney Central and to the borough as a whole, and by intervening we have been able to set clear red lines on what any new development will need to provide – new jobs, workspace, public spaces and affordable housing, while retaining the Tesco store.
"The agreement with Hackney Walk was made in public by the council's cabinet, and we have maintained throughout that any proposals will have to undergo an extensive, open and transparent consultation so that the local community can get involved and fully scrutinise any plans before they proceed."
You can find out more about the campaign here.