Dalston Curve Garden reopens with call to help its crowdfunder hit £100k target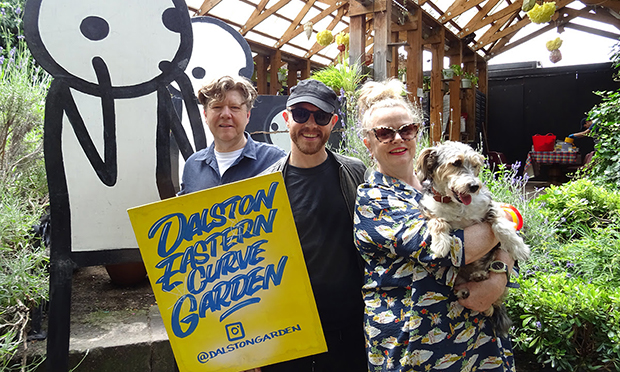 After a tentative reopening at the end of March, the beloved Dalston Eastern Curve Garden is set to welcome more visitors from this week following the easing of restrictions – just as it is looking "especially beautiful" with bulbs planted in the autumn beginning to flower.
In April, the opening hours are limited to 2-7pm from Sunday to Thursday and 2-10pm on Fridays and Saturdays, with plans to gradually extend these in the coming months.
Explaining the cautious first steps, the garden's co-directors Marie Murray and her partner Brian Cumming, who founded the Curve in 2010 in response to the lack of green space in Dalston, said in a statement: "From day one of opening, our main purpose has been to offer a beautiful community garden where residents can relax and connect with nature.
"We always prioritise keeping the Garden open for everyone to enjoy. This means that we are not able to reserve tables in the Garden for drinks from our café and we do not hire the Garden or any part of it for private parties or wedding receptions.
"For the foreseeable future we are unable to accommodate gatherings or parties of more than six people, unless they are part of our community support mornings."
That very last part was welcome news for Lockdown Mums, groups from mental health charity MIND and several organisations for older people, whose outdoor community mornings were interrupted by the lockdowns but have now resumed on weekdays.
With temperatures still low, the Garden is offering hot water bottles and drinks for the groups of older people, as well as cosy blankets, nourishing porridge and a hot lunch.
The Garden hosted twice-weekly online sessions for these groups while it was closed in an effort to "keep everyone connected, at a time when so many people felt lonely and isolated".
As for what visitors can enjoy at the moment, the co-directors added: "The Garden is looking especially beautiful right now, thanks to gardener Dean Young and to the many volunteers who worked so hard last autumn, planting hundreds of spring-flowering bulbs.
"There are so many 'highlights' at the moment that we can't list them all, but some of our favourites include the beautifully scented Daffodils 'Pipit', which we plant in the ground and in containers, Summer Snowflakes, which look like Snowdrops on tall stems, Muscari latifolium/Grape Hyacinth, which the bees love, and of course all of the tulips!"
The Curve's Instagram page is a great place to see regular snapshots of all the botanical beauty on offer.
While the reopening is hugely positive news, the Garden has not been immune to the economic damage suffered by so many local organisations over the past year.
A fundraiser set up by Murray after the first lockdown last March showed how precious this haven is to the community, with thousands donating to help it reach almost £90k of its £100k goal.
Calling for a final push to see it over the line, Murray and Cumming said: "As a social enterprise, Dalston Curve Garden generates all of its income from the proceeds of our café and following more than 12 months of total lockdowns and restrictions, our income has been severely reduced.
"Now, as we start reopening our doors, we are busy planning for the year ahead, to make sure that the Curve Garden continues to provide a much-needed safe, welcoming and beautiful free outdoor space for all.
"We are also increasing our commitment to people who have been particularly badly impacted by the hardships of the past year. So once again we are asking for your help.
"We were so grateful for all the support everyone gave the Garden last year to help us reopen and to set up our special community support mornings. To date, you have helped us raise almost £90,000! 
"However, we still need to raise an additional £10,000, if we are to ensure that the Garden recovers from the financial damage caused by last year. We would ideally like to raise this amount by the end of April, so that we can make plans for the Garden's future with confidence."
These plans include more space for community gatherings, a new kitchen garden with a greenhouse, and extra facilities for educational workshops.
If you haven't yet had a chance to make a donation to the crowdfunder, or are in a position to consider donating once again, you can do so at uk.gofundme.com/f/save-dalston-curve-garden