Property guardians speak out over 'neglected' former Citizens Advice Bureau building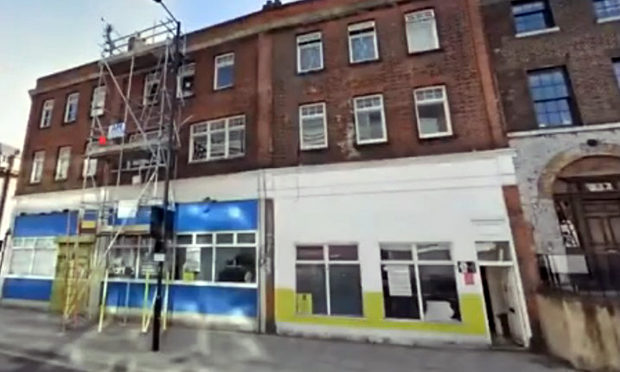 Councillors have said that the former Citizens Advice Bureau building on Mare Street has "not been managed very well", as property guardians in the building continue to question why the decaying structure had been made available for them to live in in the first place.
Residents at 234-238 Mare Street hit the headlines in February at the conditions in the property they occupied as property guardians, speaking out over floods and fire safety concerns as well as pointing to a 2015 building survey remarking on the "hazardous" state of the property.
Permission was given this week for an extensive refurbishment of the building's residential and office space with the addition of a roof extension, as councillors on the Town Hall's planning committee voiced their "disappointment" over the lack of any onsite affordable housing in the council-led plans.
Resident Maggie Bakir, who has lived at the property since 2016, said: "The property should never have been made available to public for residential purposes. Instead it should have been protected and improved, rather than being neglected since then.
"The roof extension seems like a decision for financial reasons to earn more money for the property, but what this property needs is love and protection.
"This property survived the World Wars. It is situated in a conservation area. It shares a wall with a listed property. Therefore its character must be protected. The details and inside of the property must be surveyed and well-assessed before taking any decisions.
"I still cannot understand why the property has been neglected for so long, and believe it must be kept exactly as it is. It must be regarded as a part of an artistic piece in Hackney's conservation area that needs to be protected and not be seen as a source of financial income."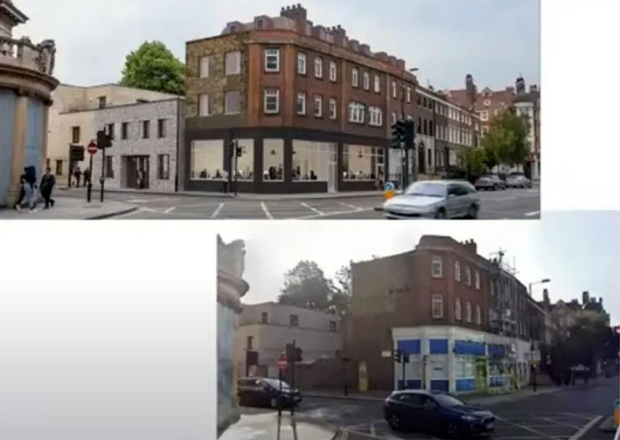 A planning report responding to the charge that the building had been "left to decay" while inhabited by property guardians argued that property guardianship schemes' purpose is "to help maintain a building that would otherwise be vacant and subject to a greater level of decay."
Councillors gave permission this week for the new roof extension and construction of a pair of two-storey abutting the building to go forward, with nine homes to be provided above the ground floor offices.
Planning consultant Ashleigh Cook said: "We are pleased to be representing this fantastic development opportunity and to be bringing this under utilised building back into use. The property at 234-238 Mare Street has a complex history.
"We are helping to bring a vacant and underutilised building back into use. The design and architectural quality of the building improves the contribution of the site to the wider conservation area."
Quizzing officers on the scheme, Cllr Peter Snell pointed out that substantial changes of the type planned to the Mare Street property "require any element of the building is brought up to current building regulation standards."
He added: "This is a magnificent terrace, one of my favourite little gems in Hackney. It's a total loss that they messed this up in Edwardian times. We're all accepting that we don't do retrofit, we respect our heritage, so therefore the idea that we're respecting that crappy conversion by the Edwardians is consistent with what the Hackney Society would like.
"If there are important internal features, surely we should be looking after those features? We do own this property, what is the intention, are we going to rescue or reuse them, and are they going to be incorporated in the new development?
"This looks like a fantastic upgrade to that corner, as it has looked a total mess for decades. Are we really going to deliver it? The main thing is getting rid of that appalling white and blue crap that is on the ground floor at the moment.
"Hackney Council has managed it for ages, and obviously has not managed it very well. How can we guarantee that what you are showing us there is actually what it is going to look like?"
Planning committee chair Cllr Vincent Stops prohibited Snell from receiving an answer to this question, asserting that the Dalston councillor and his fellow committee members were not allowed to "spin off to have a load of grief about all of these other issues."
Stops added: "Please restrain yourselves. We are here to talk about planning issues. Of course we are all disappointed with this, that and the other."
Multiple councillors put on record their "disappointment" at having no social housing units incorporated into the plans, while noting that a £450,000 contribution to offsite affordable homes was being made as part of the Town Hall's new local plan.
Officers told committee members that while they were "more than entitled to express disappointment at a certain issue…they cannot allow that expression of opinion to taint the decision itself," underlining that the scheme complies with planning policy.
Development management officer Nick Bovaird said: Until [the new local plan], we weren't getting anything on this – this is nine units, so it would have fallen completely by the wayside in terms of affordable housing.
"Now we get a payment in lieu, but it is recognised on small sites there are not any housing providers that want to take on one or two units in something of this size. Until the council starts doing it itself, there is not any means by which planning can do that rather than in lieu. It is policy compliant for that reason."
Cllr Clare Potter later reflected: "If the council can't lead by example and have social housing units as part of a mixed development, who can?"
The planning committee gave its permission to the scheme, which will see the erection of a two storey rear extension and a single storey roof extension, with nine homes and a ground floor office.
EDIT: This article was updated at 10:47 on 12/04/2021 to make clear the planning sub-committee's decision.