Campaigners call for 'high ambition' as Town Hall announces review of fossil fuel investments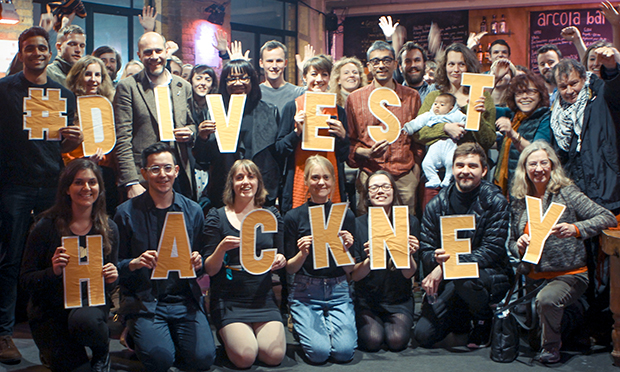 Activists have welcomed Hackney Council's announcement that it will revisit its pension fund's fossil fuel investments over the coming year, and said they will "push for it to be as ambitious as possible".
The Town Hall's pensions committee met earlier this week, ultimately deciding on a review that finance chief Cllr Robert Chapman said will explore "how we can go further to reduce exposure to fossil fuel risk".
The council revealed in February that the £1.7bn fund's investment in carbon-emitting companies dropped by a third between 2016 and 2019, taking it over the halfway mark to its current target of cutting exposure by 50 per cent by 2022.
News that this strategy will be looked at again was music to the ears of campaign group Divest Hackney, which has long called for Hackney to follow other boroughs and commit to full divestment.
Spokesperson Gabriel Davalos said: "Overall we welcome it, but we think that it should have happened much sooner, given how updated their target was. We're going to continue to push for them to be as ambitious as possible over the next few months while they're revisiting this."
He added: "We really do hope that this is an opportunity for them to go much further than they've gone in the past and make some clear commitments, so that it can put the council at the forefront of what local government is doing and can do."
Now is the moment for high ambition. We need:

✅Divestment of the top 200 oil, coal & gas companies
✅Further decarbonisation of the whole Fund, with a clear Paris-aligned target
✅Local investment in green industry & job creation
✅Consultation with fund members on their views

— Divest Hackney (@divesthackney) March 16, 2021
The review will examine how the pension fund can align with both the council's commitment to become carbon neutral by 2040 and the UN Intergovernmental Panel on Climate Change's (IPCC) goal to limit global warming to 1.5 degrees Celsius above pre-industrial revolution levels. Hitting this latter target would reduce the likelihood of widespread drought, according to the IPCC.
Extinction Rebellion Hackney member Juliet Bottle said: "It's definitely a positive that the council is planning to decarbonise, but the devil is in the detail. What we're asking is that they do this as fast as they can, and we know that other councils have done that.
"If they can tell us that they're going to decarbonise within the next one to three years, then great, but anything less than that is going to be words rather than actions."
Cllr Chapman, who also chairs the pensions committee, said: "We're already committed to some of the most robust and ambitious action of any Council in the country to tackle the climate emergency. 
"This review of our pension fund's responsible investment policies will set out how we can go further to reduce exposure to fossil fuel risk, bringing it in line with the international 1.5C target to limit global warming, as a further step on our path to a fossil fuel free future."
The committee has also agreed a timetable for moving funds out of UK equities and into more sustainable, low carbon global mandates offered by the London Collective Investment Vehicle (LCIV), the pension fund pool owned by capital's 32 boroughs and the City.