Petition calls on council to divest from companies complicit in occupation of Palestine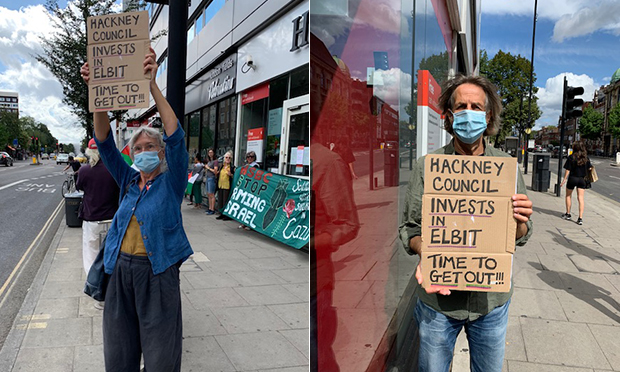 Local campaigners are running a petition that calls on Hackney Council to divest from any companies operating in the Occupied Palestinian Territories.
Hackney Palestine Solidarity Campaign (PSC) started the petition last year after discovering that £28 million of the Town Hall's £1.5 billion pension fund is invested in companies designated by the United Nations as being complicit in the expansion of illegal settlements on Palestinian land.
One such company is Elbit Systems, an Israel-based arms manufacturer from which East Sussex County Council announced its divestment several weeks ago.
Hackney PSC chair Leonie Rushforth said: "We were taken aback to discover this [investment], and we thought that Hackney residents would also be taken aback. We would like to urge the council to take this issue seriously, as an ethical question."
The national Palestine Solidarity Campaign defeated the government at the Supreme Court last year when it overturned a ban that it says "would have stopped Local Government Pension Schemes from divesting from companies complicit in Israel's oppression of the Palestinian people, and additionally from divesting from the UK defence industry".
Rushforth explained that Hackney PSC has written to the council on a number of occasions but had not received a response, though pensions committee chair Cllr Robert Chapman did express in a meeting last October that the funds invested were not direct and were too small for divestment to be feasible.
"We think that dialogue on this is important and we are very ready to to provide information, to put our view to them," Rushforth added. "I think that the primary duty of the pensions committee is to take very good care of the money, but part of that duty of care is moral and ethical."
Israeli occupation of Palestinian Territory, including East Jerusalem, is considered a violation of international law and an obstacle to a two-state solution, according to many commentators.
Israel continued its expansion of illegal settlements in the occupied West Bank in recent years by building outposts without the authorisation of the Israeli state.
Companies such as Elbit Systems and Caterpillar, in which Hackney Council pension funds are also invested, have contributed to the occupation directly, with Caterpillar machinery being used to demolish housing and infrastructure in the occupied territories, and with Elbit providing around 85 per cent of the Israeli army's land equipment and drones.
"That my local authority has investment in them, it's difficult to swallow," Hackney PSC secretary Sussan Rassoulie said. "It's just not acceptable for a local authority to say that they don't have ethical conduct. They don't take ethical consideration into view. And they only think about return on investment.
"If there are people in the council who sit on committees about pension funds, they must have a say about how the pooled money is invested, and they must use that space to address this extremely unethical investment."
Former journalist, Hackney resident and PSC supporter Alan Mackie also showed enthusiasm for the petition, explaining that the local authority is by no means the final frontier.
Mackie said: "I think this issue exists on a national basis too. There has been a huge suppression of the conversation around Palestine. There's a general trend towards ethical investment, but there's institutional inertia and people feel stuck in the mud having this conversation."
Hackney PSC's petition has so far been signed by 269 people.
Hackney Council did not respond to requests for comment.
This article was amended at 14:23 on Tuesday 16 March 2021. The original article stated: "Israeli occupation of Palestinian Territory, including East Jerusalem, is considered a violation of international law and an obstacle to a two-state solution, according to the United Nations". It now states: "Israeli occupation of Palestinian Territory, including East Jerusalem, is considered a violation of international law and an obstacle to a two-state solution, according to many commentators."