Local small businesses join Hackney Bridge – one of the borough's newest public destinations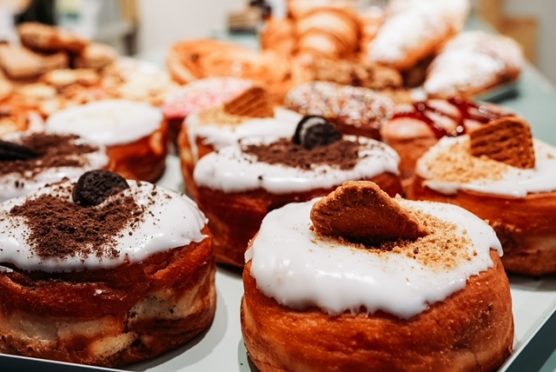 An array of exciting and ambitious, local, small businesses and entrepreneurs have been quick to make their mark at the new canalside destination, Hackney Bridge.
Nestled between Copper Box and the River Lea, the site features ample outdoor and indoor public space, workshops, studios, co-work, restaurants, bar and much more. Already calling Hackney Bridge their home are DJs, videographers, product designers, furniture makers, natural dyers, perfumery, baristas and more. Here, some of the founding businesses share why they have chosen the site as their home.
The Roasting Shed opened their doors in October 2020 and has fast established themselves as one of Hackney Wick's favourite coffee shops. Located on the corner of the site, right by the footbridge, it is ideal for owners Esther and Ricardo to welcome locals and workers, daily. With their delicious selection of pastries and irresistible aromas, it is a perfect combination to stimulate the senses during the working day or simply to complement a stroll along the canal.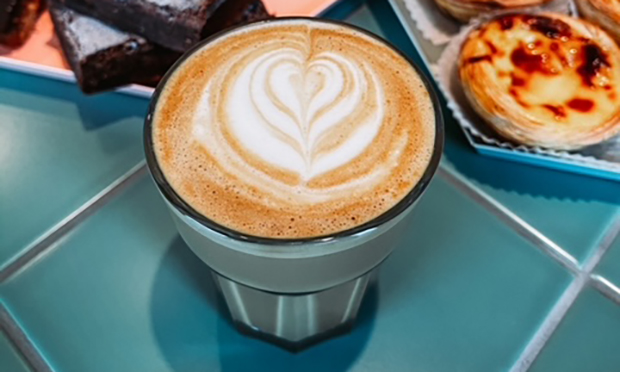 Esther Booth, Director of The Roasting Shed, expressed: "We are very lucky to have our new Hackney home at Hackney Bridge. Having been based at Queen's Yard on the opposite side of the canal, we watched Hackney Bridge spring up. The minimal brutalist design and the village set up felt ideal for us. Hackney Bridge is a new creative hub and seems to have rekindled Hackney Wick's original charm!"
For another new Member, O'YA ceramics, a small studio was the ideal space to create unique, handmade ceramic designs from homeware to other functional items. Business owner, Allison offers us an insight into why: "I've lived in Hackney for years and wanted to stay close to my community. Hackney Bridge gave me the affordable space I needed and introduced me to a great group of local makers and small businesses"
Whilst Tyler Williams-Green, who runs The Outrunners Charity, became one of the supported Members at Hackney Bridge, through the Co-Work space. The Hackney based charity uses their running crews as a collective force to provide youth programmes for the vibrant young people of Hackney. Tyler shares his outlook: "We're excited to have joined Hackney Bridge as Members, and are hoping to start blending our programmes with some of the amazing spaces here on site."
JOIN HACKNEY BRIDGE
Looking forward to Spring 2021, Hackney Bridge is now extending its call out to local events and bar operators, restaurateurs and retailers to move into their last remaining spaces. Join Esther, Ricardo, Allison, Tyler and many more local business owners at Hackney Bridge and bring your creative vision to life.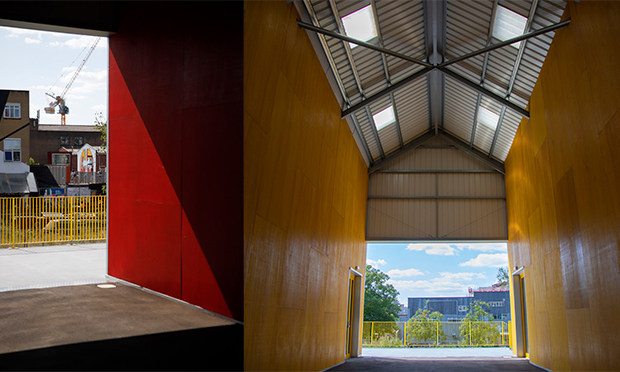 Bar & Restaurant Owners are invited to bring their unique offering to the community. Two new restaurant spaces are available from small to large fit, with additional square footage outdoor, overlooking the River Lea.
Our largest Bar has been designed with over 1,086 sqft of space to draw in the crowds passing by from the River Lea and the footbridge path. The bar is functional and flexible to suit the needs of a taproom serving local brews or as a bustling wine bar.
Event Operators can breathe life into the vaulted high ceilings of the Events Space with an indoor capacity of 500. This space includes an outdoor amphitheatre that is perfect for open-air entertainment, from screenings to dance rehearsals or to hold extra capacity. The Terrace Bar is a worthy extension of the Event Space with a 806sqft terrace that provides guests with the opportunity to capture some breath-taking sunset views of the River Lea. Separately or combined, these spaces create an enviable destination for live music, culture, entertainment and more.
Hackney Bridge champions individuality and entrepreneurship, for businesses of all shapes and sizes, get in touch with the team on the last spaces available! The team welcomes all enquiries and offers COVID-safe tours.
CONTACT
Email joinus@hackneybridge.org
Find Out More www.hackneybridge.org
Follow @hackney_bridge