Sandford Court residents celebrate as Covid test centre relocated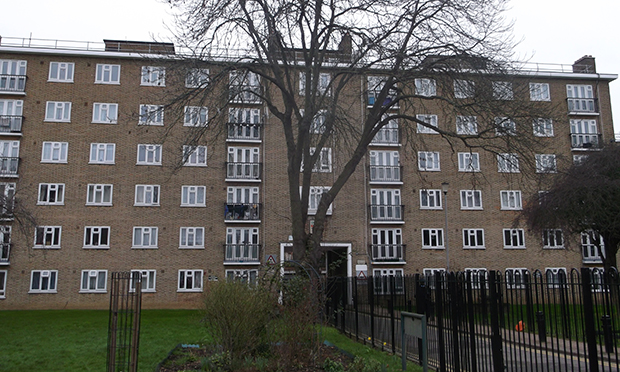 Residents of a block of flats in Stamford Hill who have been living next to a Covid test centre since October are celebrating after Hackney Council announced it has been moved to a nearby bus garage.
Sandford Court residents have raised repeated concerns over the centre, including anxiety caused by it opening at short notice last October and lapses in mask-wearing and social distancing.
The Town Hall has long maintained that an alternative to the centre's residential setting would be found.
Stringent criteria was required for the location of the site, set up in response to the north of the borough being a coronavirus hotspot for much of last year.
It needed to be local to Stamford Hill, constantly accessible with separate entrances and exits, on a hard surface, and not a risk to members of the public.
Sandford Court resident Keisha, who chairs the Protect Sandford Court campaign, said: "It was too much for us to bear celebrating Hanukkah and Christmas next to a Covid testing centre. We're delighted that common sense has now prevailed, and that the testing centre will be relocated away to a more appropriate location much earlier.
"However, we still remain concerned about the mental health impact these last few months have had on our residents.
"I'm grateful to everyone who signed the petition, attended the meetings and campaigned alongside us. We could not have done this without the support of them, as well as Rev Charis Enga, Rev William Taylor, Motty Pinter and Citizens UK."
Local resident Angela Phillips, who worked with others to suggest alternatives, added: "The council really needs to be congratulated on how hard they have worked, not only to establish testing, but to move it somewhere more suitable when they realised how upset everybody was."
Protect Sandford Court launched a petition following the site's appearance which received over 150 signatures in three days.
The council had considered other residential areas including Lincoln Court and the Fawcett Estate, all of which carried the risk of "anticipated anxiety to residents", according to documents revealed at the time.
Residents received a letter this week from council health boss Cllr Chris Kennedy announcing an agreement to move the facility to the Stamford Hill bus garage on Rookwood Road, which appears to have been discounted as an option in the initial hunt for a premises due to uncertainty as to when then-occupants Arriva would be moving out.
The campaign group, which includes Sandford Court residents, users of Sandford Court play area and Allen Gardens, and local neighbours and community organisations in Stamford Hill, has now succeeded in its aim of moving the test centre to a location that is not a dense residential area.
The council is understood to have worked since last year to find an alternative, with the original contract with the Department of Health requiring the Sandford Court test station to remain until at least the middle of February.
According to Kennedy, given how close the site was to residents' homes, the Town Hall has successfully made the case to the government that it should be moved ahead of schedule.
Removing the station will take around a fortnight, with the majority of the work set to be completed over the next couple of days, and the new centre will be in operation from today.
The steel fencing pointed to by residents as encroaching on their space will go, with mesh fence panels to be reinstalled at Sandford Court's multi-use games area, which will remain closed in line with government restrictions.
Residents have been given the option to retain a CCTV camera installed as part of the works in return for a small service charge.
In his letter, Cllr Kennedy said: "The testing facilities at Sandford Court have been in place in recent months to provide vital testing capacity for people with covid symptoms in one of the areas of Hackney with the highest infection rates.
"While we have acknowledged that a residential setting is not an ideal location for this facility, it has to date been the only available site in the vicinity and we have worked hard to ensure it has not posed an increased health risk to Sandford Court residents and to minimise disruption as far as possible.
"The original contract with the Department of Health and Social Care required us to have the Sandford Court testing station in place until at least the middle of February. However, given the proximity to residents, we have successfully argued that it should be moved before then.
"I would like to thank [residents] once again for your support and patience in accommodating the testing facility at Sandford Court, which has helped to save lives and keep Stamford Hill safe during an extremely challenging time.
"Please do continue to follow relevant restrictions and the 'Hands, Face, Space' advice from the NHS. If you or anyone you live with has symptoms of coronavirus, please get a test by calling 119 or visiting www.gov.uk/get-coronavirus-test."