'Slap in the face': Anti-lockdown posters at local Wetherspoons spark outrage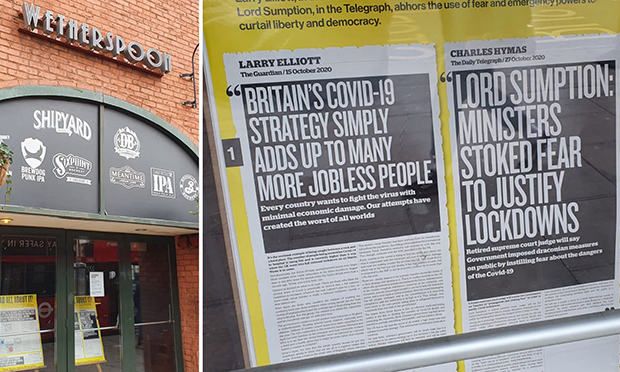 Workers at the Homerton Hospital, where medics are stretched to their limit with beds at 94 per cent capacity during the second wave of coronavirus, have described anti-lockdown posters at a Hackney branch of JD Wetherspoon as "a slap in the face".
Baxter's Court, a popular pub close to the Town Hall Square, was displaying pages first published in Wetherspoon News in December of last year.
The reprinted headlines accuse ministers of "stoking fear" to justify lockdown, assert that fewer hospital beds are being taken up compared to earlier in the pandemic, and point to a majority of Covid deaths as having "underlying causes".
Just over 272 Hackney residents have lost their lives to the virus since the crisis began, with a 24 per cent rise in coronavirus incidence rates in the last week.
The borough saw 2,652 cases in the past seven days following the highest weekly increase so far, while 20 locals have died in the last fortnight.
It is understood that the posters have now been taken down, and the 15 December press release containing the material also appears to have been removed from the pub chain's website, following growing criticism.
Jordan Rivera, a health worker at Homerton Hospital and chair of Homerton Unison, said: "For health workers at the moment, we are dealing with an even greater number of sick patients than in the first wave of coronavirus last year. We've never seen our hospitals so full and it's really hard work.
"Reading these lies put on the window of Wetherspoons is like a slap in the face. Even worse is the implication that deaths of people with pre-existing conditions somehow don't matter. We have patients of all different ages in hospital, some with no previous health issues – all of their lives matter.
"Wetherspoons bosses are just thinking of their profits when they try to persuade members of the public that they aren't at risk from Covid-19, at a time when up to one in 20 people around us have an infectious disease that they can easily pass on to us; this is deeply irresponsible, and sickening.
"I feel infuriated by this. Wetherspoons' part in the pandemic has been disgraceful throughout and health workers will not forget that once the pandemic is over."
Some on social media responding to the images called for a boycott of the pub chain, while Hackney Mayor Philip Glanville and health lead Cllr Chris Kennedy joined in demands for their removal, with Wetherspoon directly responding to a letter to its chairman Tim Martin.
A spokesperson explained to the Citizen that the posters had been an amalgamation of a series of articles and letters from publications including The Guardian, New Statesman and Telegraph, with comment from eminent doctors, scientists and lawyers challenging the government's response to Covid-19.
The pub's newsletter included an open letter from health professionals and scientists to the Prime Minister, with the statement: "The management of the crisis has become disproportionate and is now causing more harm than good."
A Daily Mail article from November last year, showcased in the posters, highlighted statistics which the pub chain say provided an "alternative view" to government figures, with the spokesperson asserting that the article "neither said nor implied that those with pre-existing conditions 'somehow don't matter'".
The full headline from the article that was on display in Hackney read: "What they don't tell you about Covid: fewer beds taken up than last year, deaths a fraction of the grim forecasts, 95 per cent of fatalities had underlying causes… and how the facts can be twisted to strike fear in our hearts.
"Council health lead Cllr Chris Kennedy said: "These posters are very socially irresponsible at a time when we are in a national lockdown, cases are very high across the capital, and more than six people in Hackney last week lost their lives to the virus. 
"It's very sad to see a business putting out messages like this that disregard the health and human cost of coronavirus at a time when it's important for us all to make sacrifices and work together to follow the rules in order to save lives and protect the NHS. 
"These articles were all written before the new variant was identified and we entered our current lockdown and they do not reflect the considerable sacrifices residents and businesses are making at the moment to defeat the virus. They are therefore not only out of date, but also out of touch." 
Responding directly to Cllr Kennedy, a spokesperson asserted that the poster display in the pub chain's windows neither disregarded the health and human cost of the pandemic nor downplayed its severity, with the company saying that its aim was "to draw out debate on the effectiveness of lockdown as a primary tool of adressing the pandemic". 
They added: "As the posters have been up for six weeks, prior to the new strain being identified, it is fair to say that some of the content is now out of date.
"Wetherspoon is in the process of taking the posters down from all pubs in the next few days.
"Another article referred to in the posters is by the Guardian's economic editor, Larry Elliott, which says that 'Britain's Covid-19 Strategy Simply Adds Up To Many More Jobless People'.
"In this context, 800,000 jobs have already been lost in the UK, many in the hospitality industry, and there is the prospect of further large-scale job losses the longer lockdowns persist. There has also been a severe reduction in access to non-Covid health services for most people.
"It is vital in any democracy to have an informed debate on issues of such national importance."
Baxter's Court is situated next to a busy bus stop on Mare Street, regularly used by Homerton Hospital and council staff.
In his letter to Martin, Mayor Glanville spoke of meetings he had had with local hospitality workers who had gone through the difficulties of having to furlough or let staff go, spend money retrofitting venues to meet changing guidelines and lost money from reopening and closing, but maintained that the situation faced by the sector "is no excuse for spreading mistrust and misinformation which could ultimately cost lives".
He added: "At a time when everyone must come together to keep people safe – from public services and private businesses – your company has chosen to launch a public misinformation campaign by displaying anti-lockdown posters in your pub windows across the country, including our borough.
"Frontline heroes, and indeed the general public who have sacrificed so much this past year, should not have their efforts undermined by posters using out-of-date data which only include information up to November 2020."