Medics work flat out on vaccinations in Hackney as call goes out for volunteers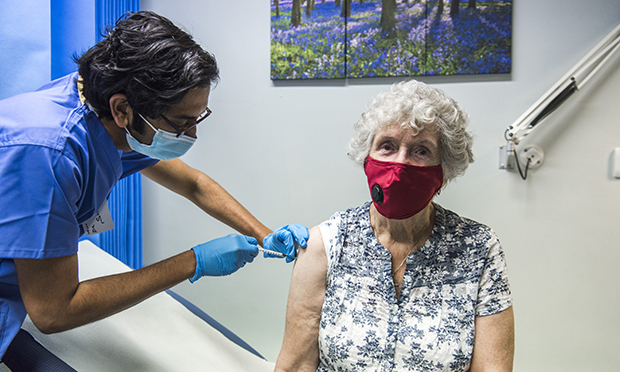 Medics have revealed the work going into the task of delivering a Covid vaccine for older people and frontline staff in Hackney, as an appeal is put out for volunteers.
The high stakes of the effort are clear during the second wave, with the Homerton Hospital currently having the fourth highest percentage of beds used for Covid in the country.
The local incidence rate for the virus sits at over 800 people per 100,000, with 25 per cent of those tested coming back positive.
In a recent council meeting, Hackney GP Confederation CEO Laura Sharpe outlined the measures taken to rise to the challenge, including the creation in a single day of an oxygen monitoring system for patients at home.
The top medic went on to reveal that the local health system refused to delay people's second doses of vaccine as called for by the government's chief medical officers in late December.
Sharpe said: "We worried that virtually all of those people, some staff and some 80 and over, we thought it would be very distressing for them. And also because it would be the last time using the site [at the Elsdale Street Surgery], that it would be difficult that the time and day was changing and the location, that we would lose people in that process and would have to catch up with ourselves.
"In terms of practicality to cancel nigh on 1,000 people and rebook them was not doable or practical so we stuck with original plan. Many elderly people were very relived to get the confirmatory phone call saying they were sticking with it.
"I understand the wider population health piece, and from now we will operate to the new guidance of 12 weeks, although we see a debate going on about that as we speak."
The advice to delay from chief medical officers was based on a model in which a larger number of people could potentially be vaccinated in the next two to three months.
Hackney's vaccine hub received 975 doses of the Pfizer vaccine this week, which come with labels on their boxes urging their use by Saturday morning.
GPs in the borough are doing their best to squeeze a sixth dose out of the five vials, most of which contain an extra dose which can be used if two people agree there is a surplus to be drawn out of the vial, meaning supplies can be spread further.
Hackney's vaccination hub at Elsdale Street is now in the middle of vaccinating the roughly 975 people who got their first jab just before Christmas, with doctors working to inoculate the top two cohorts of priority, including patients over 80 and care home staff – about 5,300 people – and health and social care priority staff.
Sharpe said: "In all these very excitable conversations that are going on across the system about who is coming next, let us remember that we have not even done that very first cohort yet and have some way to go to do that, and they must remain a priority, as must care home staff."
Reports continue of a "general issue" of care home and supported living staff declining the vaccine, a pattern also seen in the uptake of the flu vaccine, while few older people declined the Pfizer jab, with just a few within the group understood to be expressing a desire to wait for a period before receiving it.
The decline rate among primary care staff locally is said to be zero, with Sharpe inundated by hundreds asking to receive it, with the GP Confederation CEO saying she receives about 800 emails a day from individual staff members speaking up to ask for a jab.
Sharpe said: "We will call you. We have not forgotten you. We will go through all our lists in a very methodical way.
"We will absolutely check that everybody at the right stage is called and has a conversation.
"They can decline, it is the patient's choice, and we will constantly check those numbers over the next period of time as we decide what to do. Don't call us, we will call you. We have not forgotten you."
The Elsdale site is due to be closed this Saturday morning, allowing its workers to get back to normal, with vaccinations moving to new sites – the John Scott Health Centre on Green Lanes, which will have a marquee put up to allow a smooth flow through what Sharpe referred to as the "jabbing factory", and a former council training centre on Bocking Street given over to the health system by the Town Hall.
Sharpe envisages the two new sites working 12-hour days, seven days a week to deliver the much-needed doses, adding that despite the size of the task and questions over the supply and delivery chain staffing levels, doctors would "give it a damn good try" to maintain such a pace.
Retired doctors have already pitched in, with community pharmacists' skills hailed as "incredible" for the task of vaccine guardian to make sure doses are used correctly.
Four hundred doses of AstraZeneca vaccine are now also on their way, with the substance, less challenging to store and use than the Pfizer vaccine, to be prioritised for care homes, the definition of which the local system is taking "expansively", according to Sharpe, with residents in supported living and those with learning disabilities who are high priority and vulnerable set to receive it.
Once this cohort have received AstraZeneca, Sharpe's team will turn to the over-80s who are housebound, and so cannot receive the Pfizer vaccine which must be kept onsite.
A mass vaccination site at Westfield based in the Ikea building is also to start "fairly soon", according to clinical commissioning group chair Dr Mark Rickets.
In emotional tributes to those distributing the shots, Cllr Peter Snell said: "I've just spent my first day at the vaccination centre as a volunteer. They are a fantastic crowd of people, and it is humbling working with them.
"Everybody should be pushing out. If the numbers can get up to where we're saying the numbers can get up to, then we are going to need much more people. Anyone who has spare time, become a volunteer."
Health scrutiny chair Cllr Ben Hayhurst, addressing listening medics including Homerton Hospital chief executive Tracey Fletcher, who has recently spoken out about the rising levels of hospitalisations at her hospital which have seen ambulances in long queues at the A&E entrance, added: "I think I say on behalf of all of us and Hackney residents how indebted we are to the work that your staff and you are doing at the moment.
"There is immense gratitude from everyone here under what seems to be intolerable conditions in terms of having to work lengthy shifts, people having to come back in again at short notice as well. Thank you for your leadership in keeping your staff motivated under these circumstances."
You can sign up to volunteer locally as a Covid vaccine steward here.