Homerton staff prepare for vaccine roll-out as Covid admissions hit record levels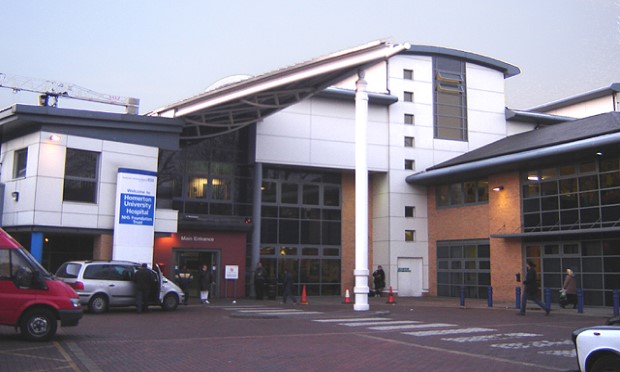 The Homerton Hospital continues to be under extreme pressure from an unprecedented number of Covid admissions, with the past few weeks seeing the number of cases eclipse the highest levels from April of last year.
Frontline and vulnerable staff will begin receiving the Oxford-AstraZeneca vaccine over the next couple of days, with the hospital still carrying out elective surgery and endoscopies.
Other diagnostic facilities remain open as staff work to clear backlogs of any patients requiring tests, with Hackney's cancer patients understood to still be being seen within the two-week period.
However, the threefold pressure on its busy emergency department, the number of Covid patients it has admitted and staff sickness remains unprecedented even compared to the height of the first wave, which saw a peak of 117 cases in hospital at any one time in April.
Chief executive Tracey Fletcher released a graph on New Year's Eve showing the hospital was caring for 168 Covid-positive patients, with 21 in critical care.
According to figures seen by the Health Service Journal, the normally high-performing hospital has seen its performance rate of patients admitted or discharged within four hours in the capital fall to 76 per cent, a sharp drop from its usual average of 90 per cent even in winter.
In a number of statements on social media over the past few days, Fletcher said: "Just in case there are any doubts out there – we at the Homerton are even busier, our fantastic staff are even more stretched and very sick Covid patients continue to arrive. Hackney please – stay home, save lives.
"We are setting all the wrong sorts of records at the Homerton at the moment. All teams doing their incredible upmost, together, to keep our patients as safe as possible. Hackney people – we need your help too!
"Please comply with the restrictions. We are extremely busy at the Homerton. Our nurses and doctors are incredibly stretched caring for very sick patients. No-one should underestimate the impact the infection can have."
Case numbers were seen to begin rising at the hospital in the first couple of weeks of December, signalling trouble to medics who usually would have expected such winter pressures to begin around three or four weeks later, with those rises in emergency admissions continuing right across the December period.
The Homerton has now opened every bed it has, with almost all of them full as it begins to take overflow patients from the Royal London.
The rise in transmission seen in outer north-east London towards the end of 2020 in places like Redbridge and Havering saw numbers rising first at Queen's Hospital in Romford, then at Barts and Whipps Cross, after which admissions began to rise at the Homerton itself.
Early December also saw the Homerton take referrals for diagnostics and elective surgery from these other hospitals due to how quickly they were filling up with Covid patients, but is now in the same position itself.
It is understood that cases of flu have not been a factor this year, either because of uptake of the flu vaccine or due to the fact that Covid precautions would also lower transmission.
The hospital went so far as to put out an appeal on New Year's Day to get staff who usually do other jobs elsewhere to undertake administrative work, with the data released by Fletcher showing the biggest numbers in the 55-74 age range rather than in those aged over 75, a pattern which is understood to have continued over the past few days.
Admissions to the hospital's Starlight children's wards ceased two weeks ago due to efficiency of oxygen flow through the hospital, with these young patients being referred to the Royal London.
The local health system will be braced for the next few days, with bosses now waiting to see when the full two-week fallout from the Christmas period will end in the rise in admissions and Prime Minister Boris Johnson announcing further restrictions to attempt to curb the spread of the virus this evening.
Dealing with the second wave of the virus has also had an impact on staff morale, with the hospital putting in place psychological support.
Hackney has seen cases skyrocket across all age groups and wards over the past couple of weeks, with its current weekly incidence rate sitting at 826 cases per 100,000 people.
Just under 7,000 tests per 100,000 people were performed in Hackney last week, with the positivity rate sitting at around 13 per cent.
Homerton's emergency department said on social media: "Sadly it's not only intensive treatment unit beds but also adult G&A (general and acute) medical beds that are under pressure like we have never seen before.
"That's one of the differences between this wave and the previous wave… Please heed the advice and stay safe for you, your family & friends."
You can find out more about the Homerton's Talk Changes talking therapy service here.