Women's museum launches £20k appeal to help it gather more stories from across East London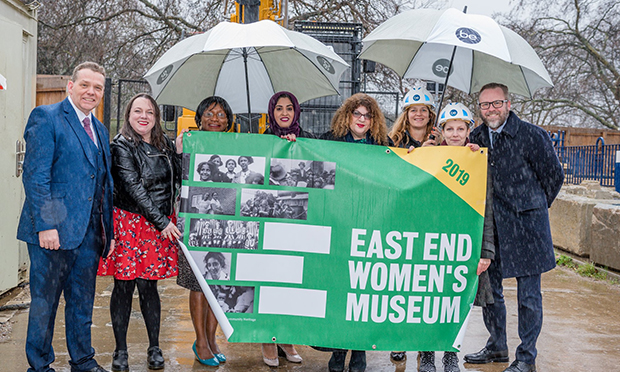 An East London museum, the only one in England dedicated to the history of women and girls, has launched a crowdfunder to help it continue its work with local communities ahead of the opening of its first permanent home.
The East End Women's Museum (EEWM), which focuses on the hidden stories of women from East London, is hoping to raise £20,000 by 7 February 2021. At time of writing, donations total just over £2,000.
Donations will fund ongoing work in the local community to research and collect stories for the museum and "provide opportunities for training, creativity and enjoyment", according to the appeal page.
Rachel Crossley, EEWM's director said: "Women make history every day. The East End Women's museum is dedicated to women's history and making sure that all women's voices are heard – past, present and future.
"Stories about amazing women are more important than ever – their achievements, what they've overcome, the impact they make on their communities. Every pound raised will help us keep collecting, and telling, these stories."
EEWM was set up in 2015 in response to the opening of the Jack the Ripper museum on Cable Street, which sparked outrage from residents and surprise from Tower Hamlets Council after those behind the venture had stated in planning application documents that the site would be used to celebrate East London women and the Suffragettes.
Determined to bring the original idea to fruition, friends Sara Huws and Sarah Jackson co-founded EEWM and have since run it as a pop-up while developing plans for a permanent home, which is set to open in Barking in the second half of 2021.
In 2018, they partnered with Hackney Museum to put on an exhibition celebrating the centenary of women's suffrage.
Huws said: "We were founded by people power, and together we've created something trailblazing, but we continue to need support to make sure we can keep sharing and celebrating stories of Women Making History."
According to the Public Monuments and Sculpture Association, between 17 and 21 per cent of monuments are women and fewer than nine per cent of these are named women.
There are just two statues of named Black women in the country, and only 14 per cent of English Heritage blue plaques in London are dedicated to women.
Huws added: "You only have to scratch the surface and the stories are there. Stories of women's courage, compassion, genius, resilience, humour, resourcefulness and resistance. It's time to balance the history books."
The East End Women's Museum crowdfunder can be found here
For more information, head to eastendwomensmuseum.org