Union for school transport workers raises safety concerns as strike threatened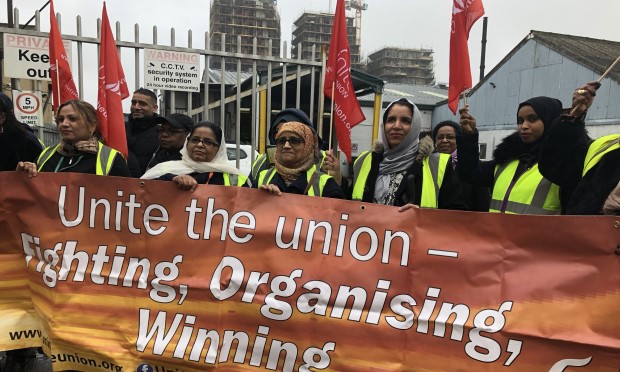 Trade union Unite is calling for more formal communication from Hackney Council over Covid-19 outbreaks taking place in schools, after concerns over safety were raised by pupil transport drivers and passenger assistants helping the borough's most vulnerable children.
Regional officer Onay Kasab revealed this week that communication from the council with his union members over recent outbreaks at the Garden and Ickburgh schools was limited, despite many of the workers having been on the shielding list during the first wave of the pandemic.
Unite are now pushing the Town Hall to negotiate a £500 one-off payment for staff who continue to work through the pandemic, while complaining that lump sums agreed during previous strike action were paid late and subject to tax of up to a third.
Kasab said: "We haven't issued notice of a strike yet. They have now started reducing number of children on buses but it shouldn't take our members to vote for strike action. This was in direct response to the notice that was issued and that threat, and nothing happened until notice was issued. It shouldn't have to come to a legal process of issuing a notice, but we are now seeing reduced numbers on the buses, which was the big safety issue.
"The other thing we are saying to the council is that we have had a number of outbreaks in schools and they are really not communicating that quickly enough to the union so that we can speak to our members. It's been happening more and more and it is obviously causing a huge amount of worry because of the contradictory messages from government, let alone what is on social media.
"We only find out when our members tell us. We don't hear from the council or from the school. Our members calls us saying there has been an outbreak at this school, but we never receive formal notification. So in that instance we are having to take a safety first approach, asking our members if they have come in contact with the children, and if they have they should be self-isolating."
According to Kasab, before a ballot took place of union members, buses carrying pupils with special educational needs and disabilities (SEND) had been packed to capacity with up to 25 pupils in one vehicle, which has now been limited to three or four passengers.
The union currently disagrees with the council on whether workers' pay structures allow for negotiation on the one-off payment being asked for.
As well as communication, another safety concern which has now been addressed following the union's ballot include temperature checks not taking place on pupils to make sure they are asymptomatic ahead of them boarding buses to go to school.
Kasab also told of other difficulties experienced by staff, including one worker with diabetes who has been turned away from using the toilet at a school on a number of occasions due to the safety measures stopping people entering.
While scientific evidence to date remains unclear as to the probability of children passing coronavirus on to adults, experts have continued to advise that erring on the side of caution remains the best approach, with one study suggesting that teenagers can be just as contagious as adults.
Kasab added: "These are the people taking everybody's children to and from school. We've had an awful lot of news about how important it is to keep schools open if we can and get children to and from school, and yet when you see for yourself on a payslip what these workers are actually paid, it's appalling. Some are not even taking £700 a month home.
"The council will say, well, look at the number of hours they're working, a few hours in the morning and the late afternoon. The point we made last time round is that when you are on a split shift, it works out as a whole day in reality. What work are you going to do in between?"
The union has now said that a strike remains likely, with Kasab calling on the council to come with a counter-offer on payments by 9 December, failing which Unite "will be naming dates".
Cllr Caroline Woodley said: "Our SEND transport workers do a brilliant job and we really value them. I have been particularly impressed by how the team have continued to deliver excellent services throughout the pandemic. Their work is very important and we don't want to see any disruption to it.
"Teams right across the council have been working extra hard to ensure we still deliver our services to residents, and as we are now in a second lockdown, we are surprised and disappointed that the union is taking this action now. The contracts – at 20, 30 or 36 hours a week, split across shifts in the morning and afternoon – are more generous than equivalent jobs in other local authorities, with fixed hours and routes.
"We are unable, under existing pay structures, to offer bonus payments – that mechanism doesn't exist. We have to stick to our pay structure to maintain fairness across all our council staff. We have engaged with all the workers about any health and safety concerns and are not aware of any outstanding issues.
"We meet regularly with the workers and union representatives and they have not recently raised any outstanding health and safety issues. We would be disappointed if industrial action is taken which would impact our more vulnerable children. We continue to have regular meetings with the union representatives involved."
Woodley added: "The Director of Education has been holding weekly meetings with representatives from all unions since the beginning of the pandemic in March. Safety planning was undertaken and plans implemented early on, meaning that we had no more than 18 children on buses with a capacity of 30, and maintained social distancing within Public Health guidelines.
"When concerns were raised with us in early October we were very keen to offer further assurance and provided additional transport assistance so that the maximum number of children transported reduced to 15. We continued to look at ways to offer additional support, ensuring PPE is always available and bringing in temperature checks where children present with symptoms typical of winter colds. It's very important to us to consult regularly with unions and staff as part of planning and risk assessments and we are always keen to hear their views."
EDIT: This article was updated at 20:48 on 03/12/2020 to include further comment from Cllr Woodley.