Residents invited to submit inclusive names for Hackney's roads, buildings and public spaces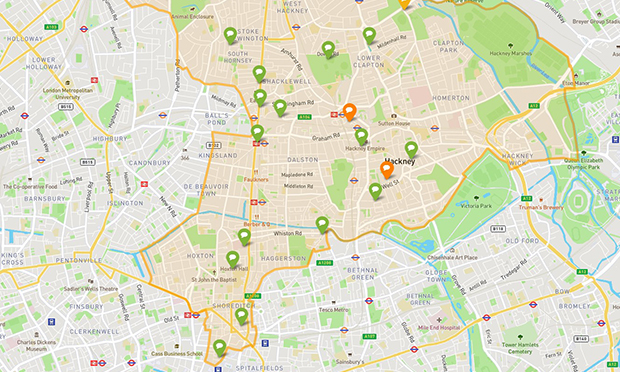 Hackney Council is asking residents to put forward ideas for inclusive names for future roads, buildings, parks and other spaces as part of an effort to better illustrate the borough's diversity in the public realm.
The Town Hall has launched Hackney Naming Hub, an online platform with an interactive map, to crowdsource suggestions that have a local connection and reflect the borough's values of equality, anti-racism, innovation and community activism.
These ideas will be researched by the council and developers when considering names for future projects.
A number of suggestions have already been volunteered, such as Carol Straker, who "set up the UK's first Black, Asian and minority ethnic ballet school in 1987 on Lower Clapton Road", according to the submission.
Another recommends Frank Owasu, who was "such a pillar of Hackney's community, setting up the African Community School with his wonderful wife Kome and dedicating his life to enriching the lives and education of children in Hackney".
A marker hovering over Millfields Park advocates for Walter Tull, "one of the first black footballers to play in the first division". The proponent adds: "He began his career at Clapton. He was killed during the first World War and did not receive the military cross that he was recommended for."
Suggestions such as these could also be used to replace the names of slave traders in the borough, which are being looked at as part of the Town Hall's Public Realm Naming Review, established in June.
Central to this Review is a steering group, made up of local cultural historians, community leaders, young people and other residents, which has met regularly to develop a series of recommendations for the renaming of contentious sites across the borough. Further details on this are expected early next year.
The group has already recommended changing Cassland Road Gardens, named after Sir John Cass, a director of the Royal African Company who made a substantial profit from the enslavement of African people. The council has committed to doing this, and anyone who lives close to the gardens will be asked for their views on new names in a consultation that will start in January.
Mayor of Hackney Philip Glanville said: "I'm proud to launch the first stage of our Hackney Naming Hub project and I'm really looking forward to finding out about the local heroes, inspirational stories and incredible history it unearths. 
"Hackney has a proud tradition of celebrating our diversity, and some of our council and public buildings and roads already reflect that – but it's not enough.
"Since we launched the Review in the summer, I've been blown away by the public response and the brilliant suggestions people have had to make our shared spaces better reflect the people who live – and have lived – in our borough.
"This is an opportunity for us to deepen that engagement and crowdsource some great, local ideas that mean something to our residents, speak to Hackney's history and to make a bold statement about our commitment to diversity and anti-racism."
You can take part online here, or by email, or by calling 020 8356 4501