Council hears of 'fear and anxiety' in local care homes during first coronavirus wave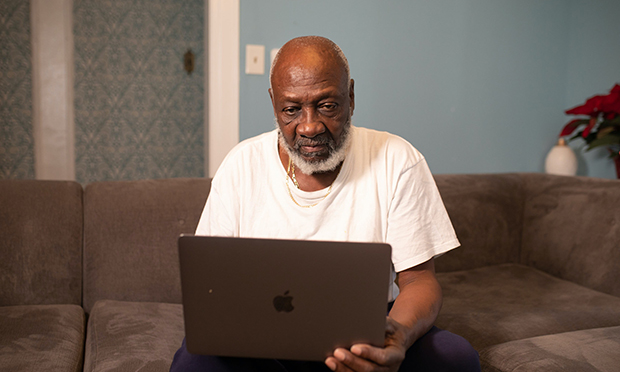 Councillors have been told of the "fear and anxiety" experienced within local care homes during the first wave of coronavirus, as staff worked hard to keep residents safe and well without adequate testing, PPE or guidance.
Of the 234 people in Hackney and the City of London whose deaths were due to or involving Covid-19 between March and September of this year, 11 per cent were recorded among care home residents, though health scrutiny chair Cllr Ben Hayhurst has cautioned that due to the difficulties in accurately measuring Covid-related deaths, this figure could in reality higher.
While Acorn Lodge Care Centre manager Diane Jureidin underlines that her care home now has Covid-secure systems, testing and PPE in place in preparation for the pandemic's second wave, she painted a picture of the acute difficulties faced in the early stages of the crisis in an address to a council meeting this week.
Jureidin said: "It was a difficult time. The first six weeks for care homes and certainly for our care homes, there was not a huge amount of support out there. We were doing the best we could, and the work that needed to be done was done. The challenges were around keeping the residents safe, [and] it was also about my staff – managing who needed to be isolating, covering shifts, making sure that we could continue to provide the care that was needed.
"The speed of transmission of the virus was for us something new, and recognising that, and putting things in place to be able to deal with that as quickly as possible. We had really close support from our GP and that was so valuable, because he was available on a daily basis so I could troubleshoot with him.
"It was complicated by the fact there was no testing. The first lot of testing that was done in our nursing home was the second half of May. We had already then isolated a specific unit where we would place the discharges from hospital, so it was easier to contain the staff, to put in the necessary equipment and supplies that were needed. My staff volunteered to work on that unit, and there was still a lot of fear and anxiety around transmission to families.
"We are now ready for the second wave. It's not that it would not be a challenge, but certainly there is a confidence and assurety around providing the care."
According to Jureidin, whose team had to swiftly become competent in identifying lesser-known symptoms of coronavirus early in the year, there is now sufficient PPE in place for her staff, who are tested weekly, with residents receiving tests every four weeks. Any resident who displays symptoms will receive a same-day test, and will stay isolated until the results come back.
The manager said that visiting for families remains "one of the biggest challenges," with one or two relatives able to see in person unwell residents or those nearing the end of their lives, along with Zoom conferences and window visiting.
Jureidin was addressing councillors who, Hayhurst said, are aiming to "test ourselves and challenge ourselves as a local authority" on whether everything is being done to mitigate the spread of the present wave of Covid in local care homes.
It was reported yesterday that grieving relatives Dr Cathy Gardner and Fay Harris, who both lost fathers to Covid-19 while they were in care homes, have been given permission by a judge for a full hearing to lay out their case against central government for what they say is "one of the most egregious and devastating policy failures of recent times" in its policy towards care homes during Covid.
Hackney's adult social services director Denise D'Souza said: "One of the big challenges that was perplexing everybody was the lack of PPE and the difficulties with getting that and the delivery of that. We also know the lack of testing in hospital is well-documented, and the lack of testing that we had for care staff and residents.
"Concerns about staff's health and wellbeing was also a key issue, and trying to manage that with rising levels and covering sickness, and the need for agency staff and the cost of additional PPE. Some homes closed to admission because of infection rates and there was not an ability to carry out our continuing healthcare assessments.
"It's fair to say there have been some changes since then. Hopefully now with the national portal for PPE that has eased a lot. We were being dripfed grants and passing them on to providers to improve infection control, and there is a national policy on care home visits. We get regular reports on staffing levels, vacancy levels, rates of infection across a whole range of providers."
Councillors also heard from experts in the sector, who highlighted a number of continuing concerns, key among them how to best ensure the continuing safety and happiness of care home residents.
Adelina Comas-Herrera, assistant professorial research fellow at LSE's care policy and evaluation centre, said that a "main concern" is what happens to care homes that do not have a special unit of the kind that Acorn has managed to establish, pointing also to the difficulty in measuring the pandemic's impact on those who rely on care in the community and unpaid carers.
King's Fund senior fellow in social care Simon Bottery advised councillors to be aware of the "tension between safety and happiness," with Jureidin confirming that the fear and anxiety of family members unable to visit their loved ones is a "major challenge."
Bottery said: "We want to avoid risk, and make sure that Covid can't get into homes, and we know absolutely how calamitous it is when it does get in. On the other hand, these are people's homes, and the average length of stay in a care home will be 18 months.
"This is an important time for people to live, and if they are isolated in their own rooms and can't see their relatives, that has a really profound effect as well. So visiting policy and how you handly visiting policy and manage that tension, I'd be keeping a very close eye on that."
Cllr Peter Snell added: "We went [to Acorn Homes] a few years ago when we were looking at end of life care. We respect you. We like the situation that Acorn Homes provide, we like it because it encourages people to mix, socialise and be close to each other.
"It's a complete tragedy that those are absolutely the situations that people catch Covid if it comes into that environment."