'Valuing the future': Jermain Jackman on empowering the borough's young people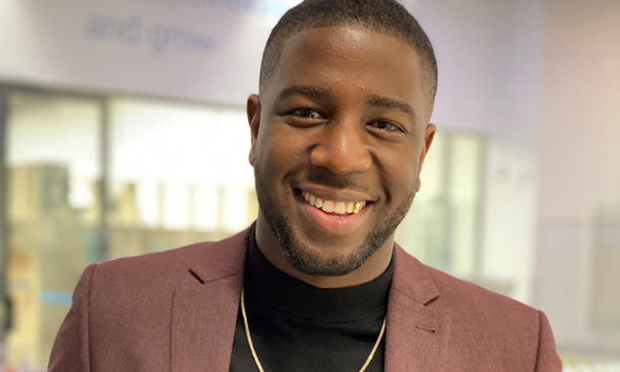 Hackney's Young Futures Commission has undertaken the largest ever consultation with the borough's young people, with over 2,500 using their voices to make 21 demands for policy changes in the borough, and individual stories continue to resonate with co-chair Jermain Jackman.
The young woman forced to leave her home after she found out she was pregnant, living in a hostel during the pandemic with no-one to help.
On a visit to a pupil referral unit, Jackman is asked by a young person when they could return to their school, saying they have "done their time".
One young man still coming to terms with his sexuality tells of how he was made to feel like he didn't belong in a local gay bar by a security guard.
These are just some of the experiences that have informed the Valuing the Future Through Young Voices report by the Commission, co-chaired by Jackman and Shekeila Scarlett.
The Town Hall administration has pledged to work to implement the report's recommendations by making young people's voices central to policymaking in the borough.
Jackman said: "This was about what all the things are that young people are saying in the borough and how do we capture that properly. It was hard-hitting. When you hear some of the experiences and stories of these children and young people, it is so hard-hitting. Young people felt that finally, my voice is going to be heard.
"This is why we were able to lead the largest consultation of young people in Hackney ever, because young people felt this is authentic, this is real, this is actually led by young people.
"How do we have children and young people at the heart of everything that we do? Every single stage, every single conversation, around every single decision-making table, and around every single solution.
"It is something we wanted to challenge the council with, but our asks are for Hackney. It is not just the council. It takes a village to raise a child, so our call-out is to everyone in Hackney. Local businesses, the banks, residents, schools, theatres, it is to everybody. You all have a role to play in the development of a young person and ensuring they reach their full potential."
The report groups its demands under different aspects of the future of young people: Secure Future, Healthy Future, Active Future, Inclusive Future, Safe Future and Bright Future, having been informed not just by the work before the pandemic but by a number of conversations held with young people on the burning issues that have been highlighted by the crisis.
A reccuring theme is for young people to be directly empowered; for example, one ask envisions not just the establishment of a dedicated budget for young people's projects but one also managed by young people themselves.
The Commission's work also highlights the lack of space for the young in Hackney and the need for an audit of available vacant premises, with consultees saying that they would usually go to Newham or Tower Hamlets for both indoor and outdoor activities, with a feeling running through the report that much of the borough is inaccessible to the young people who call it home.
Jackman said: "How do we have a future where young people feel like they are included in the decision-making process in the development of their areas? Young people were saying to us that Hackney is an identity. They are proud to say I am from Hackney. Even when people work in Hackney, they say I work in Hackney.
"Everyone wants to be from Hackney and you want to be able to identify with that. Now think about that heartbreak where now, post-Olympics in 2012, where you are starting to see a borough which is shaping and changing and developing, which is great, but a borough that you can no longer recognise.
"Young people were telling us they never go to Shoreditch. There is nothing for them there. The same thing about Hoxton – some live there, but none of them go to the bars, restaurants and cafes. We want to take the council one step further, and not to stop the development, but how do we make sure they are part of it, and ensure that communities are at the heart of regeneration?"
As well as existing concerns around the need for accountability on exclusionary policies in schools and a rebuilding of the slump in trust in local policing that has taken place over the past three years, the report seeks to reckon with the "amplification" of the challenges experienced by young people and the need for change as the consultation continued through Covid, the climate demonstrations and the Black Lives Matter protests in the wake of the murder of George Floyd.
The report envisions young people playing a greater role in education policy, and goes deeper to make specific calls on for multiple reviews, for instance of school policies that impact young people's mental health and of the current effectiveness of the children in care council, with a roll-out sought of an exclusions training programme for school governors.
It also calls for an improvement of unconscious bias and cultural competence training for police officers in Hackney, with the nomination of young people onto a police recruitment strategy board to support and advise on improving representation within the workforce.
A range of employment projects are also being sought, including for young people with special educational needs and disabilities, with a review of internships, apprenticeships and voluntary work opportunities.
Jackman has spoken out about the challenges posed for young people by their depiction in the media, warning of the dangers of promoting and pushing stories about knife crime, and calling for balance between relating stories on the real and serious impact of crime, and stories "promoting greatness amongst young people and positivity".
A joint statement in the report from Hackney Mayor Philip Glanville, Deputy Mayor Anntoinette Bramble and Cllr Caroline Selman said: "The insight gained through the Commission is, of course, just a snapshot in time, a picture of young people's lives in Hackney in 2019/20.
"Since most of this work was carried out, the world has changed irrevocably through the Covid-19 pandemic, we are entering an unprecedented economic downturn, the murder of George Floyd in the USA has had a profound impact on our communities, and our young people face greater social, educational, and economic challenges than ever before.
"As the council, the police, our schools, our partners in the NHS, and our community partners, take time to absorb what young people have told us through this piece of work, and to consider their recommendations, we must all commit to the most important legacy the Commission can have is that, working together, we find ways to permanently put the voice of young people at the heart of decision making and policy making in Hackney."
The Commission's co-chairs have resolved to hold the Town Hall administration to their pledges, and are now working with council departments and others to implement the recommendations, with Jackman envisaging handing the report over to Hackney's Youth Parliament, who could then provide a measure of accountability on progress.
While young people face an uncertain future for a multitude of reasons as a result of the pandemic and its continuing societal fallout, Jackman remains optimistic.
He said: "Hope is all we've got. Fifty thousand people have died from a virus. Crime, poverty, exclusions, disproportionate deaths, racism – hope is all we have. My hope, mixed with the hope and commitment from the council, its partners and the hope that young people fed into this – that all makes me hopeful.
"I have hope and faith in this because of everyone else's. I have seen the seriousness and the commitment from everyone. We have seen commitments from people who have otherwise been so institutionalised that they couldn't think of having young people on a planning decision-making table.
"There was some pushback and defensiveness, but no – let go of all the bureaucracy, and have children and young people in the forefront of your mind. I'm hopeful because I have seen culture change slowly but surely in the council so far, and that's just from us talking about this.
"Now imagine us keeping our finger on the pulse, holding the council to account, ensuring the legacy is robust and comprehensive – I'm hopeful because I have been made hopeful by the commitments, promises and empowerment from the council, its partners and young people."
You can read the report in full here