The Citizen Gardener: 'Even if pesticides don't kill a bee, they impede its ability to navigate'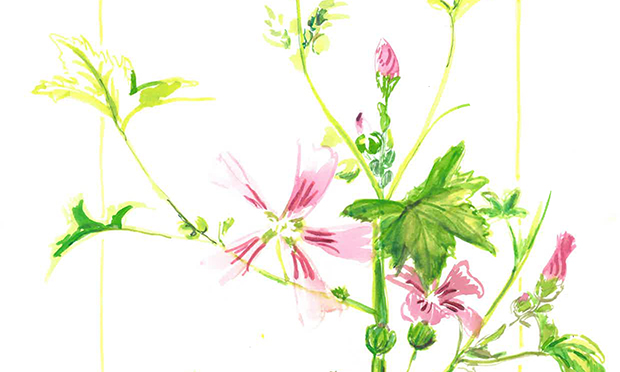 One of the many pleasures of food growing is preparing it for storage and being able to eat some, blackcurrants, say, in January or still be crying over your onions in March harvested in July.
Most years I make an inept plait of garlic which gives me satisfaction throughout the winter.
Planting garlic on a very dark day in autumn, it's difficult to imagine that future. But it usually does happen and gardening is constantly propelling the gardener into a rosy future.
We bury our failures; this year it was shallots, runner beans and potatoes (who can fail at potatoes?). We spend a lot of time in the present doing the actual gardening or musing on it, which relieves us of all the trouble beyond those moments, but also a bit of time hoping for and investing in the better times by planting bulbs in the dark days to bring pleasure in the spring and summer. They will come!
Anyway, garlic is one of the easiest vegetables to grow – and has a much more intense flavour than shop-bought. You can even plant it in a pot.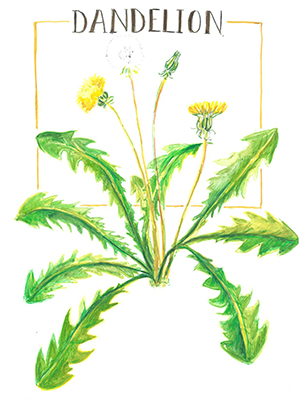 The wisdom is that you need to buy special bulbs from suppliers to avoid disease, but many people plant shop-bought bulbs with good results.
It's quite late to plant in November but it should be fine. You get big bulbs from big cloves so choose the size you want from your bulb. All you need to do is make a hole (with a dibber) put a clove in (the right way up – pointy end upwards) about double its own depth.
You should start seeing shoots before Christmas when, if it's cold, it will halt growth until warmer weather arrives. Just weed and make sure it has moisture. Towards harvest time (June or July) it's happy to be drier. You can harvest them earlier (in May) and eat the whole plant a bit like a spring onion. Otherwise wait until the bulb develops and the leaves start to die.
Most flower bulbs can be planted now to bloom in spring. Good ones for pollinators are crocus, grape hyacinth and alliums but, as with plants you buy from some shops, you need to be careful that they haven't been treated with pesticides as this will affect the pollinators that feed on them.
Neonicotinoids, for example, are absorbed by every cell of a plant so that all parts become poisonous to pests – but they can't distinguish between a pest and a beneficial insect like a bee. They also cause serious problems for the soil and water and creatures living in them. Although the industry says that they don't do harm, it's been discovered that, even if pesticides don't kill a bee, for instance, they impede their ability to navigate so that they can't find their way back to their hive. Organic is the answer to this.
The good news is that Hackney Council has designated some areas of the borough as pesticide- and herbicide-free. And now that the weedkiller-free postcode of E5 is well under way, we are seeing a wide range of wild plants appear in the streets.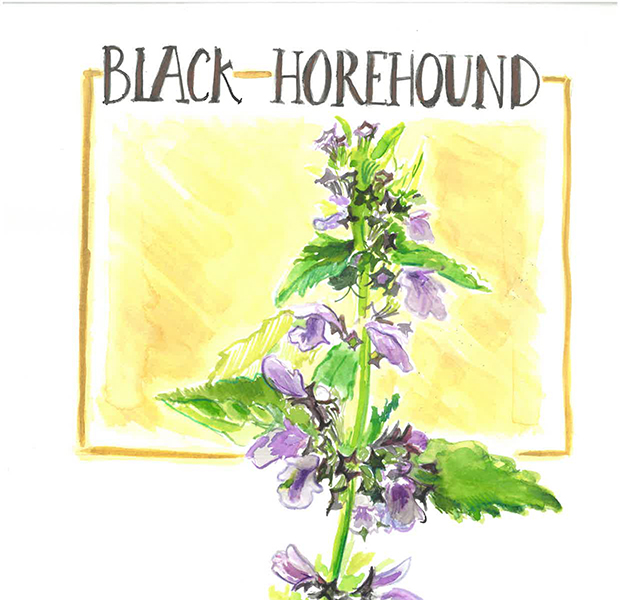 I went for a 'weed walk' with botanist Sophie Leguil (also known as More Than Weeds) and artist Deborah Frank down Daubeney Road, the epicentre of the area. Just on that short stretch, Sophie recorded 62 species of plants from 26 plant families. The number of these families is important as certain insects only feed on one plant family, so the more families there are, the more insects are likely to be able to find food in the area.
These wild flowers are often the best plants for nature – they have simple open flowers for insects to access their pollen and nectar, they produce seeds for birds such as sparrows and finches to eat at this time of year and they also have properties that benefit us; many have been used for centuries for healing, providing food, flavour, nutrition and colour.
Deborah has produced a series of paintings with text by me to highlight the beauty and usefulness of these plants. We'll be turning these into cards to raise money for more work in this area.
Grow on your own
We are running free weekly Grow (on) Your Own gardening sessions every Tuesday evening with guest speakers to help us through autumn.
In the next two, Hackney Herbal will be showing us how to make winter-busting fire cider and The London Freedom Seed bank will be talking about seed sovereignty and the importance of saving our own seeds.
We also have a new series of online events led by outstanding Black nature practitioners called BLooM, starting on 12 November.
All of the above events are free and can be found at bit.ly/2TNK1Yo.
Kate Poland is an award-winning community gardener and the UK's first ever postcode gardener in E5. For more, head to cordwainersgrow.org.uk and friendsoftheearth.uk