Conservative councillors call for 'immediate end' to Low Traffic Neighbourhoods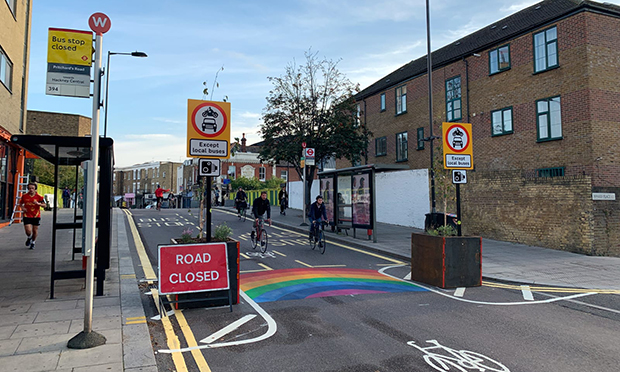 Conservative councillors attempted to put an "immediate end" to Hackney's hotly-debated Low Traffic Neighbourhoods (LTNs) last night, in a motion blocked by Labour which called on the administration to "go back to the drawing board".
The motion, brought by Cllrs Harvey Odze and Simche Steinberger, also called on the council to establish where LTNs "are actually wanted or required to solve a problem".
It also demanded the Town Hall lobby London Mayor Sadiq Khan to end "road-narrowing and other anti-car schemes" ahead of consulting on ways to encourage safe cycling and walking, which the opposition councillors said would help businesses in central London.
Conservative opposition leader Cllr Michael Levy condemned the schemes as "clearly unsafe and unworkable in practice", raising concerns over the impact of LTNs and School Streets on transport and other services in the north of the borough and accusing the Town Hall administration of "having great difficulty distinguishing any truth other than its own".
Levy said: "During this terrible pandemic, which has ravaged communities up and down the country, the first instinct on everyone's mind during these unprecedented times is understandably the preservation of life.
"As a result, many people are deeply suspicious of public transport and in exercising their democratic freedoms are preferring in increasing numbers to use their motor vehicles where available, to help stay safe and to ensure social distancing is maintained.
"Despite the council's wishes to increase decarbonisation levels, we are learning anecdotally about increased car use, longer journey times, traffic gridlock, and an inevitable consequence of slow-moving traffic is a reduction in air quality and the increase of carbon emissions that undermines the health of residents.
"My own community will be particularly disadvantaged and discriminated against by the introduction of School Streets closures. It is not uncommon for three or more children from the same household to attend different schools, and the only practical method available to parents is the use of school buses to transport children to the various schools."
Levy went on to warn that School Streets traffic restrictions around pick-up and drop-off appeared to him to be a breach of the Equalities Act in its impact on school buses for Charedi children, adding that restrictions were also "considerably hampering" the Hatzola ambulance service.
While debate was heated between Labour and Conservatives, councillors of both parties joined in universal condemnation of the death threats recently received by transport chief Cllr Jon Burke, which Levy characterised as an abuse of freedom of speech.
Labour councillors voted en masse against the Conservative motion to end LTNs, though some used their time to make their own calls upon the administration in reference to the schemes.
Hackney Downs Cllr Anna-Joy Rickard, who represents residents within one of the three LTNs, said that she was receiving correspondence split between "some supportive, others against and frustrated, and others supporting the principles behind the scheme but concerned about specific consequences", urging the council to "listen carefully" to residents on the scheme's impacts.
Planning committee chair Cllr Vincent Stops also urged the council to prioritise bus passengers with its transport policy, adding: "The council needs to focus on the proper functioning of its main road network and take actions to reduce traffic volumes. We have to get bus passengers out of this congestion, and we should not be doing things that further worsen the congestion. Please, please get those buses moving."
The council has introduced three LTNs in Hackney Downs, London Fields and Hoxton West which it says has "significantly reduced" traffic in each area since introduction, as well as putting in another 15 traffic filters and creating 40 new traffic-calmed streets near schools.
According to the Town Hall, the measures are aimed at securing the "cleaner, greener" city seen during lockdown, as well as helping pedestrians and cyclists travel more safely with public transport capacity remaining low.
While it accepted that the schemes were partly responsible for an initial rise in congestion in some areas, the local authority has maintained that traffic will begin to ease as sat-nav apps update and drivers become used to the changes.
Cllr Burke spoke out in vehement support of the changes, pointing to statistics showing that prior to the advent of LTNs, the borough had the sixth-highest air pollution mortality rate of 418 local authorities and one of the highest pedestrian and cyclist London casualty rates, with the 45 per cent of cars in Hackney passing through without stopping contributing to children's stunted lung development.
It is understood that no blue-light service has been in touch with the council to complain of disruption, with the London Ambulance Service recently saying that it was unaware of any patient safety concerns or significant delays caused by LTNs.
Burke added: "The operation of private motor vehicles in Hackney is a significant factor in these alarming statistics. The social, public health and environmental damage wrought by this situation cannot continue unabated. LTNs are one of the best methods of discouraging non-essential car journeys. By implementing them, we are ensuring our neighbourhoods do not continue to be a pressure release valve for an overloaded main road network.
"The vast majority of people with a registered disability in Hackney use public transport as their primary source of transportation, and their long-term interests are served by measures that discourage through traffic and eliminate in-borough care journeys.
"At least the Conservatives have given the people of Hackney a choice. They oppose LTNs, they oppose School Streets, they oppose controlled parking zones, and if anybody in this borough wants to make it less safe on our roads, the air they breathe more polluted, they know where to cast their vote."
LTN opponents have consistently pointed not only to congestion on main roads pushing up pollution in those areas, but have criticised the mode of their introduction – with consultation undertaken concurrently rather than before the imposition of the changes.
The Town Hall square saw demonstrations against the closures earlier in the month, which Cllr Odze warned could be a prelude to legal action from some campaigners.
Odze said: "This motion is in response to, as usual, Hackney Council ignoring the wishes of residents. They are bringing in these so-called LTNs, the first effect of which is actually to increase the pollution in the borough, as cars are diverted onto already-blocked main roads, causing tailbacks, increasing journey times to hospitals and everywhere else.
"The consultation with the London Ambulance Service, the London Fire Brigade and the Metropolitan Police was at best minimal. These LTNs are anti-motorist and anti-car, introduced without thinking through the consequences, and without any consultation of residents that are affected.
"That the council is consulting while the schemes are trialled is largely irrelevant. As we all know, the council is not duty-bound to take the results of any consultation into account, and knowing this council and its contempt for its residents, we fear this will be the case.
"I can't for the life of me see a fire engine get through these roads, and where there is a fire, however small, seconds matter. I fear if the council persist in its stubborn, anti-car, anti-resident attitude, they will find that the mass of people who are thronging Facebook and thronging Twitter, and thronging outside the Town Hall a couple of weeks ago, will find the resources to take the council to court. I hope this is not necessary and the council sees sense and withdraws these schemes immediately."
Hackney Mayor Philip Glanville stressed that the Town Hall continues to listen to residents and would be tweaking the schemes where necessary, pointing to the recent changes made to the Hoxton West LTN in response to feedback from locals and its own monitoring.
Glanville added: "Council officers, Cllr Burke and ward councillors are trying to listen to all of the different stakeholders prior to these schemes possibly being implemented. It cannot be acceptable for any part of the borough to not have high-quality green infrastructure and efforts implemented to tackle traffic, air pollution, and improve the safety of our roads.
"For schools in parts of the borough not to have School Streets because we can't resolve these issues would be absolutely criminal to the lives of the children that we are trying to protect and improve. We are very sensitive to the issues that [Cllr Levy] raises. I know a huge amount of effort and engagement has happened with Hatzola, and that will continue to hopefully give [Cllr Levy] and them the reassurance that they need.
"School streets are only closed for an hour each day. They do not permanently alter movements in the area, and we have a track record of ensuring that local residents and emergency services can access those streets. We are also keen to understand and work with people who are operating school buses, whether schools are registered and unregistered.
"There is a tight-knit community in Stamford Hill that relies on services in that community. We do have to see modal shifts in all of our communities. We can't go back to a car-based recovery. We are absolutely committed to ensuring that the residents who cannot protect themselves by not using public transport and getting in their car have access to safe and sustainable streets that allow them to walk, cycle, and access the things they need where they live."