Trick or Eat returns this Halloween to collect supplies for Hackney Foodbank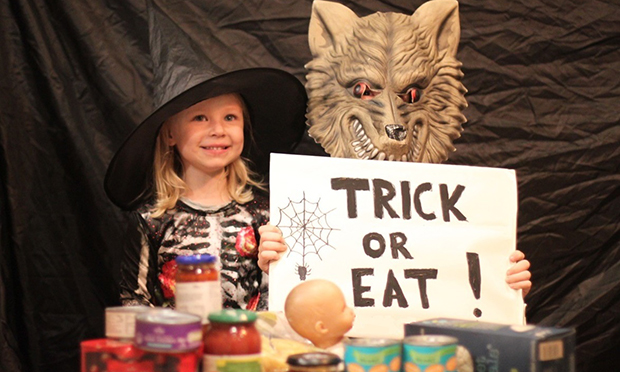 The Trick or Eat donation scheme is returning for its second year this Halloween to collect vital supplies for Hackney Foodbank.
The event is run by local discount card company The Local Buyers Club, whose team is urging residents to get involved by dressing up on 31 October to deliver non-perishable food to various donation points.
Trick or Eat launched in Stoke Newington last year, collecting more than 1,200 meals for people in poverty, but this time it covers the entire borough – and 30 streets have already signed up to take part.
Organiser Jenna Fansa said: "The need is greater than ever – demand for Hackney Foodbank has more than doubled this year with the arrival of coronavirus, and the stress of simply getting enough to eat is intolerable for thousands of residents.
"Given that Halloween is likely to feel very different this year – without the crowds and perhaps with very limited trick-or-treating, Trick or Eat feels like a great opportunity to get dressed up and to drop food off!
"It's a chance to show some love to people in our community who are struggling."
Since the start of lockdown in March, Hackney Foodbank has honoured over 10,000 referrals, providing emergency food parcels to people in need.
In June, the Citizen reported that the charity is "bracing itself" for long-term demand.
Melanie Rochford, the Foodbank's business and development director, said: "We desperately need to keep donations coming in – we are seeing people in chronic poverty. Need is greater than even before – you get the sense of the economy as a Titanic that's about to go under and we welcome projects like Trick or Eat to help ensure we have enough. 
"Overnight, when lockdown hit, lots of people who had zero protection lost all their work. Universal Credit can take five weeks to arrive – that's a long time to wait if you've no savings."
In short supply at the moment are longlife (UHT) milk, tinned beef and bars of soap, and items that are often in high demand are tinned meat, fish and vegetables, dried pasta, curry sauce, long-life juice and toiletries.
​The Local Buyers Club will donate £5 to Hackney Foodbank for every new member who signs up to the Club using the code TRICKOREAT this October.
To find out more, and for a map of donation points, visit trickoreat.co.uk 
You can also donate money directly to Hackney Foodbank here