Local politicians lift Black History flag over Hackney Town Hall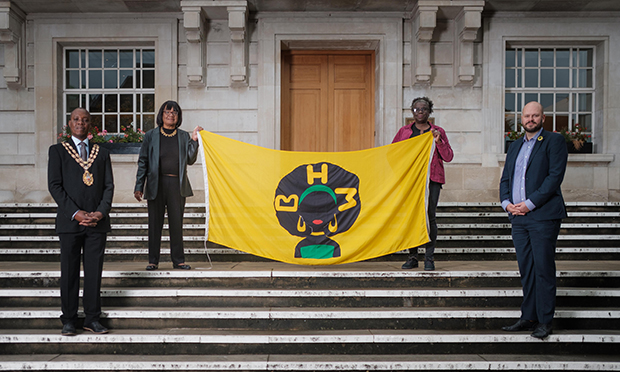 Hackney's unique Black History flag, designed by local resident Malaika Parillon Langlais Baron in 2018 as part of a schools competition, has been lifted over the Town Hall by local politicians.
Diane Abbott MP, Hackney Mayor Philip Glanville, equalities chief Cllr Carole Williams and Town Hall speaker Cllr Kam Adams marked the raising of the flag, which will fly above the Town Hall throughout October as a mark of the borough's pride in Black history.
As part of a season of events and activities for the annual Black History Season, a new map charting Hackney's rich history of African and Caribbean culture will be published at the end of the month, allowing residents to take walks through the borough's cultural past.
The programme also includes film screenings, music sets from former Trojan Sound System DJs, poetry, recipe-sharing, and online reading groups.
Cllr Carole Williams, cabinet member for employment, skills and human resources, said: "Here in Hackney, honouring Black history is a year-round affair.
"Alongside our ongoing support and honour for the Windrush Generation, this year has seen us launch a new Black Lives Matter Motion which commits us to being an anti-racist borough.
"As we acknowledge the disproportionate effect coronavirus has had on the Black community, and as the world reconciles with systemic racism, it's crucial we continue to celebrate the positive and vital contributions Black people bring to Hackney.
"Through this richly curated programme, we will share, enjoy and learn from a history that belongs to us all."
The full programme of events for Black History season is available at hackney.gov.uk/black-history