Hackney's music venues call out for help to get through the winter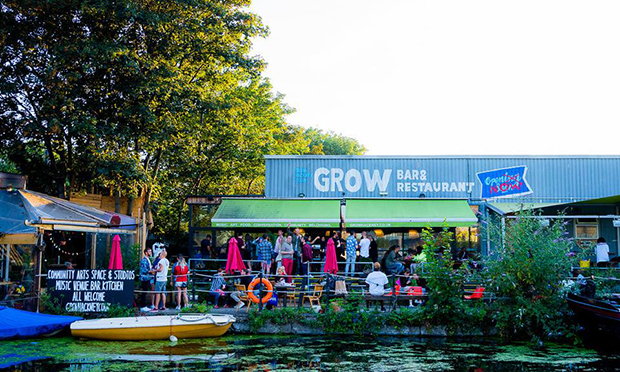 On a sunny day, with a live percussionist playing across its canal pontoon, life at Hackney Wick community venue Grow almost felt normal, albeit with a third of the customers it would usually expect, more staff on hand for table service, and front-of-house taking contact details at the door.
However, as winter approaches, Grow is one of many grassroots venues across the country looking ahead with trepidation, with many turning to crowdfunders to sustain themselves through the darker months.
Close to £60,000 has been raised since April through the Music Venue Trust's (MVT) Save Our Venues campaign to keep grassroots operators alive in Hackney, with LGBTQ+ venues Dalston Superstore, the Glory and VFD receiving £30,000 between them from City Hall.
But MVT warns that the mixture of the recently introduced 10pm curfew for venues and social distancing rules leaves its members facing a difficult winter.
Grow's co-manager Peter Bennett said: "We're not making any money. Nobody is. You can't have a venue that used to have a capacity of 180 with a capacity of 50 or 60. In a place like Hackney where the floor rents are incredibly high, your running costs are also incredibly high.
"Everyone's hanging on by their fingertips at the moment, as it's incredibly difficult to sell enough stock to pay the staff. You could lose a huge cultural asset, from Manchester to London to Bristol to Glasgow.
"As soon as the weather goes bad, we don't have enough of a covered area to seat more than a handful of tables. We need funding to keep us going to the spring when the weather changes.
"We have applied for funding, and if we get it, it will provide us with the means to convert some of the outside space so we can move forward into the winter and operate on a semi-normal level.
"Like a lot of venues who have a small inside space, the amount of staffing and people makes the maths just not add up. Everyone's just holding their breath, staring at the future and wondering if it's going to be very bleak.
"I don't think there is a grassroots venue in Britain that's not extremely worried about the future, and are not hopeful that they are going to get some funding."
Bennett described the challenges that delays of even a week in government guidance can bring to planning for buying stock, running costs, and most importantly on keeping staff informed on what the future looks like, while praising MVT for "educating the government about how this all works".
According to MVT, the 10pm curfew could see businesses already reckoning with changes which see music volumes kept to the level of a food blender having to trade on an eighth of their usual income.
Speaking in support of Dalston's Vortex Jazz Club, musician Ian Shaw said: "One of the most life-giving, healing and honest ways of sharing an art form is from the ground up. Not the lofty quick-fix use of a music style, a painting, a soundbite, a piece of dance, that sells something else, but the art itself, from its inception to a broader arena in a room.
"It gets to us in such a unique way, and it gets to the rest of the world. But this world begins with community. The community of the artist, and around the artist.
"I've never known a venue in 35 years of being a performer that is so important, constantly relevant and changing [as the Vortex]. And to lose all this? It's just not an option.
"Never before has music and art needed to be such an instant lifter for the soul but also for the economy. Guess what Johnson, Rishi, Oliver Dowden – it's how we earn a living."
Along with the Vortex, operators are now pinning their hopes on local crowdfunders or the outcome of the applications to the Cultural Recovery Fund.
Other Hackney venues now running campaigns to keep their doors open include Chats Palace, the Shacklewell Arms, MOTH Club, Servant Jazz Quarters, the Victoria, the Waiting Room, the Macbeth and Paper Dress Vintage.
Of the £2.9m raised by the Save Our Venues campaign nationally, 62 per cent has been spent on rent arrears alone.
Venues were given the all-clear to begin trading again from 15 August, but the latest survey by MVT found only 55 per cent had plans to reopen before Christmas with social distancing rules in place.
In July, the Department for Culture, Media and Sport announced a £1.57bn rescue package for the arts in the UK affected by Covid-19.
Of that, £2.25m was made immediately available to small gig venue operators who could apply for grants of up to £80,000.
Some £500m of the package has been ring-fenced for keeping cultural venues afloat and is being distributed by Arts Council England (ACE).
Restrictions for venues state that groups of six people, or from more than two households, do not mix within a venue, meaning audiences have to be seated during a performance, with a recommended two-metre gap between tables, or seats will have to be blocked out in the case of seating rows.
Ventilation rates also have to be considered, particularly in underground or basement venues, and audiences are not allowed to "unduly raise their voices to each other, such as shouting, chanting and singing along".
MVT chief exec Mark Davyd has said that Mr Davyd said more money will be needed to see the sector through the next six months with the furlough scheme coming to a close.
Davyd added: "The government restrictions have reduced capacity in venues down to 25 per cent.
"Then restrictions on hours, we estimate, has removed something like 50 per cent of their income.
"The venue now has half of its available trading hours and a quarter of its usual audience. By that marker they are getting 12.5 per cent of their income."
The current Covid-19 restrictions on music venues require operators to socially distance audiences in line with national guidance and can be viewed here
Find out how you can help Grow here