'Happy Not Moving Out Day': Hackney renters picket billionaire landlord's luxury hotel
A group of renters hit with an eviction notice after they negotiated for rent reductions during lockdown picketed a luxury hotel owned by their billionaire landlord yesterday, with the support of trade unions and a local MP.
Somerford Grove Renters, backed by London Renters Union (LRU) and Momentum members along with Poplar & Limehouse Labour MP Apsana Begum, delivered a letter to wealthy property developer John Christodoulou at the Canary Wharf Riverside Plaza last night.
Chants of 'Shame on you, John Christodoulou' were heard as a poster was spread across the hotel's entrance depicting campaigners holding up signs reading, 'Happy Not Moving Out Day', in defiance of the 21 September deadline given to Somerford Grove organisers to vacate their homes.
Phevos, an LRU member living at Somerford Grove, said: "Our billionaire landlord responded to a request for a rent reduction by those of us who have lost income due to the pandemic by issuing eviction notices, but we won't be intimidated out of our home during a pandemic.
"Today was the day the landlord said I had to be out by but I'm determined.
"We've found strength through the community and solidarity that we're building together.
"Being worried about losing your home during a pandemic has had an enormous impact on the wellbeing of many of us living at Somerford Grove. Our situation shows the government is leaving renters to fend for themselves."
Protesters also picketed the nearby offices of estate agent Tower Quay, through whom renters had made a series of requests in April for a 20 per cent rent reduction and no evictions during 2020.
Organisers Jordan Osserman and Marc Sutton were subsequently hit with notices to leave their homes, with the reason for eviction given on the notice as 'Business Decision'.
Residents were told to use money saved on lunch, holidays, entertainment, clothes and travel money to pay rent.
The protest was attended by around 70 people, with renters facing similar circumstances across London also turning out.
One banner showed a screengrab of a tweet written by Christodoulou himself in April, which read: "If you're going through hell, keep going… we will eventually win!"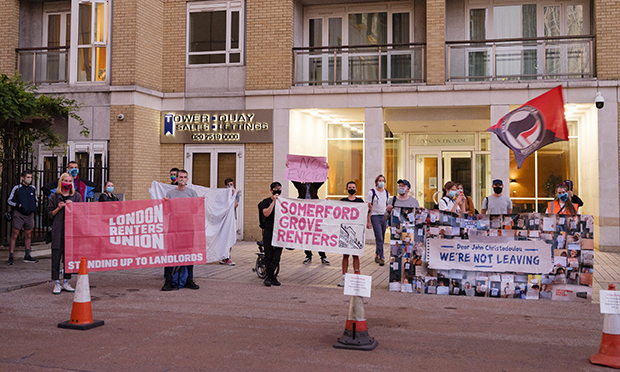 The dispute has attracted widespread attention, including a statement of solidarity with the renters from Hackney Mayor Philip Glanville and comments from Hackney North MP Diane Abbott and London Mayor Sadiq Khan.
Writing on social media ahead of the protest, Begum said: "The evictions ban has ended and thousands of renters are faced with the real threat of homelessness.
"I joined Somerford Grove renters outside billionaire landlord John Christodoulou's hotel to protest his attempts to evict renters. All this during a pandemic after they asked for a Covid rent reduction.
"Solidarity with renters across the country faced with evictions and homelessness."
An open letter repeating the demands of the renters, who represent 170 flats in Olympic House, Simpson House and St John's Court, all majority-owned by Christodoulou, has since garnered almost 500 signatures, with the Somerford Grove organisers having faced threats of legal action, which cited procurement of others to breach their contracts.
John Christodolou, who features on the Sunday Times' Rich List, is reportedly worth upwards of £1.5bn, and runs the Yianis Christodoulou Foundation, which recently delivered food packages to homeless people in Liverpool and Manchester.
London Renters Union member Rivkah Brown said: "It is laughable that John Christodolou takes pride in delivering food to the homeless while threatening his tenants with homelessness during a pandemic.
"The government must act now to avoid breaking its promise that no renter will be forced out of their home during the pandemic.
"If ministers want to show that it cares more about public health than the profits of landlords, they should introduce a permanent evictions ban and cancel rent debt."
Under law, Section 21 notices allow landlords to take back possession of their properties without giving a reason, though a change in the government's Renters' Reform Bill 2019-20 is expected, giving tenants greater protection from eviction.
The new rules are predicted to require landlords to only be able to evict tenants if they have broken their tenancy agreements, fallen into arrears, or behaved criminally or antisocially.
Speaking at the end of July, Cllr Sem Moema, Hackney's mayoral advisor for private renting and housing affordability, said: "Examples like the poor treatment of the Somerford Grove residents by their landlord shows how important it is to continue campaigning for better renting in Hackney, especially as the wider impact of the coronavirus pandemic hits.
"That's why we're continuing to make the case for a complete end to Section 21 'no-fault' evictions, meaningful welfare support for tenants, and longer-term help for the thousands of private renters who will be at risk of homelessness when the eviction freeze ends."
Yianis Group was approached for comment but had not responded by time of going to press.