Locals voice concerns over use of public space as businesses struggle to adapt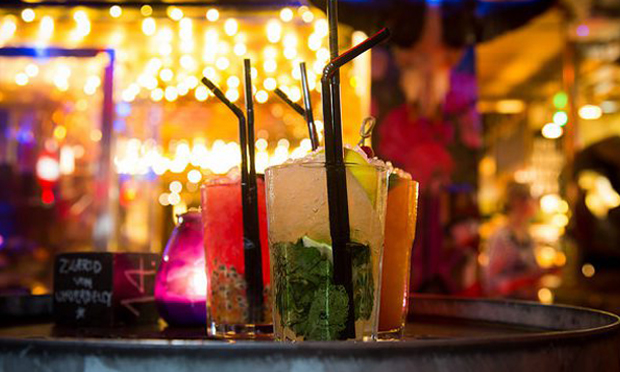 Debates between local residents worried about the use of public space and Hackney businesses planning to expand outdoors in response to new lockdown restrictions have now flared up in Shoreditch.
New Inn Yard's Protein Studios last week applied for permission for its cafe OAT to serve natural wines and high-end beers to an outdoor table area on the newly council-revamped street, but the proposal has some locals up in arms at the impact it could have on the area.
Councillors declared themselves "sympathetic" to Protein, which launched its business during lockdown and is now having to scramble to adapt to the changed realities of the area, while haggling down the amount of people on outdoor tables from 35 in the face of residents' warnings that anti-social behaviour is again getting worse.
Lawyer Jack Spiegler, acting for Protein, said: "The launch of the business was interrupted by lockdown. The applicant is now having to rapidly adapt to give the business the best possible chance of surviving in extremely challenging circumstances.
"The applicant's proposals will contribute positively to the daytime and early evening vibrancy of Shoreditch, and by granting the application the applicant asks you to show support for a fledgling local business hoping to play its part in the responsible revival of the Shoreditch economy."
Protein founder and CEO William Rowe added: "I have personally lived and worked in Shoreditch since 2001 and have seen it change over the years. I set Protein up in 1998 with the goal to help businesses grow. Over 20 years later, we're still a fully independent business without any major shareholders or investment, so the recent Covid-19 lockdown has had a devastating impact on our Studios business on New Inn Yard.
"As a result we've had to completely rethink how we operate to survive. Our events spaces downstairs are in the process of being reconfigured into flexible work, retail and virtual events spaces to adjust to the new commercial reality of no large gatherings for the foreseeable future."
Protein's application for the Nordic-inspired coffee shop to start serving "a limited selection of premium alcohol" was met with firm opposition from residents, who responded to questioning from councillors as to whether a food-led licence with a 9.30pm closing time gave them confidence by pointing out that drinking in Shoreditch sometimes starts at 4pm.
Planning boss Cllr Guy Nicholson predicted a similar clash between "two quite legitimate and genuine interests" back in July, with businesses desperate to maximise custom through moving their operation out into the streets and locals concerned about this use of public space, overcrowding and an inability to socially distance as a result.
Local resident Andrew Kanter said: "What never gets talked about is the actual conditions on the ground. The stretch of Shoreditch High Street 10 metres away is one of the busiest in all of London. I stood on that corner of Shoreditch High Street and New Inn Yard on Saturday at 8.30pm, and it was nearly biblically apocalyptic.
"There were about 10 people standing right in the street right in front of the proposed venue, drinking from cans. The idea that tables would be set up for 35 people here in the middle of these conditions is crazy.
"We're being asked to believe an academic argument that somehow things will be better post-lockdown. It's not, it's getting worse. It starts earlier. There are street parties within hundreds of metres in the area. I don't see in any way how this follows the standards the licensing committee works to uphold."
New Inn Yard was revamped over the last couple of years by the Town Hall, as part of a "long-term vision" for streets to be safer for walking and cycling, reducing the dependence on the private car and improving air quality, for which residents at the meeting were thankful.
One objector added: "We're in a situation where you have spent a lot of money making things better, and now you're thinking of making them worse by having lots of people drinking on the streets.
"I appreciate that businesses are suffering, but I don't think alcohol is a way to recover losses. That is just not acceptable as an option."
According to Rowe, the Town Hall's own markets team encouraged the "activation" of New Inn Yard through moving tables out onto it following the regeneration works to the street, with Cllr Emma Plouviez quizzing Protein's lawyer on how a piece of land separate from the building could be licensed.
Spiegler responded by suggesting a condition whereby no alcohol would be served outdoors until a separate tables and chairs permission had been received from the relevant council department.
Local resident Karen Rosen said: "I have lived in Shoreditch for eight years, and I have seen the area go from bad to worse. Some have made the argument that post-lockdown things are getting better, but it has not at all.
"The most recent example I have is that I was walking home on Shoreditch High Street with my daughter, and we were both offered cocaine and heroin by two men, on a weekday night at 9pm. For me that was a first.
"That was about as bad as it gets, and I don't need to say anything more about safety for children and public safety after having experienced that. This venue will add to cumulative impact regardless of whether the hours are limited. More people on the street drinking leads to antisocial behaviour, noise and violence. It is time for a reset in Shoreditch, not an increase in licensed venues."
According to Rowe, Covid restrictions make outdoor space "vital" for cafes such as OAT, which he said is regularly making adjustments as required by government public health measures, with a licence necessary to "responsibly generate much-needed additional revenue and jobs".
A decision from the Town Hall's licensing committee on Protein's application is expected in the coming days.