'Not a penny more': Protesters call for an end to Serco's involvement in test-and-trace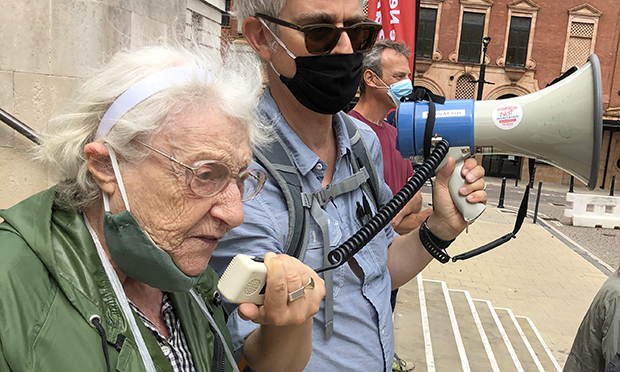 Campaigners congregated on the Town Hall steps yesterday to call for an end to private companies' involvement in the government's test-and-trace programme.
Calls of 'Serco must go!' and 'Not a penny more!' were heard at the Hackney Keep Our NHS Public and We Own It demonstration, one of a number across the country to challenge the contracts held by Serco and Sitel.
Hackney Mayor Philip Glanville voiced his "solidarity" with the protesters, who also pointed to the fines imposed by the Serious Fraud Office in relation to electronic tagging contracts with the Ministry of Justice, as well as the delivery of the out-of-hours contract for NHS Kernow, arguing these provide evidence of the company's unsuitability.
Hackney GP Dr Nick Mann said: "The government are insistent on an ideological push to replace state mechanisms, public health with its own private crony companies, who have no expertise or experience in the field for which they have been commissioned.
"We need to return testing and tracing to Public Health. We need to take the contracts away from Serco, who have a history of fraud in public service and working for the NHS. They do not work for the NHS, they work for themselves and their friends in government.
"It is time this private sector cronyism was ended. We need to return public functions to Public Health, and replace Serco with Public Health."
Health campaigner Shirley Murgraff, 89, added: "I don't know how many of you as women, particularly as older women, have been told, 'You don't need to get angry'. I wish I had £10 for every time in my life I've been told that, I could have retired to the Bahamas years ago.
"The thing is, you know what, we do need to get angry. This cannot go on, this must not be allowed to go on. We have to make them accountable.
"Local authorities can do the job better. Serco, sod off."
Dr Mann went on to call out Serco for not properly sharing data with local authorities, with Public Health "hamstrung" by its own inability to test and trace.
He added: "We get data that is completely unconnected to any clinical situation, which makes it useless for testing and tracing.
"It's a number on a sheet aggregated with other numbers on a sheet. It doesn't tell you who is infected, where they are, or where they work.
"Serco have made small amendments to their processes so that some data is coming down, but that is only since 20 July, seven months into a pandemic. If Public Health were responsible for testing and tracing since the beginning, we would probably have saved 20,000 to 30,000 lives."
Hackney's own public health director Dr Sandra Husbands complained back in June that the quality of data provided to her was "not particularly useful".
The government has announced that Public Health England will now be replaced with a new agency led by former TalkTalk chief Baroness Harding.
Professor Anthony Costello, a former director at the World Health Organisation (WHO) and a member of the Independent Sage group, called two months ago for local authorities to "take back control" of the centralised test-and-trace system from government.
Hackney Mayor Philip Glanville, calling on the government to provide the resources to deliver local tracing networks, said: "I fully support the calls to end the privatised testing and tracing system. The protest also comes also on a day where it has effectively been announced that the semi-privatised NHS Test and Trace is reverse taking over Public Health England, further compounding these issues and raising new concerns.
"I have long called for a localised and publicly accountable system to tackle the spread of the virus, arguing that testing, tracing and tracking is the right tactic, but it is being driven by the centralising and privatising tendencies of the national government.
"Town halls, and not Whitehall or private contractors, should take control of the next phase of coronavirus testing.
"I believe that we are winning the argument. Local public health teams will have a greater role in tracing following the government's cut in contact tracer jobs. This renewed focus on local first will have to be seen to be believed, but we remain committed to fighting for and delivering such an outcome."
Since May, Hackney has been one of four London boroughs, alongside Barnet and Newham, with Camden as lead, that will share lessons learned and best practice on its own localised track-and-trace system.
Following pressure from government, local MPs and campaigners to pilot a testing programme in the area, Hackney has been part of the Good Practice Network on managing local outbreaks, with regular meetings taking place with the government in which the council is asking the government for "greater local ownership of this programme and integration with local services", according to the Mayor.
About half of people from the same household as someone infected with Covid were being contacted by Serco's team of 10,500 tracers as at 6 August, which the company's CEO Rupert Soames has blamed on those being called being unable to remember with whom they have been in contact.
Campaigner George Binette said: "The reality under the current Johnson government is further outsourcing in the NHS without accountability and without transparency.
"This is one of at least 15 protests taking place across the country from Sunderland to Southampton, to show that there is indeed opposition to this policy of accelerating back towards privatisation.
"It is putting public health at risk and prioritising private profit for Tory cronies. Serco must go – not a penny more."
A Department of Health and Social Care spokesperson said: "The NHS is not and never will be for sale.
"Collaboration with public and private sector partners has been an important part of the pandemic response and helped us rapidly build the largest diagnostic testing network in British history.
"The National Institute for Health Protection will bring together a wide range of expertise to put us in the best possible position for the fight against Covid-19."
A Serco spokesperson said: "Serco has played an important part in helping to reach hundreds of thousands of people who might otherwise have passed on the virus.
"Our team of call handlers has been 93% successful in persuading people to isolate where we are able to have conversations."
EDIT: This article was updated at 9:44am on 20 August to include a comment from Serco.