Dalston residents up in arms as plans for hotel on former Tesco site progress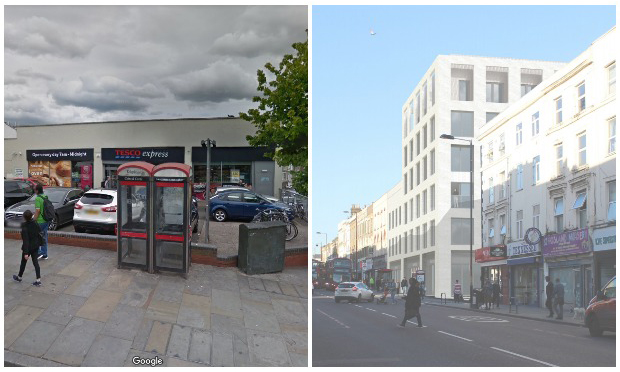 Dalston residents are voicing continued concerns at the impact of a hotel to be built on the site of the former Tesco Express on Kingsland Road.
The Rio Cross Residents' Association (RCRA), which spoke out against the approval of the construction of the Locke Aparthotel opposite the Rio Cinema back in 2018, is arguing that drinks and live music in the hotel's bar/restaurant is not what residents expected.
The current application would allow for supply of alcohol from the on-site microbrewery to non-guests until midnight on some days, with live music until 1am from Thursday to Saturday, but locals are pointing out that earlier plans had advertised the ground floor as a 'retail' space.
The RCRA said: "This licence application flies in the face of the planning permission that was granted to the applicants to build a hotel on this site with retail use on the ground floor.
"This retail use was made a condition of granting the planning approval by Hackney Council in recognition (so we residents thought) of the fact that the Tesco store previously occupying this site was regarded as an important local amenity, well used by the residents we represent.
"Its loss has been felt keenly and we have been looking forward to being able to shop there again once the building work is completed.
"If this license is approved it will effectively allow the operation of a large new club premises, operating round the clock, right in the heart of Dalston, that will add enormously to the cumulative impact of alcohol-related anti-social behaviour in the area and will also be a major source of noise and other nuisance."
The association, which was backed in its opposition to the hotel's construction by local councillors two years ago, further warned that congestion in the area will be under "even greater pressure" with the loss of the open space that used to be the Tesco's car park.
Planning officers said at the time that the hotel would "provide an uplift in retail floorspace and will add to the vibrancy and vitality of the town centre".
Plans for the hotel promise guests a "real-London adventure", adding: "Kingsland Locke is in the heart of Dalston – one of the capital's most interesting, most talked-about areas. With interiors reflecting the colours and scenes of the neighbourhood, our space is a vibrant one. Contrasting textures and tones, rich and recycled materials and lush plants abound.
"Settle into your sophisticated apartment, complete with kitchen and sofa. Mingle with locals in our co-working area, coffee shop and microbrewery. Then head out to Dalston, Hackney and beyond to experience the city like a Londoner."
In response to the concerns around what had previously been advertised, representatives of Edyn Limited said that the applicant is "content" with the planned use of the premises, adding: "Licensing and planning are two separate regimes. A licence application is not the appropriate forum to re-hash arguments about planning, or vice-versa."