Hackney artist reveals long-term effects of coronavirus with Instagram diary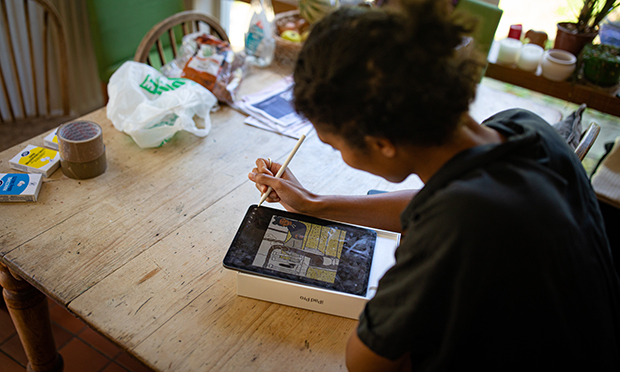 Monique Jackson is a powerhouse. An artist. A cyclist. A facilities manager and technician whose buddies at the gym where she practices kickboxing call her 'Action Jackson'.
Until mid-March, she was physical, extroverted and high-functioning. Then she took a train from central London to meet friends in Peckham, and everything changed.
Within days she felt fatigued, had a headache and a pinch in the centre of her chest. She lost her senses of taste and smell. There were fever dreams, clamminess and shivering. On day nine, breathing difficulties began, and a couple of weeks later, a burning pain in her gut.
By now, this story appears familiar.
Yet Monique, 31, is not a Covid statistic. She was never offered a virus test. Hospital blood and oxygen analysis suggested she was in good health. Her antibody test even came back clear, though doctors think she did have the virus.
Months later, something is still very wrong.
"I'm struggling with basic self-care," she said. "It would be a Shakespearean comedy if it wasn't so tragic."
Her lung problems returned at the beginning of July after a four-minute bout of hoovering. She's had tinnitus, gastro pain, swellings on her neck that come and go. Her hands turned bluish, the veins visible. Joints on her feet turned temporarily red. She felt hair trailing over her face or in her mouth which wasn't really there and felt as if the right side of her face had collapsed in the night – as if she had had a stroke. She feels pinches all across her body, like someone jabbing her with cigarettes.
Doctors suggested that some of her symptoms are neurological – though no less real.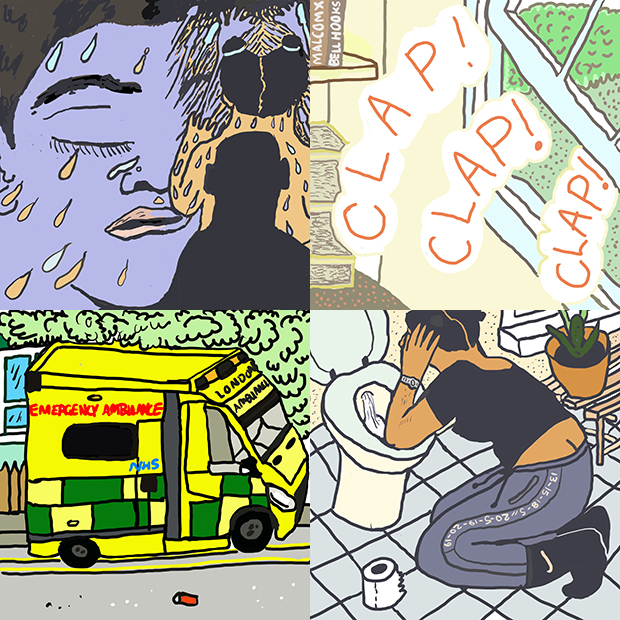 The Hackney resident, who moved in with her family in South London in July after struggling to look after herself for months, is now documenting her experience in a colourful Instagram comic.
"In the first month I was sick, all the material online was about how to avoid getting ill, death, or people who had recovered," she said. It made her feel alone, misunderstood and even question her sanity.
"We need to listen to more ill people. They know what is going on in their bodies, even if you can't see their pain."
On an individual level, Monique believes Covid survivors must not be isolated. Neighbours, friends and mutual-aid groups came to her aid when she was too weak and sick to leave the house.
"People are scared of catching this contagious disease, but we still need each other. It is easy to withdraw, but recovery means keeping up phone calls and reaching out to people you care about," she said.
"You have to keep a network of people in your lives".
She hopes her comic can give other people the confidence to share their experiences with loved ones, as well as contributing to the scientific understanding of the virus through the ZOE Covid-19 tracker app run by King's College London.
"There's no vaccine and not much medical help but encouraging people to express themselves in writing and drawing is good for mental health and that's good for your body too," she said.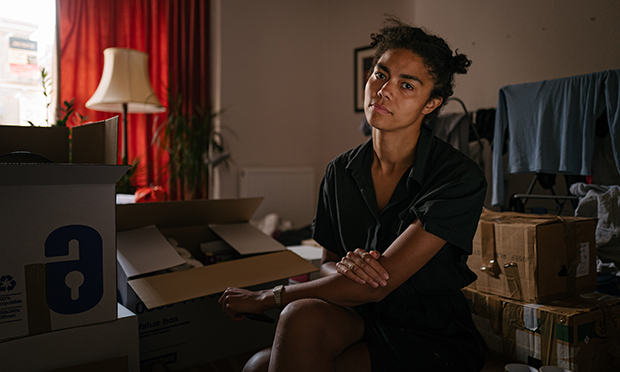 The life she used to have is gone, in part, for now. It may be changed forever. Yet the former Brighton art school student already has another action plan. She intends to use the comic as a platform to collaborate with frontline healthcare workers and is supporting a petition to get PPE to NHS staff.
"The list who had died humbled me. It made me thank God I am alive."
Neither Monique nor her doctors know whether or when her health will improve. For now, she's putting one foot in front of the other.
"I'm just writing what I know," she said. "There's still a lot of the story to tell."
The petition Monique is backing can be found at bit.ly/30dhcs8
Follow Monique's progress at instagram.com/_coronadiary/
Homerton Hospital's post-Covid resource pack is available at bit.ly/3gACyFf