Cross-party calls made to safeguard future of domestic violence charity Sistah Space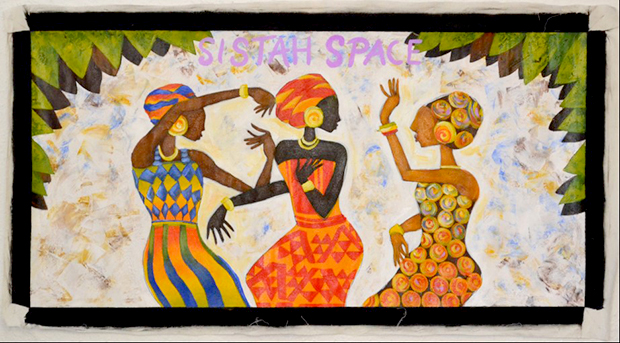 Domestic violence charity Sistah Space, whose dispute with the Town Hall has seen protests and cross-party calls to safeguard its future, has accused the borough of attempting to "relegate us out of sight".
The organisation, which has now raised over £50,000 to continue providing its services, continues to be in open conflict with the council over its return from temporary premises in Mare Street to its former shopfront site in Clapton, which organisation founder Ngozi Fulani reiterated today is unsuitable and unsafe.
Fulani has called on the council to lower the rent of the commercial property on Mare Street that it currently occupies, revealing that to pay the over £20,000/yr terms in full would necessitate the loss of a planned additional role for her charity which could have put them on call for domestic violence (DV) victims 24 hours a day.
In an open letter to Sistah Space, the council yesterday offered the organisation the continued temporary use of the Mare Street on condition it signs a property licence, while expressing "concerns" over the challenges of "keeping vulnerable women safe in what is a shared commercial multi-use workspace".
Fulani responded: "What Hackney Council needs to do is allow us to do our job. We are domestic violence specialists. We are the ones who decide what is risky and what is not, so can they please stop telling us that the unsafe place is safe and the safe place is unsafe?
"We do not want to leave Mare Street. The £50,000 will pay two years' rent, but half of that was earmarked to pay a domestic violence advisor to work around the clock. We've taken away an actual position so that we can pay the rent.
"The council wanted the money and we have offered it. If they say no to us, it has to be about race and class. It can't be anything else. There's nowhere else like us, so we can't get this far and stop. I'm tired of them playing this game. They're fooling nobody.
"We don't want to spend this much money. It breaks my heart, as it takes away a whole position, and that hurts domestic violence victims. But this really is about Black lives. It's about us saying, 'Why do you insist we go to the bottom of the pile?' We have the right to be here just as much as anybody else.
"Victims of domestic abuse have the right to be in a place of safety and comfort. They cannot dictate the narrative anymore. We won't allow them to do that.
"If they could lower the rent, we would really appreciate that, as this is community money. This is the community saying, 'We want them there'. This is not our money, it is public money. We are held by the public right now, and we will work with them to do what is right and what is best."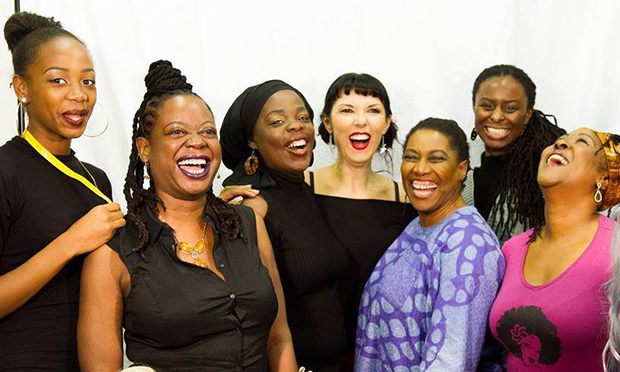 Fulani's cause has attracted the support of feminist protest group Sisters Uncut as well as the Women's Equality, Green and Liberal Democrat parties, who in a shared letter have called on both the Town Hall and Mayor of London Sadiq Khan to allow the charity to stay on Mare Street "until it is safe for them to move".
It is understood the Town Hall does not recognise the over £20,000 a year rent figure, with the council saying it has never made an offer to rent the Mare Street property to the charity directly, with any arrangement to be made between Sistah Space and the workspace provider who is set to let the building.
A letter from the three parties said: "This issue has impacted Sistah Space, the only domestic abuse service for African and Caribbean heritage women in London, to the point where they have had to suspend their service – this is simply unacceptable. It is unfair and unjust to ask the service to move mid-pandemic.
"The council's actions in relation to Sistah Space are in conflict with their statements in support of the Black Lives Matter movement. We believe it's important for the council to recognize inequality and institutional racism, and we recognise the efforts they have made through passing the Black Lives Matter motion in Hackney Town Hall last week.
"However, as a charity that represents Black women, the ongoing disregard for Sistah Space smacks of both institutional racism and sexism. We would like to remind the council and the Mayor of London that the intangible value Sistah Space brings to the community will far exceed any money received via a private tenant for the space.
"It is in the council and the Mayor of London's power to ensure Sistah Space is not put under any additional undue stress, to allow them to continue in their current location and to allow them to continue to provide the valuable and needed services they provide in Hackney and across all of London."
The three parties went on to ask the Town Hall to grant Sistah Space a flexible lease of up to two years on Mare Street at reduced rent, as well as fast-tracking the organisation for any City or Town Hall coronavirus funding.
The Town Hall has said that its public health team is on hand to ensure a Covid-secure move back to the group's Lower Clapton Road site, which Sistah Space had rented at a subsidised rate from the council, as well as offering further security improvements to its former home such as intruder and panic alarms, roller shutters and CCTV.
Fulani has pointed to the vastly improved security of the Mare Street property, which according to the Hackney Society was originally the headquarters for women's social work carried out by the Salvation Army and which includes a lift directly to the floor occupied by her group, safeguarded with a code, and a 24-hour security guard provided by the council.
Hackney Council has committed to introducing Sistah Space to the workspace provider to whom it intends to let the building to discuss an agreement for its occupancy to continue, while warning that an alternative property at subsidised rates to the shopfront it has renovated at Sistah Space's request on Lower Clapton Road would be hard to find, with all other voluntary and community sector buildings of the council's currently unavailable.
In a letter to Fulani, council voluntary sector chief Cllr Caroline Selman said that the Town Hall's letting agent had warned that such an agreement with a provider was unlikely "due to the challenges of managing the space in a safe way in these circumstances, i.e. managing the safety of vulnerable women in a shared space".
A statement by the council added that any vacancies in their own voluntary sector property opening up would require an "open, transparent process" to ensure other organisations could have chance to apply.
The Town Hall added: "While Sistah Space is not a refuge, the council has also repeatedly encouraged the charity to engage with discussions around pan-London refuge provision and asked it to join the regular meetings with other third-sector domestic abuse agencies run by the Council's Domestic Abuse Intervention Service, so that it can help support women and girls who have contacted Sistah Space.
"In 2019, the council agreed to carry out works to improve this building in response to a request from Sistah Space, and supported the charity to move to temporary space within a commercial workspace in Mare Street, on a rent-free basis, while the council carried out those improvements. Sistah Space agreed to move back once this work was completed.
"After Sistah Space raised concerns at the start of the coronavirus pandemic about moving back to the premises, refurbished to an agreed specification with the organisation, the council offered to extend the temporary arrangements from March 2020 until at least the end of July.
"The council has always been clear that it would take a flexible and supportive approach to any move, which would always be subject to it being safe to do so in line with coronavirus restrictions and guidance.
"The council is unclear why Sistah Space has said it is being forced to suspend its services, when it simply needs to sign a property license to continue to use the space on a temporary basis and avoid any disruption to, or impact on, the people it supports."
EDIT: This article was updated at 11:33 on 30/07/2020.